Over the past few weeks, we've seen an increasing number of Model 3 spy shots make their way online. And whereas many of the earlier Model 3 sightings were either blurry or taken on a backlot near Tesla headquarters, more recent sightings have provided us with increasingly crisper looks at what Tesla's upcoming Model 3 will look like.
While we more or less have a good idea as to what the Model 3 design will bring to the table, Tesla has promised to offer up a final reveal in July where we'll be able to feast our eyes upon the final design. And while we shouldn't expect to see any drastic changes, there are a few aspects to the Model 3 design — such as the trunk — that have undergone some minor design tweaks since Tesla first introduced its $35,000 EV for the masses last year.
The most recent Model 3 leak we've seen (via the Tesla subreddit) features two photos that were originally posted on the Tesla Motors Club website not too long ago. In fact, I think it's fair to say that these two photos provide us with our best look yet at the Model 3. And while the new spy shots don't reveal anything new about the car, it's not that often that the Model 3 is spotted out on the open road.
The two photos can be seen below.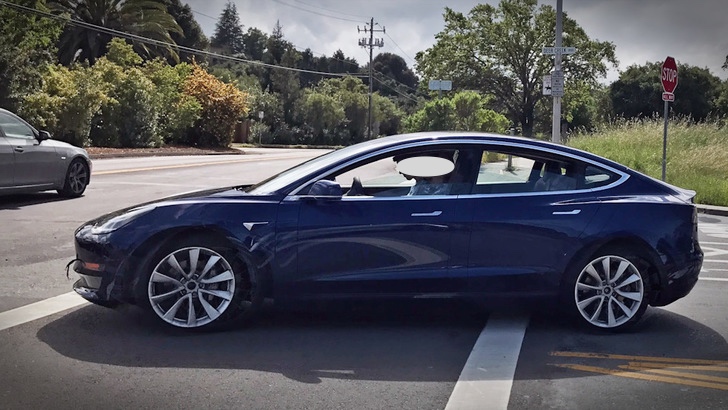 If Tesla's Model 3 roadmap remains intact, the company will begin mass production in July and will start shipping units to early reservation holders later in the year. Last we heard, there were as many as 400,000 Model 3 reservations on the books, but it remains to be seen what percentage of current reservation holders will actually follow through and make a purchase.
Interestingly enough, Tesla in recent days has taken steps to inform current reservation holders and prospective buyers that the Model 3 will be a lesser version of the Model S in every single way, except for price. In other words, the Model 3 will not introduce new features or advanced technologies that will end up on the Model S later on down the line.
To this point, Tesla wrote the following in a blogpost late last week: "While Model 3 will be our newest car, it isn't "Version 3" or the next generation Tesla. Our higher priced premium models still include the most advanced technology and the best driving experience we have to offer."
Lastly, and in case you missed it the first time, the following video of a Tesla Model 3 cruising down a highway in California surfaced online just a few days ago.