Like every year, this year's iPhone models will be among the best smartphones consumers will be able to buy during the Christmas quarter, and some of the most sought after handsets out there. Everyone agrees that Apple will launch three new devices next month, just like it did last year, and that's because multiple reports from solid independent sources all said the same thing. Now, a new research note offers us more details about the kind of specs we can expect from 2018 iPhones — as well as how much they might cost.
Unlike last year, the three new iPhones will all have the same design. They'll be "all-screen" iPhones complete with Face ID-ready notches at the top, and that's exactly what TrendForce report says.
In a new research note sent to BGR, the market research firm says that two of the handsets will be premium models, the 5.8-inch iPhone X successor and the 6.5-inch iPhone X Plus, both sporting OLED screens. The 6.1-inch iPhone will have an LCD screen instead, a cost-cutting measure meant to offer buyers a cheaper iPhone X-like device.
Apple's suppliers have been assembling the OLED models since mid-July, with the LCD version supposed to go to mass production in mid-September. All three models are expected to be shipped in September and October as planned, TrendForce notes. It's likely that the LCD model will start shipping in October.
The LCD model will pack Face ID and dual-SIM support and come with a price tag of around $699, which would make this iPhone X design a lot more affordable than the original model. Ironically, Apple's most affordable new iPhone model in years could come just one month after Samsung launched its most expensive flagship phone ever, the Galaxy Note 9, which carries a price tag of either $1,000 or $1,250 depending on how much internal storage you want.
The premium OLED 2018 iPhones will have extra RAM, with memory going up to 4GB. The Plus model is also expected to deliver dual-SIM support in certain markets. Pricing should start at $899 to $949 for the smaller model, and around $1,000 for the Plus version.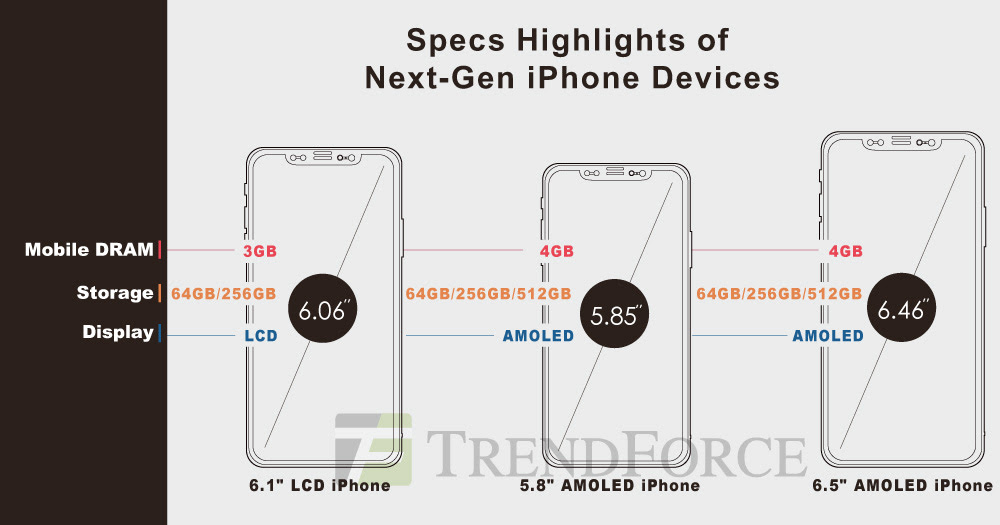 Storage options are expected to start at 64GB for all models, and go all the way up to 512GB for the OLED phones, as seen in the graphic above.
The report doesn't mention camera details, but previous reports said the LCD iPhone will feature a single-lens main cam, while the OLED versions will have a dual-lens camera like the original iPhone X. Interestingly, the report notes that Apple will finally support the Apple Pencil with the iPhone, though it's unclear if it'll work with all models or just the OLED versions.