In about a month, Apple will unveil the iPhone 15 series. As we approach the announcement, leakers are giving us a clear picture of what to expect from these phones. On the Korean blog Naver, user yeux1122 shared several tidbits about the iPhone 15 Pro specs, which shows how the little details will make this iPhone very different from the iPhone 14 Pro.
For example, the iPhone 15 Pro will be thicker than the iPhone 14 Pro from 7.85mm to 8.24mm, although the new model will be lighter, as it will jump from 206 grams to 180-190 grams (depending on the sample). The rear camera module will also be different, as it's said to increase in size.
In addition, the user also reassures us that we should expect thinner bezels (current rumors say 1.55mm), a titanium body, which will make the Pro phones lighter, and no blue color – as in the past years, Apple has given us a blue option for the iPhone 12 Pro and iPhone 13 Pro.
Besides these specs, X users @lipilipsi and @John0011235 (via MacRumors) shared alleged parts of the USB-C modules of the iPhone 15, 15 Plus, and 15 Pro Max. Although these parts might not mean much, it's widely expected that this new generation of iPhone will feature a USB-C port.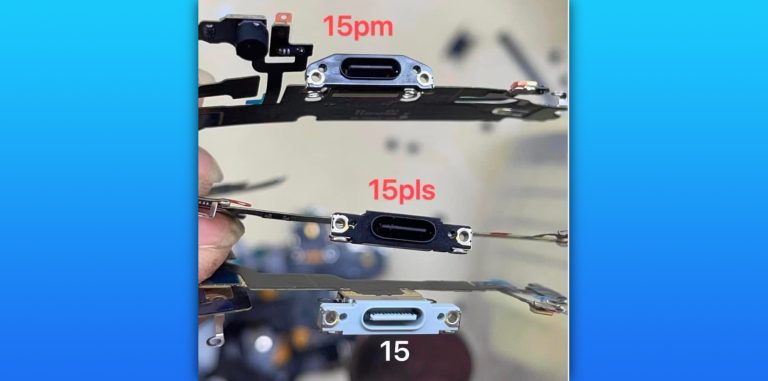 Besides reports from Bloomberg's Mark Gurman, analyst Ming-Chi Kuo, and more, Apple has also said it would switch the iPhone to USB-C to comply with EU law, requiring all smartphone makers to offer the same standard by 2024.
Also, rumors believe the USB-C port will be limited, as Apple would require a Made for iPhone accessory for fast-charging and transferring data. That said, while all USB-C ports might work with the iPhone 15, users might need to buy certified cables to unlock this technology's benefits.
In addition, Apple might offer different USB-C ports for regular and Pro models, as the basic models would get a slower port, while the Pro models could get Thunderbolt speeds with improved technology.
BGR will keep following the latest rumors as Apple is readying to announce the iPhone 15 by the middle of September. Everything we know about it, you can learn below.