With the iPhone 15 series possibly being announced in less than two months, DSCC's latest Monthly Flagship Smartphone Tracker shows that Apple expects to receive more panels for its latest iPhone models than it did with the previous generation during the same period.
In addition, the report shows that the iPhone 15 Pro accounts for the most significant amount of panels being shipped during this period, with 30% of the share, closely followed by the iPhone 15 Pro Max with around 28%. The iPhone 15 has a 20% share, while the iPhone 15 Plus could be the less popular phone option with an expected 15% demand.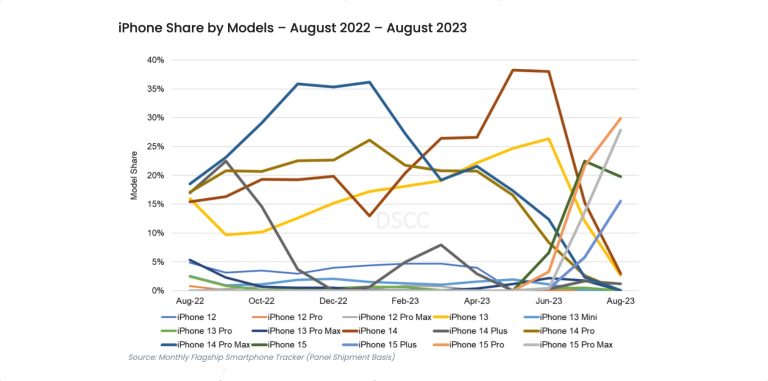 In August 2022, all iPhone 14 models had panel shipments below 20% of the share. In DSCC's July and August forecasts, the display analysts project that BOE will begin shipping the iPhone 15 Plus panels in August. Samsung started shipping panels in June, and LG began in July. While Samsung will supply OLED panels for all iPhone 15 models, LG will only focus on the Pro models.
Interestingly, the technical issues LG was experiencing due to the narrower bezels on the iPhone 15 Pro models have been solved, so it's unlikely that Apple will face any shortage or delay with this new generation launch.
iPhone 15 series in details
DSCC's report also rounds up the latest rumors regarding the iPhone 15 series and what its analysts expect for this generation.
The paper notes that the iPhone 15 series is expected to have a series of improvements that include a larger screen size for the iPhone 15 and iPhone 15 Plus of 6.12" and 6.69" respectively, a Dynamic Island, the A16 Bionic chipset, and a USB-C port.
The iPhone 15 Pro models are expected to use the 3nm A17 Bionic processor, feature ultra-thin bezels, have a titanium chassis, use battery-stacked technology for improved efficiency, Wi-Fi 6E, and increase RAM.
In addition, there is an expectation that Apple will raise the starting prices on the Pro models from $999 to $1099 on the iPhone 15 Pro and from $1099 to $1199 for the iPhone 15 Pro Max. Just yesterday, Bloomberg reported that Apple was considering raising the price for the Pro models.
BGR also rounds up everything we know about the iPhone 15 so far in our guide below.