I've been an iPhone user since the iPhone 3G, and I'm currently on the iPhone 14 Pro. That should tell you enough about my experience with iPhones and iOS. I've also experienced the iPhone overheating in various ways. I understand when it happens, and I take steps to avoid it. More recently, I showed you a great experiment that shows what happens when your iPhone or Android overheats, as well as what to do about it.
With all that in mind, I just went through one of the most puzzling iPhone experiences of my life. The iPhone 14 Pro overheated while charging in a hot environment. Needless to say, that can happen. But some nine hours later, I discovered that the handset was significantly throttled.
The fix was very simple, and it's something longtime iPhone users have probably thought of already: Turn it off and back on. But this doesn't change the fact that the iPhone shouldn't have behaved that way.
My iPhone 14 Pro's battery life is amazing
As I explained recently, my iPhone 14 Pro's battery life is terrific. I recharge it every other day most of the time. I don't always leave it on the MagSafe charger to reach a full charge. Nor do I let it discharge completely. I recharge the handset when it's around 30% most of the time.
Also, battery health is terrific. It just dropped to 98% after nearly a year. I got the phone the very first day it arrived in stores and have used it ever since.
I also use MagSafe charging most of the time. Often, the handset charges alongside my Apple Watch. When I use wired charging, the handset usually recharges at speeds exceeding 20W because I use a 100W charger to get the job done.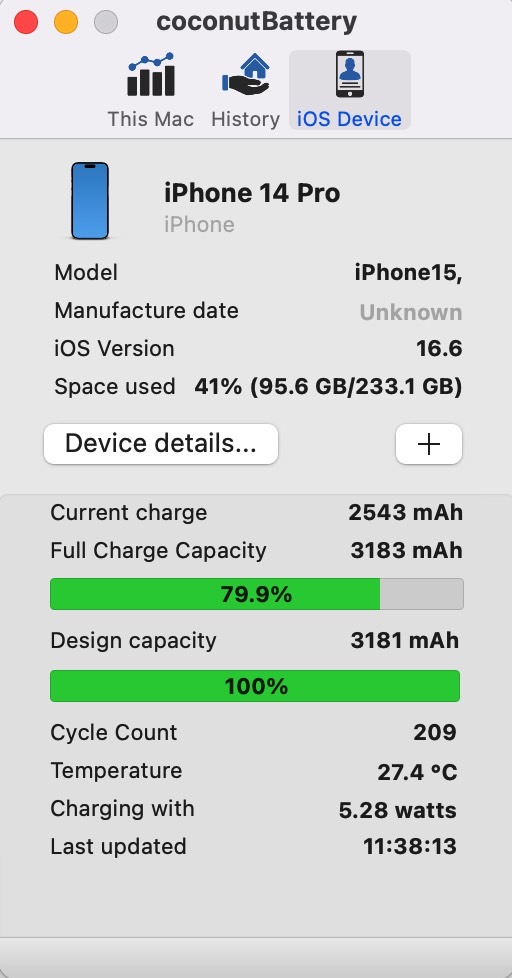 When do iPhones overheat?
I'll add that I've experienced the iPhone overheating plenty of times over the years. When it happens, the software stops charging the battery, so it has a chance to cool down. If it happens while you're using the phone, your performance might suffer, or you could get overheating messages.
It's not just using the iPhone with resource-intensive apps or battery charging that can cause an iPhone to overheat. The surrounding temperature "helps" with that too. The iPhone can't dissipate heat as efficiently during hot summer days, so returning to a regular temperature will take longer.
In my case, the iPhone rested on a MagSafe charger in an indoor setting. It was in a room with no AC when it was charging. But there was no sun anywhere near it.
I'll point out that I don't use the iPhone while it's charging. And I do not charge it on the go, out in the sun. These are other use cases that can lead to overheating.
How it happened
I'm using an automation to enable Low Power Mode automatically when the iPhone battery drops under 30%. After that, I usually recharge the handset. Like other times, I placed both the iPhone and the Apple Watch on a MagSafe charger yesterday afternoon and then went back to work.
I picked up my iPhone to do something at one point, and it felt a little warm. There was no warning or any other related message on the screen, though. I then placed it back on the charger. I returned later to check on the Apple Watch, and that was when I checked the handset again. It had reached a 70% charge, but it had stopped charging.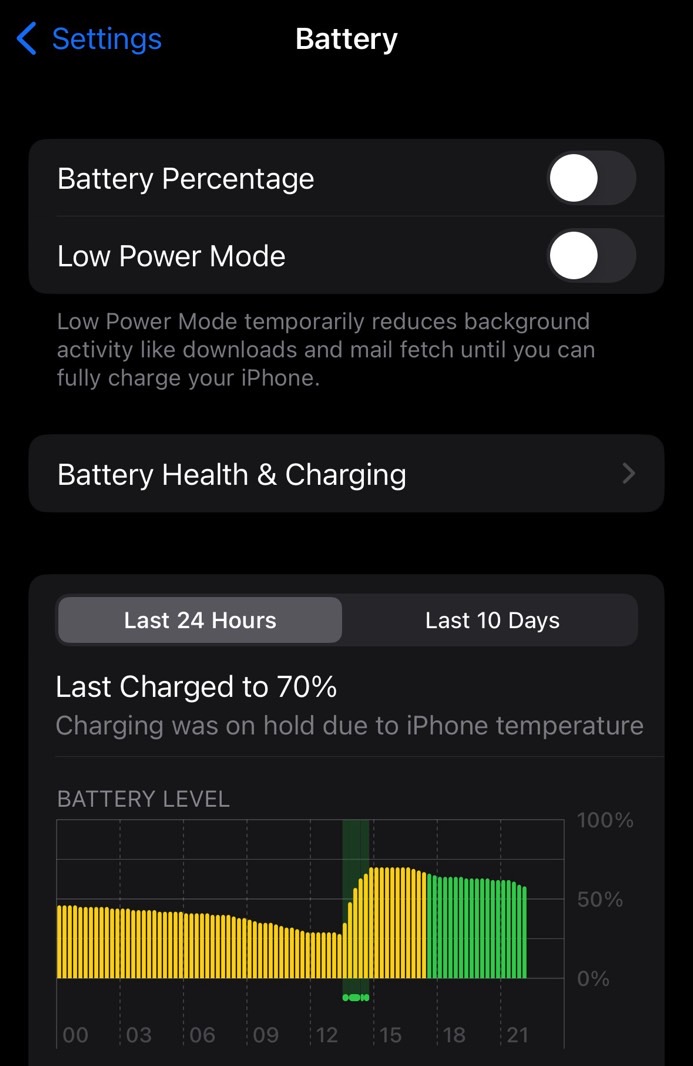 I saw the notification above. I removed it from the MagSafe charger, flipped it around, and forgot about it. This is not the first time I saw the warning above this summer. It was my mistake for not taking the room temperature into account.
So I decided not to finish charging the phone until the next day.
Throttling is normal
My iPhone 14 Pro wasn't too hot to touch. I could hold it in my hand, and I did use it briefly. I noticed mild jittering in some apps and then put it down. I didn't disable Low Power Mode, however. As a reminder, Low Power Mode turns off automatically when the handset reaches 80%.
It wouldn't be until several hours later that I noticed the iPhone's odd behavior. Performance was inexplicably throttled. By this time, the handset's temperature felt normal to the touch. I'll point out I don't use a case, but I have a plastic protective film wrapped around it. So there's no case to retain heat.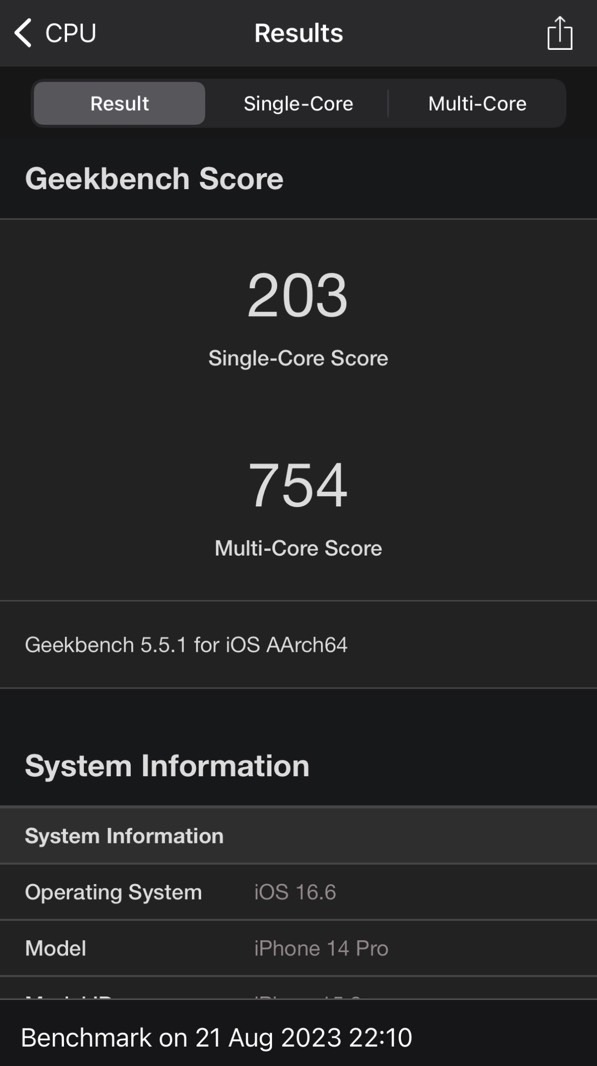 I disabled Low Power Mode and went on with my evening. It wouldn't be for another few hours that I started looking into the matter. The phone felt slow, a lot slower than what you'd expect from a flagship handset. And no, I'm not on the iOS 17 beta. This is probably the first time I skipped an iPhone beta experience since Apple introduced the program. My iPhone 14 Pro runs the latest stable version of iOS that Apple released.
I decided to run a Geekbench 5 benchmark test to see how bad things were. This is a quick way to tell whether your device is running at normal parameters. When I saw that the test was taking about 7 minutes to complete, it was clear that something was wrong. The scores were baffling: 203 (single-core) and 754 (multi-core). I could not believe it.
The easy fix
I did not know what might have caused iOS to throttle performance like that. But I didn't panic either. I hoped a clean restart would fix the issue, and that's what I did. I restarted the phone and then ran the same Geekbench 5 test again.
This time, the iPhone 14 Pro got through it blazingly fast, and the scores were on par with expectations: 1881 and 5293. I could now tell that the phone was running at full speed during the benchmark. The back was hot to the touch, whereas I saw no temperature change during the first test.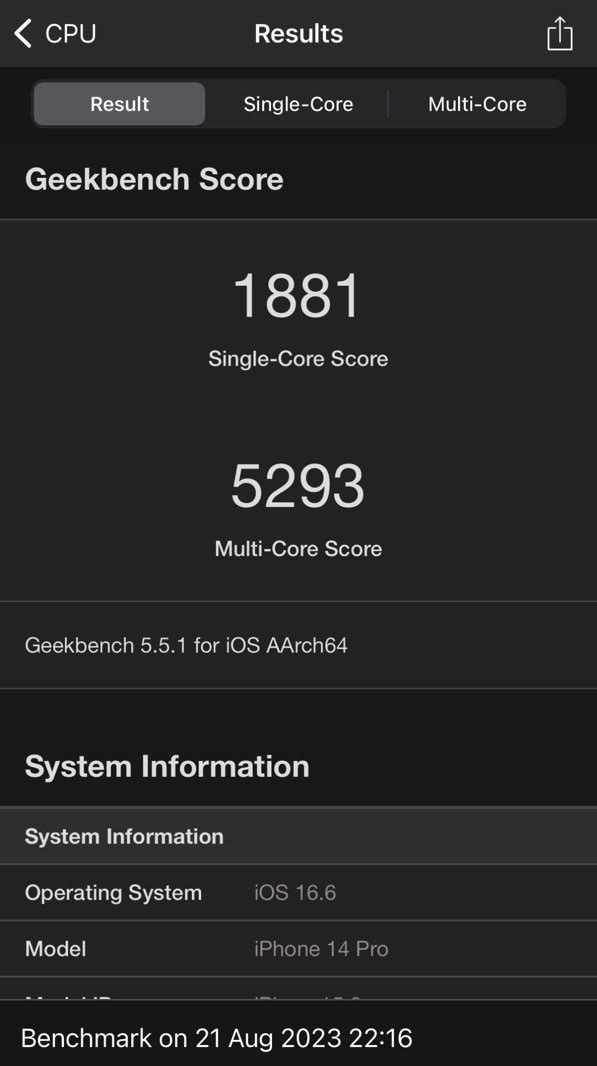 What matters here is that the iPhone was just as fast and responsive as before. The jittering in apps was gone, and scrolling was smooth once more. I haven't had any issues with it since then.
If you've had similar experiences, a restart will help. If the performance issue isn't resolved, you might want to take the handset to Apple for a checkup.
I have no reason to worry, and I know I would have caught the issue earlier. It just so happened that I didn't use the handset that much that day. The inevitable doom-scrolling that we all go through made me realize my iPhone 14 Pro was throttling performance some nine hours after it overheated while charging.
The next time I recharge it during the day, I'll use a wired charger and place the handset somewhere with better ventilation. I'll also avoid sharing the MagSafe charger with the Apple Watch during the day.