Your phone number is also your WhatsApp login. That's always been the way to access the most popular instant messaging app in the world. But a discovery in WhatsApp's beta release for Android indicates that Meta might also let people associate an email address with their phone number in the near future. The feature likely won't allow you to create an account with an email login instead of a phone number. Rather, the email address might serve as a security feature to help protect your WhatsApp account from hacks and takeovers.
While some malicious individuals might be looking to steal certain WhatsApp accounts, actually doing it is harder than stealing other login credentials. That's because they'd either have to get a hold of the target's phone number or smartphone to hack the account. Hacking WhatsApp, in this case, means moving the WhatsApp account to a different device or changing the associated phone number.
However, even a simple thing like losing your phone or having it stolen might lead to WhatsApp account recovery problems. The thieves might not be interested in your Whatsapp account. But you might not be able to get back into WhatsApp right away. The problem is fixable once your carrier deactivates the previous SIM card and gets you another one you'll use in a different handset.
That's where the new email security option might come in handy. It could allow WhatsApp account holders to get access back to their accounts faster.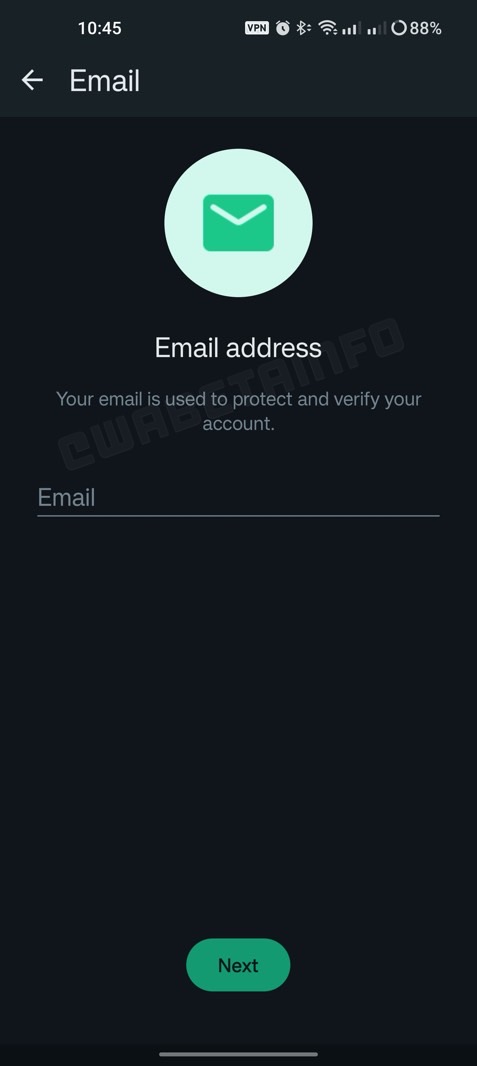 Blog WABetaInfo is well-known for discovering new WhatsApp features before Meta is ready to announce them. But Meta is testing these features in the wild via beta versions of the app.
WABetaInfo notes that Meta already introduced new security features in April. These should prevent hackers from stealing a WhatsApp account and protect against malware apps that force a WhatsApp account to send messages. The new security features also included automatic security codes that should improve the end-to-end security verification process.
Now, the WhatsApp beta for Android 2.23.16.15 update reveals the email login security feature. The screenshot above shows that Meta wants to offer added protection to a WhatsApp account by letting you associate an email with your phone number.
It's unclear in what circumstances WhatsApp will then use the email to secure your account. The blog notes the feature is optional. Also, it differs from the feature that asks for your email address when configuring two-factor authentication for WhatsApp.
Meta will detail the new WhatsApp feature once it's ready to roll it out to the stable version of WhatsApp for iPhone and Android.
I'll point out one obvious worry. Using the same email for WhatsApp and Facebook might provide Meta with another data point that could connect those properties. I'm only speculating here, and you'd have to agree to such a privacy policy change beforehand.
While we wait to see how Meta uses the new WhatsApp email security feature, I'll point out a simple way to avoid using the same email with Facebook and WhatsApp. You can create a secondary email for WhatsApp. Or you can use a password manager like Proton Pass to generate alias emails for WhatsApp. Finally, Gmail lets you create unlimited distinct email addresses from your account, and you could make one up for WhatsApp security checks.