MacWhisper is the latest app created by developer Jordi Bruin. He's known for several applications, such as PosturePal, Scusi, Navi, and Vivid, which doubles the brightness of the MacBook Pro display. Now, his new app transcribes audio locally on your Mac using OpenAI's state-of-the-art transcription technology, Whisper.
According to Bruin, MacWhisper quickly and accurately transcribes your audio files into text while running locally on your Mac, meaning files never leave your device.
In the free version of the app, users can:
Easily record and transcribe audio files;
Drag and drop audio files to get a transcription;
.srt & .vtt subtitles export;
Get accurate text transcriptions in seconds (~15x real-time);
Search the entire transcript and highlight words;
Audio playback and syncing to transcripts;
Supports multiple languages (the fastest model is English only);
Copy the entire transcript or individual sections;
Reader Mode;
Edit and delete segments from the transcript;
Select transcription language (or use auto detect);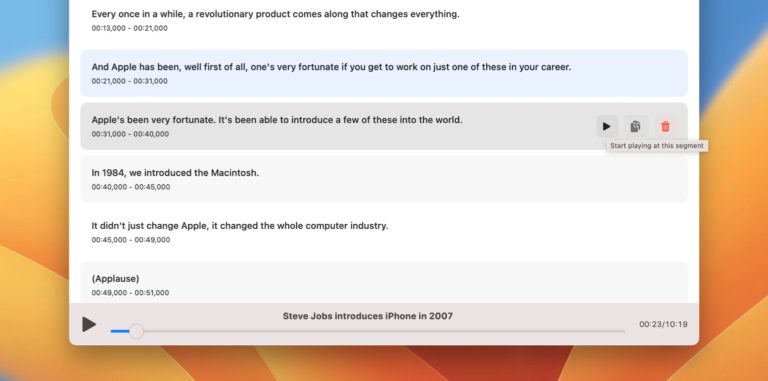 MacWhisper supports mp3, wav, m4ad, and mp4 videos format. It works with Tiny (English only), Base, and Large models. Currently, the app is made for macOS Ventura users, but Monterey support is coming soon. According to Bruin, M1 and M2 Mac users can take the most advantage of this application.
For those willing to pay 8 euros (or more, depending on how much you want to tip the developer), MacWhisper Pro includes the Large model, which offers the best transcription available right now and has industry-leading accuracy but takes a lot longer to generate. The regular version of MacWhisper uses the Tiny and Base models, which are still accurate and fast.
In a future update, the app will translate transcriptions Auto Updater Adding your own models. It will transcribe podcasts by combining single-track audio for each host.
MacWhisper can transcribe audio in the following languages: English, Chinese, German, Spanish, Russian, Korean, French, Japanese, Portuguese, Turkish, Polish, Catalan, Dutch, Arabic, Swedish, Italian, Indonesian, Hindi, Finnish, Vietnamese, Hebrew, Ukrainian, Greek, Malay, Czech, Romanian, Danish, Hungarian, Tamil, Norwegian, Thai, Urdu, Croatian, Bulgarian, Lithuanian, Latin, Maori, Malayalam, Welsh, Slovak, Telugu, Persian, Latvian, Bengali, Serbian, Azerbaijani, Slovenian, Kannada, Estonian, Macedonian, Breton, Basque, Icelandic, Armenian, Nepali, Mongolian, Bosnian, Kazakh, Albanian, Swahili, Galician, Marathi, Punjabi, Sinhala, Khmer, Shona, Yoruba, Somali, Afrikaans, Occitan, Georgian, Belarusian, Tajik, Sindhi, Gujarati, Amharic, Yiddish, Lao, Uzbek, Faroese, Haitian Creole, Pashto, Turkmen, Nynorsk, Maltese, Sanskrit, Luxembourgish, Myanmar, Tibetan, Tagalog, Malagasy, Assamese, Tatar, Hawaiian, Lingala, Hausa, Bashkir, Javanese, Sundanese.
You can download it here.