MacOS 10.14, or Mojave, comes with a feature we've asked from Apple for years, and that's a dark mode that looks gorgeous. Even if you aren't a night person, dark mode looks great, and you can experience it right away by installing the Mojave public beta.
I've been on the beta for weeks now, and, up until this very moment, I've used dark mode a total of two times. That's because of two reasons. First of all, I forgot it exists immediately after I tried it for the first time. And then I caught myself thinking about how it's such a drag to enable it.
To get to the dark mode, you have to go to the System Preferences app, then General — well, the first time around you'll just search for "dark mode" to find out it's in General.

And then you'll have to switch between the Light and Dark themes. So. Annoying. Who has time for that?
Yes, I'm entirely aware how lazy all that sounds, but it's incredibly annoying to have to do that every single time you want to switch between the two. 

Thankfully, there's an app for that, and I totally love it. It's called NightOwl, available at this link, and it's precisely the kind of dark mode toggle you'd expected the company that makes devices that "just work" to place somewhere on the menu bar. It's an app that Apple should copy at some point in the future.
The app puts a cute owl button on the menu bar. Click on it, and it brings up two simple buttons, that read Light and Dark: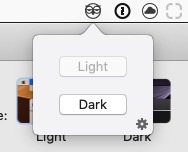 Since I've installed it, I switched between light and dark modes more times than in the more than three weeks of testing Mojave. Pro tip, you can use the minimal settings of the app to make sure it runs on boots and that it plays an owl sound whenever you switch modes.
By the way, you'll have to force the Mac to run the app: System Preferences > Security & Privacy > General. And then you'll have to let it manage your preferences. A prompt will appear on the screen, just allow the app to do it.
I know what you're going to say next. You still have to click on that damned owl, and then on a button. But wait, it'll get better. A future version of the app will bring an automatically toggle feature that will switch between light and dark modes on sunset and sunrise.