Logic Pro and Final Cut Pro are finally available to iPad users. After years of waiting, the Cupertino firm has brought two of its most important Pro apps to a multi-touch display. Here's everything you need to know about the Logic Pro application for iPad.
Features
Apple says that Logic Pro for iPad combines the power of Logic Pro with the portability of iPad to unlock an all-in-one professional music creation app. With Multi-Touch gestures, music creators can play software instruments, interact naturally with controls, and navigate complex projects with pinch-to-zoom and swipe-to-scroll. Here are the top features:
All-new sound browser: The sound browser displays all available instrument patches, audio patches, plug‑in presets, samples, and loops in a single location, and users can tap to audition any sound before loading it into a project to save time and stay in their creative flow.
Effects Plug-ins: Logic Pro for iPad offers over 100 instruments and effects plug-ins. Effects like vintage EQs, compressors, and reverbs let users tweak and fine-tune their tracks.
Production tools: Beat Breaker, a new time and pitch-morphing plug-in, lets music creators swipe and pinch to reshape and shuffle sounds radically. Quick Sampler can chop and transform audio samples into entirely new playable instruments. Step Sequencer lets users program drum patterns, bass lines, and melodies and even automate plug‑ins with just a few taps. Drum Machine Designer enables the creation of custom drum kits by applying samples and plug‑ins to any drum pad. With Live Loops, users can capture inspiration and quickly build arrangements by mixing and matching musical loops.
Pro Mixer: A full-featured mixer — complete with channel strips, volume faders, pan controls, plug‑ins, sends, and precise automation — gives users everything they need to create a professional mix entirely on iPad
Import and Export: Logic Pro for iPad supports roundtrip capabilities, making moving projects between Logic Pro for Mac and iPad easy. iPad users can export their finished songs in a variety of compressed and lossless audio formats, as well as individual audio track stems. Music creators can make a soundtrack in Logic Pro for iPad and export it into Final Cut Pro, providing flexibility for working across music and video. Logic Pro for iPad also supports the ability to open projects created in GarageBand for iOS so that users can take their music to the next level with pro features and workflows.
iPad compatibility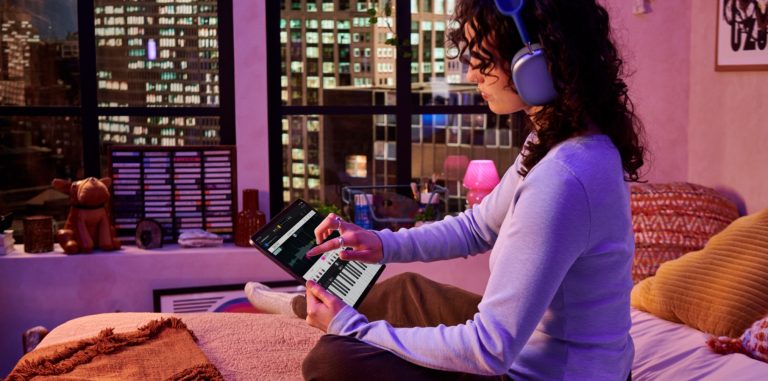 The app is compatible with A12 Bionic iPad models or newer running at least iPadOS 16.4. These are the models
iPad Pro 3rd generation or newer;
iPad Air 3rd generation or newer;
iPad mini 5th generation or newer;
iPad 8th generation or newer.
Logic Pro release date and price
The app was released on May 23. It requires a subscription, which costs $4.99/month or $49/year. Apple offers a one-month free trial. You can find the app on the App Store here.