You can finally forget your password, as the popular app TikTok finally supports Passkeys — an easier but more secure way to login into your account. With that, iPhone users can authenticate their account with a fingerprint or face scan (Touch ID or Face ID).
In a blog post, TikTok explains Passkeys are password replacements that can confirm your identity based on encrypted biometric authentication methods already available on your device. When you use passkeys, all biometric authentication data remains on your device and cannot be accessed or processed by third-party apps like TikTok.
Passkeys simplify the login process and make it much harder for an account to be compromised as there is no longer a traditional "password" that can be stolen, forgotten, or re-used across multiple accounts. Passkeys are also largely phishing-resistant.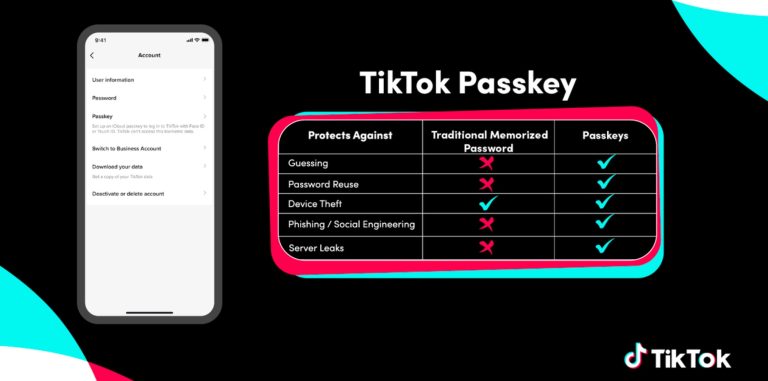 With that, TikTok joins an ever-growing list of applications that support Passkeys. One of the biggest surprises on the list of companies supporting Passkeys is Google, which makes signing into the company's apps even easier.
Apple started supporting Passkeys with iOS 16. 1Password, Gmail, and PayPal are among the apps and services already supporting this passwordless future.
How to set up a passkey for your Tiktok account
To set up a passkey on your TikTok account:
In the TikTok app, tap Profile at the bottom.
Tap the Menu button at the top.
Tap Settings and privacy.
Tap Account.
Tap iCloud passkey, then tap Set up on the next screen and follow the instructions provided to complete setup.
TikTok Passkeys support is currently available for iOS devices in Asia, Africa, Australia, and South America beginning this month. Support for additional regions and operating systems will be added over time.