It was just earlier this week that Google and Facebook were criticized for spreading fake news in the aftermath of the Las Vegas massacre, even though both companies vowed many months ago to prevent such things from happening.
For the sake of laughing at Apple and its iPhone, Google actually continued to spread fake news during its Pixel event on Wednesday when it said that it doesn't "set aside features for the larger device." The joke was clearly aimed at Apple — and it took a few beats for someone to actually laugh at it or applaud.
Google should know better than that.

Which larger iPhone was Google talking about? Was this a hit at the iPhone X in particular, which will be a total nightmare for Pixel and Android sales this year? Or was it referring to the Plus line of iPhones in general? Let's look at everything. Again.
A bit of history
Before the Pixels, there were Nexus devices. And in 2015, Google launched two different sized phones running pure Android: the Nexus 5X and the Nexus 6P. Given Google's comment, you'd think the 2015 Nexus phones were almost identical twins. That's sweet, but completely wrong.
In addition to the obvious screen size differences, the bigger Nexus 6P had a faster processor, more storage, and a better selfie camera. It also had an AMOLED screen protected by Gorilla Glass 4 compared to the Nexus 5X's LCD and Gorilla Glass 3 setup, and an aluminum shell rather than plastic. Their designs? Also not similar.
About size and lies
The Pixel phones are almost identical when it comes to hardware, that's true. What sets them apart are size-related differences, including screen, resolution, and battery capacity. The exact same thing is true of iPhones. The iPhone and iPhone Plus share the same specs aside from cameras. And this year's iPhone 8 and iPhone X series have identical specs, but yes, the iPhone X does have some advantages.
With its remark, Google implied that the Pixel 2 and Pixel 2 XL are identical while showing only one image of the backs of both Pixel 2 phones: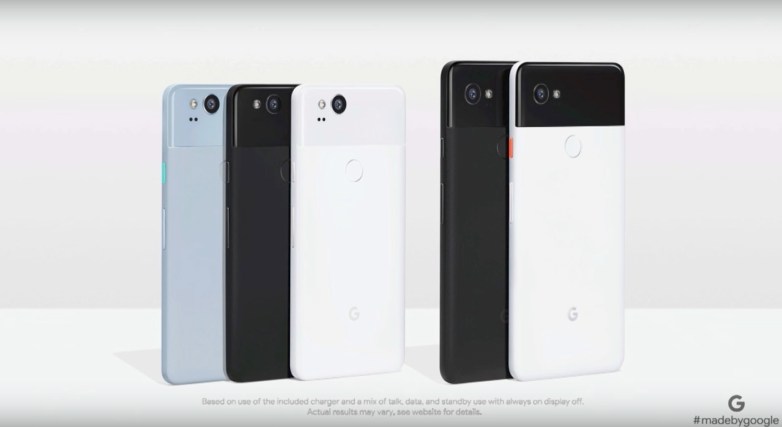 Fake news times two. First of all, the phones aren't available in the same colors, that's kind of obvious. And I'm just going to pretend their power buttons don't have different colors.
But turn them around, and you'll notice that the larger Pixel 2 indeed gets better features. It's got much smaller bezels and a sleeker look, while the Pixel 2 is stuck in the past with a hideous dual speaker front design. Like so: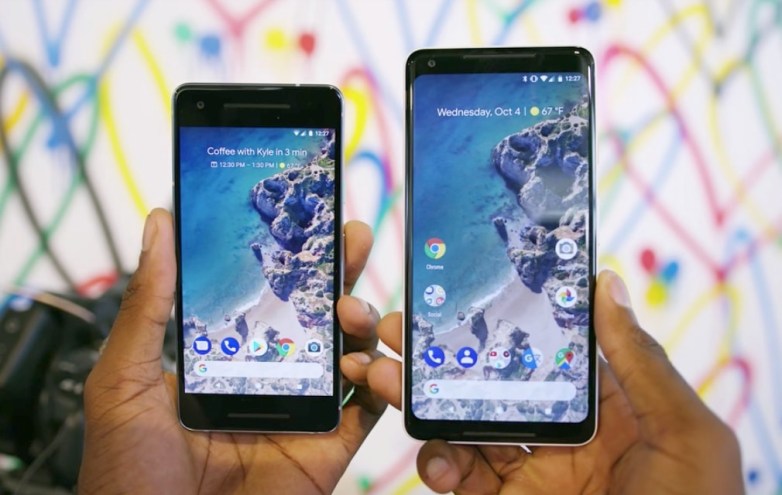 But maybe Google didn't mean design features.
iPhone X is not the larger device
Google never identified the larger device it mocked, but it might have been referring to the iPhone X. That's the Apple flagship phone this year.
But the iPhone X is not the larger handset. That's fake. The iPhone 8 Plus is actually bigger than the iPhone X, which is about the same size as the iPhone 8. So no, Apple did not set aside special features for the larger device. It did so for the middle kid, if you want to be accurate when dissing it.
Yes, it's not just a bigger display, resolution, and battery that the iPhone X gets compared to its siblings. It also has an all-screen OLED display like nothing ever seen on an iPhone, and a sophisticated facial recognition system that's above and beyond what any other phone can do. It's all packed into a device that's barely larger than an iPhone 8.
Yes, there's also a dual rear camera on the back that's slightly better than the iPhone 8 Plus since it has dual optical image stabilization (OIS). And if we also consider design features, then yes, the iPhone X isn't like the iPhone 8. It's a lot better in many ways, but it also has some pitfalls. Just because I don't like Google's remark doesn't mean the iPhone X's notch is suddenly a stunning design element.
These are expensive innovations that can't be applied to all iPhones this year because Apple still wants to sell some 200 million iPhones annually. There's not enough supply or manufacturing capacity to make iPhone X screens and Face ID cameras for every iPhone model. But that will happen in the near future.
Can Google do any of that this year? You know, design an all-screen compact phone with a dual camera on the back and an advanced facial recognition system? And I am talking about designing a phone from scratch, not cloning the iPhone design like it did last year, and then call it iconic this year. Can Google manufacture and sell 20 million Pixels this year?
But what if Google was really talking about the iPhone Plus?
Are you really going after the iPhone Plus, Google?
This is the only case in which Google's remark has a chance of being true. The iPhone 6 Plus and iPhone 6s Plus had OIS cameras that weren't on their 4.7-inch counterparts. That was the only feature "saved" for the larger model. The iPhone 7 Plus added two extra features on top of that, including a dual camera on the back and the Portrait Mode. But the iPhone 7 did get OIS.
The iPhone 8 Plus is practically an upgraded iPhone 7 Plus that brings over a Portrait Lighting camera feature. The iPhone 8, meanwhile, is the corresponding iPhone 7 upgrade.
Everything else is exactly the same, design included. Which means that Google may be right when it says "set aside features for the larger device." The Plus is slightly better than the regular iPhone. But none of that matters when you consider that Google still did the same thing. Design features are features. A nice big display with reduced bezel size is a feature. Higher resolution is a feature.
Sorry, Google, but this is fake news.