Since Apple has taken to reusing the same iPhone designs multiple times, the company has begun to use colors as yet another way to help distinguish new iPhone generations from their predecessors. For example, Apple added a new Rose Gold color to the iPhone lineup when it reused the iPhone 6 design on 2015's iPhone 6s. Then it added new Black and Jet Black colors when it reused the iPhone 6 design again on the iPhone 7 in 2016. Then it ditched all three of those colors and added a new Space Gray hue when it reused the iPhone 6 design yet again on 2017's iPhone 8. You get the idea.
In 2018, Apple will reportedly reveal three new iPhone models when it announces it new lineup this coming September. According to KGI Securities analyst Ming-Chi Kuo, the world's top Apple insider, we can expect an iPhone X sequel as well as a larger iPhone X Plus — though that won't be the phone's name when it debuts — and Apple will also release a lower-cost iPhone model with an LCD screen instead of an OLED panel. All three of these new 2018 iPhones are expected to feature a design just like the current iPhone X, so Apple is reportedly readying a new color to spice things up. Now, a new leak might have given us our first ever look at Apple's new color for its iPhone X successors.
Amateur graphic design Benjamin Geskin tried his hand at iPhone leaks last year, and he didn't have a very good go of it. Geskin chose a "spaghetti on the wall" approach where he constantly shared information that contradicted his own prior leaks. He was wrong about much of what he predicted as a result, but his tune would often change as other people leaked information, so it's difficult to pin down exactly how good or bad his track record is.
One thing Geskin said numerous times ahead of its unveiling was that Apple's 2017 iPhone X would be made available in a new gold color that had never been seen before in Apple's iPhone lineup. It was a gold hue that he took to calling "Blush Gold," and it was somewhere between the Gold and Rose Gold colors Apple had used before on its iPhone models. Of course when Apple unveiled the iPhone X last September, the new Blush Gold color was nowhere to be found. Instead, Apple released the iPhone X in just two colors: Silver and Space Gray.
With about six months to go until Apple debuts its 2018 iPhone lineup, Geskin is back with the same prediction once again.
In a post on Twitter on Monday morning, he said that Apple's next-generation iPhone X model is "in production" in the new Blush Gold color. Now, Apple's 2018 iPhone models are obviously not currently "in production," and mass production won't begin anytime soon. He likely meant to suggest that certain components had entered test production in the new Blush Gold color, and he offered an image of a Blush Gold SIM card tray to support his claim.
D21A – "Blush Gold" iPhone in production. pic.twitter.com/l2xGYIYsCh

— Ben Geskin (@BenGeskin) March 19, 2018
He also posted a render of the iPhone X successor in the rumored Blush Gold color: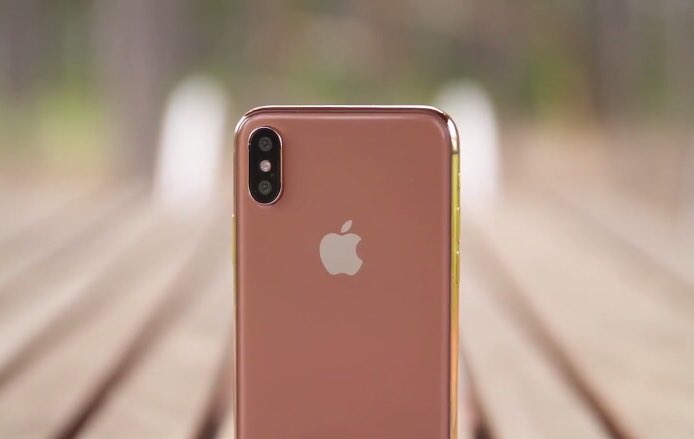 It's difficult to trust Geskin's rumors at this point. In fact, he already hedged this new prediction by replying with "stuff can be cancelled I guess" when someone on Twitter suggested that Apple likely wouldn't release iPhones in the new Blush Gold color this year. That said, several more reliable sources have already reported that Apple's new 2018 iPhone X successors will indeed launch in a new gold color, though the exact hue of Apple's new color has not previously been specified.