Apple's tenth-anniversary iPhone X is pretty great. It's the first dramatic reimagining of the iPhone since the original model was released a decade ago, and Apple fans seem to love it for the most part. The new OLED display is stunning, Apple's gesture-based is smooth and logical, and the phone itself is an absolute powerhouse. We're big fans of the iPhone X too here at BGR, but truth be told, we wish the screen was a little larger. And if everything we've heard so far about Apple's upcoming new 2018 iPhone lineup is true, we're going to get our wish this coming September.
According to KGI Securities analyst Ming-Chi Kuo, who happens to be the most accurate Apple insider on the planet, we'll see Apple release three new iPhone models late this summer. One will be an upgraded iPhone X with a 5.8-inch OLED screen just like the current one, and then we'll get a similar model with a 6.1-inch LCD screen and a lower price to occupy the mid-range. Finally, Apple will supposedly release a larger version of the OLED model with a 6.5-inch screen. That last model, which is currently being referred to as the "iPhone X Plus" (no, it won't really be called the iPhone X Plus), is definitely the one people are looking forward to most, and we may have just gotten our first taste in a new leak.
This past weekend, a user on a Chinese Apple fan forum called MacX posted two photos that may very well be our first look at components from Apple's upcoming iPhone X Plus. The person who posted the photos claims that they were taken inside an LG Display factory in Vietnam. Though Samsung is Apple's sole supplier of OLED screens for the iPhone X, rumors suggest Apple is adding LG Display as a second supplier for this year's new iPhones.
The forum post has since been deleted, but not before the photos contained within made their way to a number of other websites.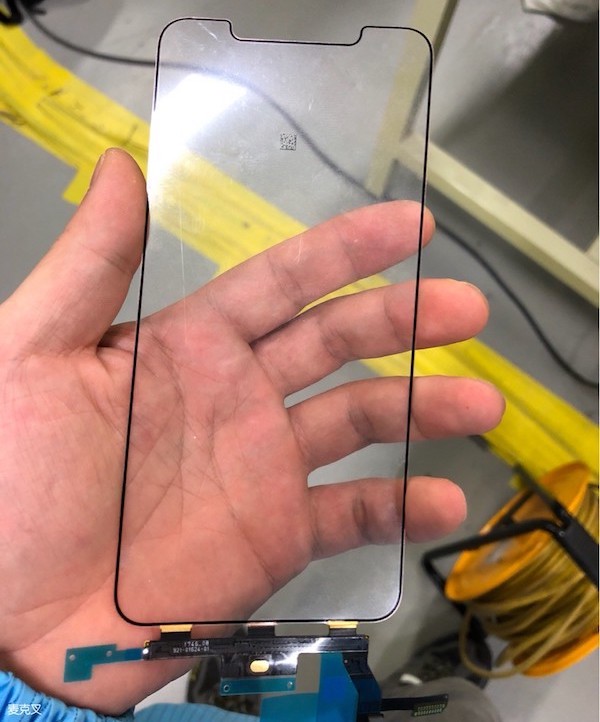 The first image, which can be seen above, supposedly shows the display digitizer from Apple's upcoming 6.5-inch iPhone X Plus. It bears a striking resemblance to the iPhone X's digitizer, though it clearly appears to be larger in size than the component used in Apple's 5.8-inch iPhone X.
The second photo supposedly shows a tray of digitizers and OLED display panels that have been partially assembled.
It seems like it might be a little early in the game for iPhone X Plus parts to be leaking, but the person who posted the photos says they're from a trial run of new production equipment. If LG Display has in fact been awarded contracts for some of Apple's OLED display supply in 2018, it certainly makes sense that the company would begin testing its new equipment as early as possible so that wrinkles can be ironed out long before production begins.