The iPhone X's battery will last almost as long as an iPhone 8 Plus. In real life, it'll get you through the day in most cases. But Consumer Reports said in its iPhone X review that battery life isn't that great compared to other phones, and that's why it ranked the phone below Apple's iPhone 8 models and top Android rivals. But that doesn't make the iPhone X a worse phone than other flagships, previous iPhones included.
Hardcore iPhone users who find themselves running out of juice on a frequent basis should definitely carry a charger and a battery case, and they should consider adding a wireless charger to their roster of iPhone accessories. The following battery charging comparison will help you buy the right charging gear for your iPhone X.
Performed by MacRumors, the iPhone X battery charging test looked at various charging options, including wireless and wired methods:
We used the same iPhone X for all tests, plugged into the same outlet. Between tests, the battery was drained to one percent, and then battery percent was checked at 15 minutes, 30 minutes, 45 minutes, and 60 minutes while charging.

For all tests, the iPhone X was placed into Airplane mode with no apps running. The display was deactivated except for the four time checks. Tests were conducted without a case on the iPhone X.
The results aren't surprising. Wireless charging, even the faster kind, is barely faster than what the 5W charger in the iPhone box can offer.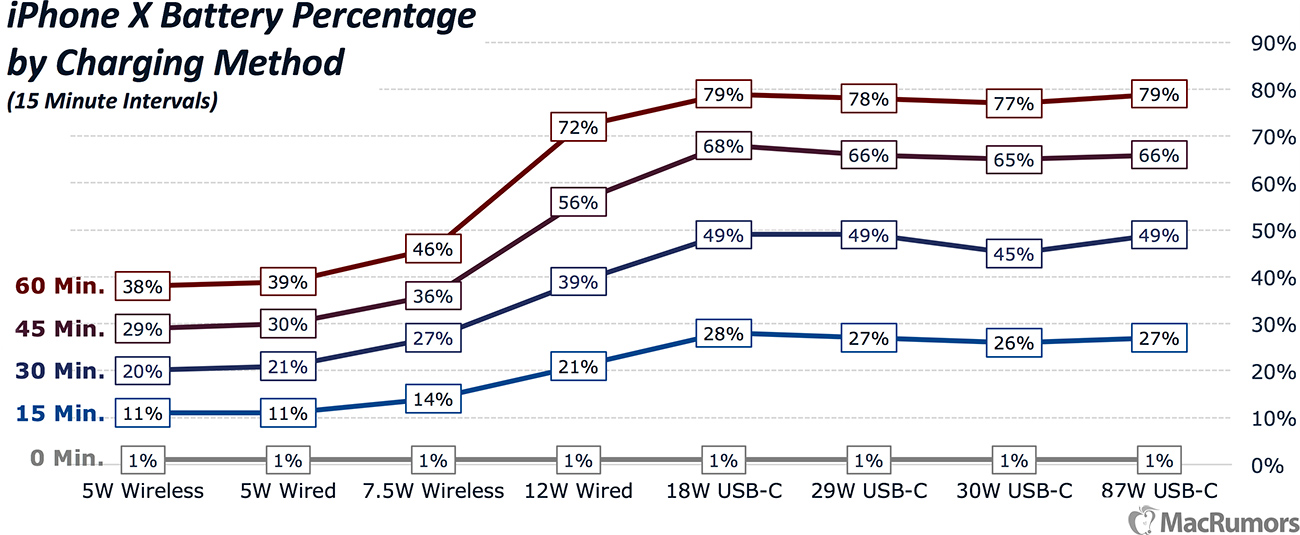 An iPad's 12W charger is significantly faster, while USB-C charging takes the cake. However, you need to buy USB-C chargers and adapters to make it happen. The table above shows charging speeds for all the available charging options for the iPhone X.