Apple is widely expected to launch three new iPhones this fall, including an affordable 6.1-inch model with an LCD screen, and two iPhone X successors with OLED screen sizes measuring 5.8-inch and 6.5-inch. All three phones are expected to feature the same design as the 2017 flagship, notch included.
Some reports claim the 2018 iPhone X models will come in a slew of new colors — the original is only available in dull black, and equally-boring-but-better-looking white. A leaked image shows the iPhone X in two purportedly new colors, but there's no way they're genuine.
Posted on TechnoCodex, the following pictures supposedly show prototype iPhone X units from India with green and purple backs. No other details are provided about these devices.
We'll have to wait for Apple to unveil the new iPhones this fall to see whether green and purple are in the cards, but this seems highly unlikely colors for the upcoming flagships. If they are real, I will take black or white over these colors any day.
Photoshop is the simplest way to explain the photos. There's also a chance that we're looking at custom paint jobs for the current iPhone X model.
The only 2018 iPhone model that's said to come in multiple colors, a la iPhone 5c style, is the more affordable 6.1-inch iPhone. That device, however, supposedly lacks a dual camera on the back. And that rear panel isn't supposed to be glass, according to previous reports.
The iPhone in the pictures above, meanwhile, has a dual-lens camera, and a glass back. So it's not the 6.1-inch iPhone.
An analyst said not too long ago that Apple may choose to paint the cheaper LCD iPhone in various colors to differentiate it from the high-end iPhone X (2018) phones. The colors he suggested were blue, pink, and yellow. PhoneArena rendered the iPhone 8 in these colors, as seen below.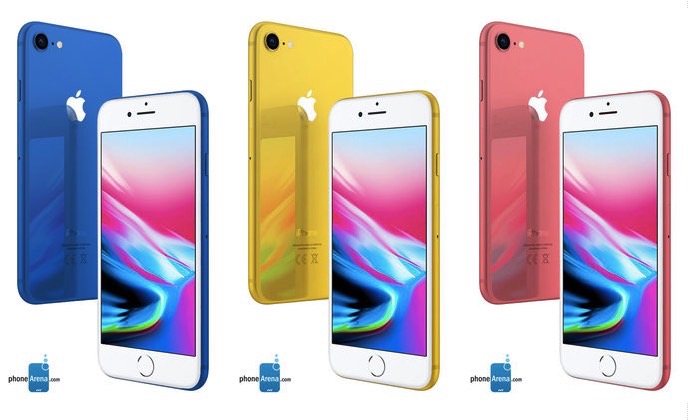 Apple's 2018 iPhone X versions should be unveiled in mid-September and hit stores by early October at the latest.