With the iPhone 14 series, Apple introduced a feature that every smartphone vendor should copy. It's a feature you won't even remember is there until you really need it. And, hopefully, it's a feature you'll never have to use. The iPhone 14 supports Emergency SOS via satellite communication.
We saw reports of the iPhone 14's satellite connection having saved lives during harsh winter conditions. But summertime comes with its own perils, as a family came to find in Maui. Surrounded by wildfires in an increasingly hot car, a family relied on the iPhone's satellite communication feature to reach first responders.
The Emergency SOS via satellite feature saved the lives of five people that day. You can read the entire conversation with emergency responders to understand how terrifying those moments must have been.
Twitter user Michael J. Miraflor posted the entire exchange between the occupants of the car and the first responders.
"My brother's girlfriend's cousin and his family were caught in their vehicle in Maui while the wildfires suddenly erupted around them," he said on Twitter (X). "No cell service, so Apple Emergency SOS was the only way they could get in contact with first responders. Literally saved their lives."
The terrifying chat
Chatting over satellite with first responders looks nothing like a regular iMessage conversation. That's because you're restricted to text only, and you can only communicate with first responders.
As you can see in the screenshot in the tweet, the chat will also include GPS location data to inform rescuers of your location.
The chat starts at about 6:13 PM HST with this message:
Five people inside a white van
between ages 18-30
Location: Territorial Savings
Bank, Outlets of Maui
PLEASE ADVISE PLEASE
ADVISE! FIRE EVERYWHERE
They ask the first responders a minute later whether they should drive, and in another minute, they start driving. It doesn't look like they received any guidance during that time.
By 6:16 PM local time, they realize they can't reach the ocean. The next message came 15 minutes later. The occupants say the visibility is zero and that they haven't moved.
It's just after this update that the conversation shows the first reply from emergency services. They inform the tourists that the fire department has been updated so they can try to get rescuers to their location.
The following satellite texts aren't enough to let you experience what the helpless travelers might have felt. But they'll give you an idea of how terrified they must have been:
Five people inside a white van
between ages 18-30
Location: Territorial Savings
Bank, Outlets of Maui
PLEASE ADVISE. Car is
super hot…
6:32 PM HST

Thank you 6:35 PM HST

car is still super hot 6:35 PM HST
These are three distinct messages, complete with their timestamps. They show that satellite messages need time to get through, but they also indicate the state of mind of the people in the car.
A similar message was sent at 6:36 PM, informing responders that a 21-year-old in the car is hypoglycemic.
How to use Emergency SOS via satellite on iPhone
Thankfully, the tourists only had to wait another 10 minutes to be rescued. During that time, the dispatcher on the satellite chat informed the family that the information had come through and rescuers were approaching. In turn, the iPhone 14 owner said via chat they were rescued at around 6:47 PM.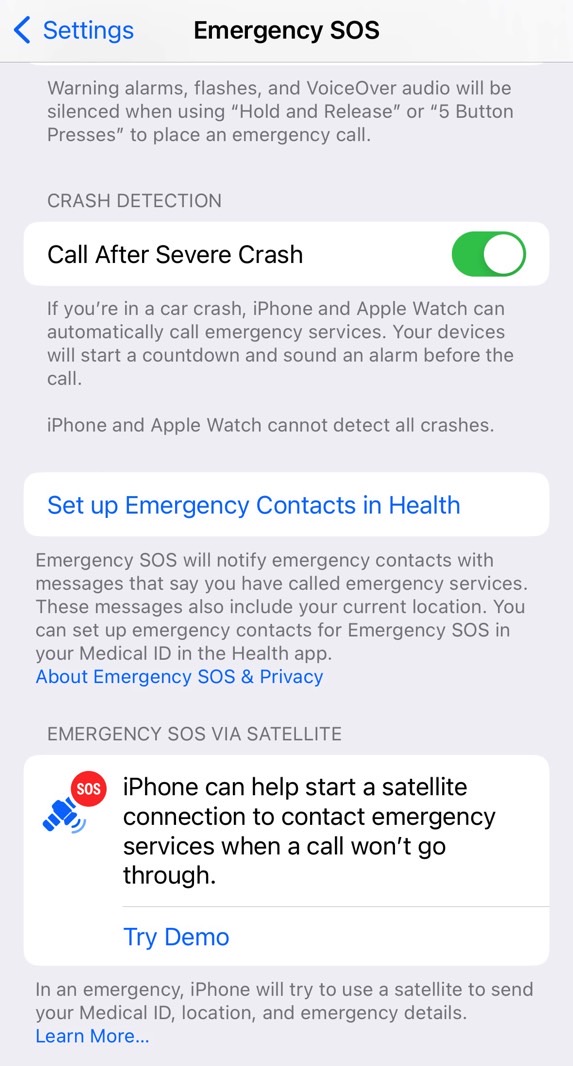 To enable this potentially life-saving feature, head on to the Settings app and look for the iPhone 14's satellite functionality inside the Emergency SOS section.
If satellite SOS service is available in your country, you can check out a demo on your iPhone 14 to get used to the experience. That way, you'll know what to do if you ever need it for emergencies.