What would a new iPhone launch be without at least one bump in the road? It's no Antennagate, but Apple seems to have something of a problem on its hands with the iPhone 8. Reports of swelling iPhone 8 batteries that cause the phones to actually split have now reached into the double digits. Some iPhone 8 batteries have ballooned up in transit, while others have malfunctioned while charging.
Apple has confirmed that it's looking into the matter, and it's still far too early to say exactly what's going on. The problem isn't going away, however, and we now have our first report of a swollen battery incident that affected an iPhone 8 in the US.
First things first: this is nothing like what happened with Samsung's Galaxy Note 7 last year. There have been no reported fires or explosions at this point. In fact, no one has even been injured and no property has been damaged. Samsung's Note 7 batteries had a major design flaw that caused them to short-circuit and burst. What we're seeing with Apple's iPhone 8 batteries is what should happen when a battery has a defect. The ballooning is a safety measure that contains gases that result from the malfunction.
That said, this could indeed be a manufacturing defect. Several of the phones in question don't appear to have any impact damage that might cause a battery to swell like this. In fact, more than one iPhone 8 battery has ballooned while in transit, so the phones were still in their boxes and protected when the malfunction occurred.
All of the incidents that had been reported happened in countries outside of the US, but a Best Buy employee on Wednesday evening posted on Reddit to report that his store had received a bulging iPhone 8 as a return. He supplied the following image along with his post: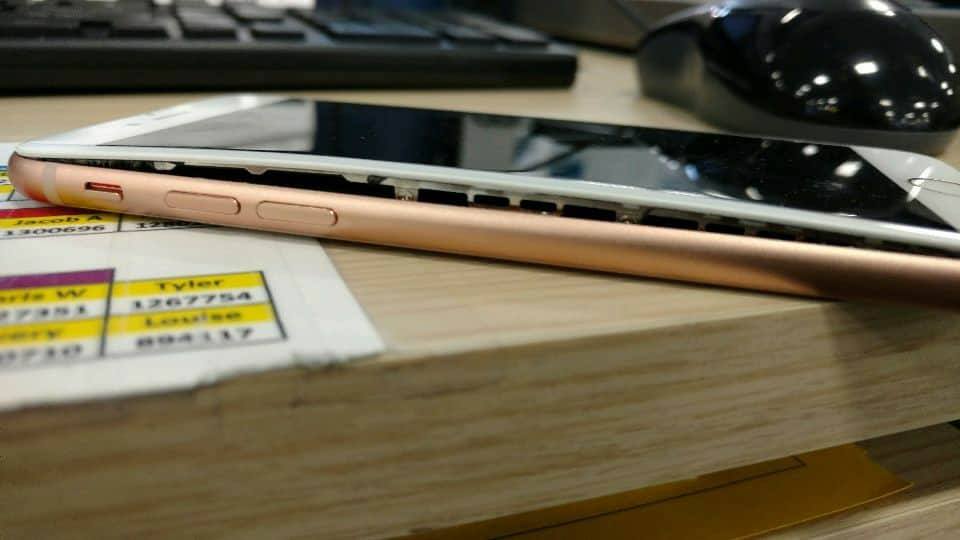 This marks the first time an iPhone 8 with a swollen battery has been reported in the US, but at this rate it might not be the last. The number of affected iPhone 8 handsets that have been reported is still statistically insignificant since millions of iPhone 8 handsets have already been sold. Of course, there's also no telling how many handsets have been affected that were just returned to Apple without first reaching tech news sites.