DSCC released its latest OLED shipment report with some interesting tidbits about Apple's iPhone 14 sales, as well as how Samsung and other manufacturers are performing in the OLED smartphone market. According to the research, the second quarter of 2023 was 4% better than Q2 2022, while it also grew by 1% year over year.
Once again, Apple and Samsung topped OLED panel shipments, although other vendors, such as Honor, Vivo, and Oppo, increased their market shares.
The report shows that Apple remained in first place in Q2 2023 with a 32% unit share, down from 39% in Q1 2023 due to slower growth in the 14 Pro models. Total OLED panel procurement fell 15% quarter over quarter while rising 12% yearly.
Samsung had a 23% share, down from 26% in Q1 2023, as a result of a 9% Q/Q and 1% Y/Y decrease. Several brands increased unit share in Q2 2023. Those brands include Honor, with a 6% unit share, up from 3% in Q1 2023; Vivo, with a 5% unit share, up from 4% in Q1 2023; and Xiaomi, with 7.4%, up from 6.7% in Q1 2023.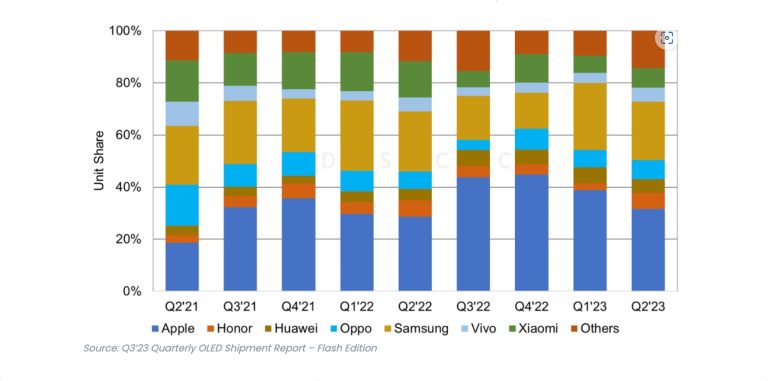 DSCC explains that some of these brands' increase is due to significant quarter-over-quarter unit growth. That said, despite losing share, Apple and Samsung had the top five models in Q2 2023 – and also in the previous quarter.
For Q2 2023, here are the top 5 OLED smartphone models by panel revenue:
iPhone 14: 15.3% of revenue share
iPhone 13: 11.1% of revenue share
iPhone 14 Pro Max: 10.7% of revenue share
iPhone 14 Pro: 9.2% of revenue share
Samsung Galaxy S23 Ultra: 5.2% of revenue share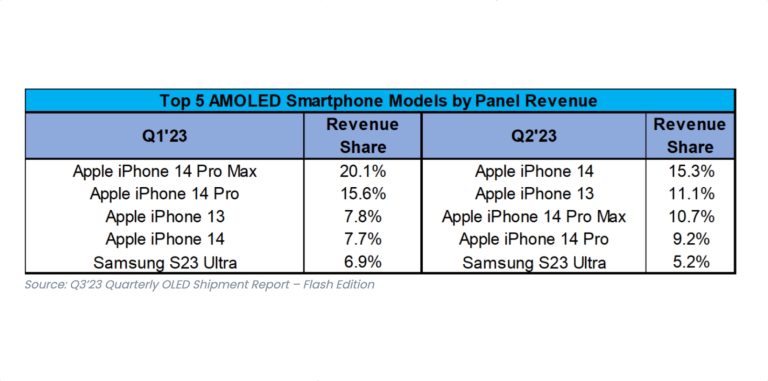 In Q1 2023, the Pro models had the most revenue, followed by the iPhone 13 and then the iPhone 14. As hardcore users are now waiting for the iPhone 15 Pro models, it makes sense that the regular versions are seeing their revenue share rise, as customers just looking for a new phone are upgrading to cheaper and smaller options.
DSCC says the long-term forecast for OLED units, revenues, and more will be available next month. With that, BGR will be able to report on the expectations of the iPhone 15 series as well as the iPhone 14 sales in general.