Even though Apple has slowly and perhaps reluctantly increased the available storage tiers on the iPhone, running out of storage space remains a frustrating reality that many users still have to contend with. After all, with users loading up their devices with high-res photos, Live Photos, 4K videos, and an endless number of apps, it's easier than ever to stretch the limit of even a 128GB device.
To help ease the strain, Apple with iOS 11 has introduced a new setting which provides users with more granular storage management controls. Specifically, iOS 11 now enables users to get a clearer snapshot of where their storage is being used up while also providing quick solutions help to clear up space.
Originally brought to light by Ryan Jones, iOS 11 houses a revamped storage section that allows users to quickly identify and delete uncharacteristically large attachments from the Messages app. This is a welcome improvement from the current incarnation of iOS where users have to select individual conversations, check for attachments or images, and then delete them. This works well enough, but sometimes it's not readily apparent what conversations are using up more than their fair share of storage.
iOS 11, in contrast, streamlines the entire process.
Yuuus. Even better! You can seriously triage storage AND recommendations. pic.twitter.com/7UO0PFxzhz

— Ryan Jones (@rjonesy) June 5, 2017
Not only that, but MacRumors points out that iOS 11 will now give users some recommendations for clearing up space as well.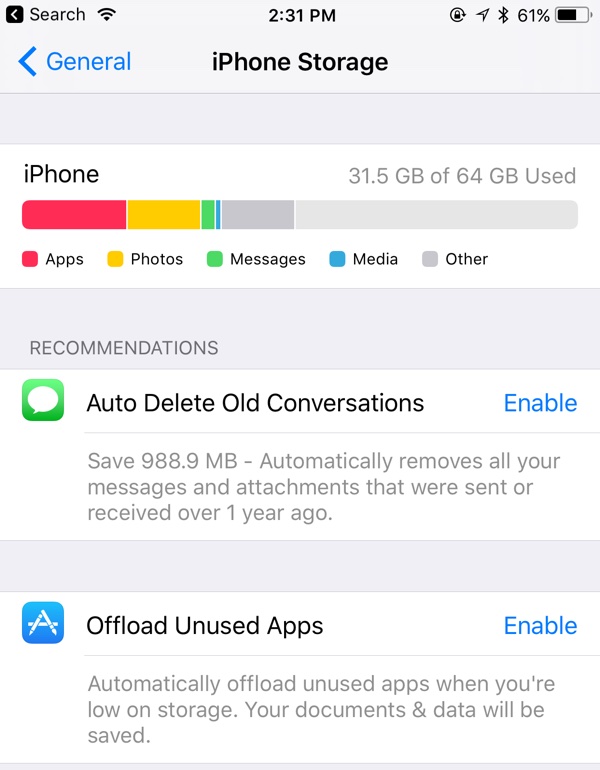 All in all, the new storage features above are highly welcome, if not long overdue. Apple has made managing device storage much easier in recent years, but iOS 11 appears to give users more control over their devices than ever before.