Apple's iOS 10 software is packed full of new features. In fact, there are so many new features that it's impossible to remember them all, which is why we often publish collections of lesser-known tips and tricks. A perfect example is this collection of 5 iPhone features only power users know about — we always want to help people get the most out of their smartphones.
When iOS 10 was first released as a closed beta last summer during WWDC 2016, developers instantly began picking it apart. In doing so, they stumbled upon a fantastic looking "dark mode" feature hiding inside iOS. The good news is it was there. The bad news, as we all know, is that it wasn't enabled when iOS 10 was finally released in September.
Rumors suggest that a new "theater mode" might be introduced in iOS 10.3, but nothing has been confirmed at this point. What you might not know, however, is that there's already a dark mode feature hidden inside your iPhone browser.
Night Shift is a nifty new feature Apple introduced in iOS 10 that reduces the amount of blue light emitted by an iPhone or iPad display at night. It theoretically helps users sleep better, but it doesn't do anything to make text more visible in low light situations. For that, you need "dark mode," which switches things up and makes the background black with light colored text.
Dark mode is available in many third-party iOS apps and even a handful of first-party apps. Sadly, however, there's no system-wide dark mode feature for the time being. That said, there's actually a special dark mode in Safari that most people don't know about, and it'll let you read just about any article on the web in light text on a black background.
Here's how to enable it:
1) First, load any article in Safari (if you're reading this Safari on an iPhone or iPad, you're good to go).
2) Tap the reader mode icon in the left corner of the URL bar. You'll then see something that looks like this: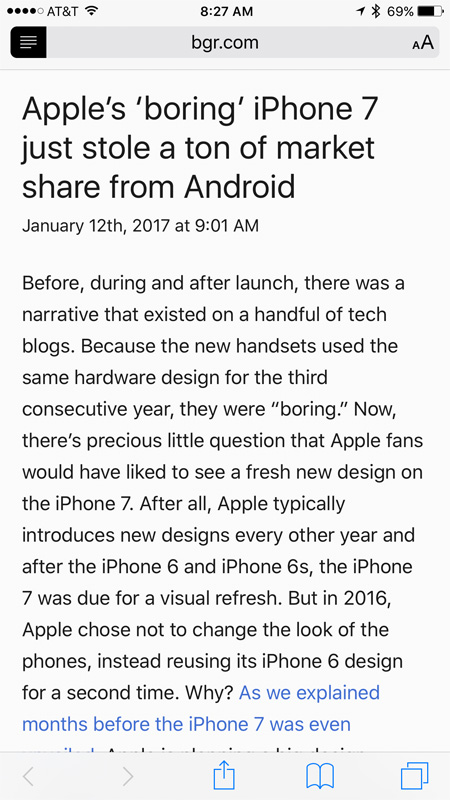 3) Tap the "aA" icon in the right corner of the URL bar and you'll get a drop down menu that looks like this: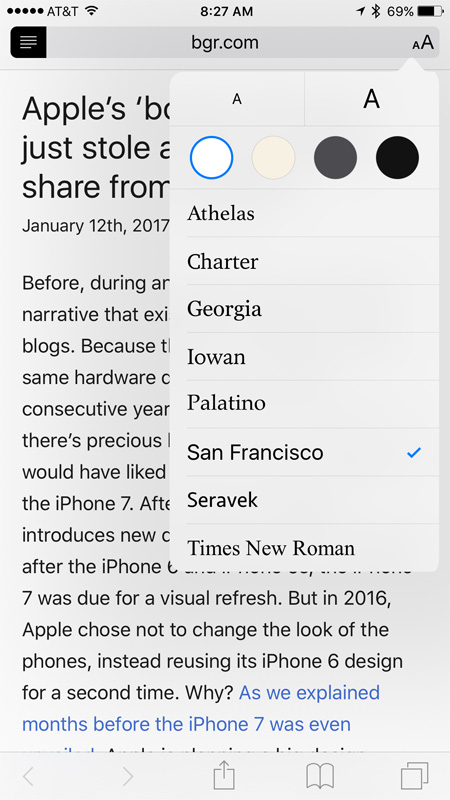 4) Tap the black circle all the way to the right in the top row of the drop down menu. Presto — you've just enabled dark mode in Safari: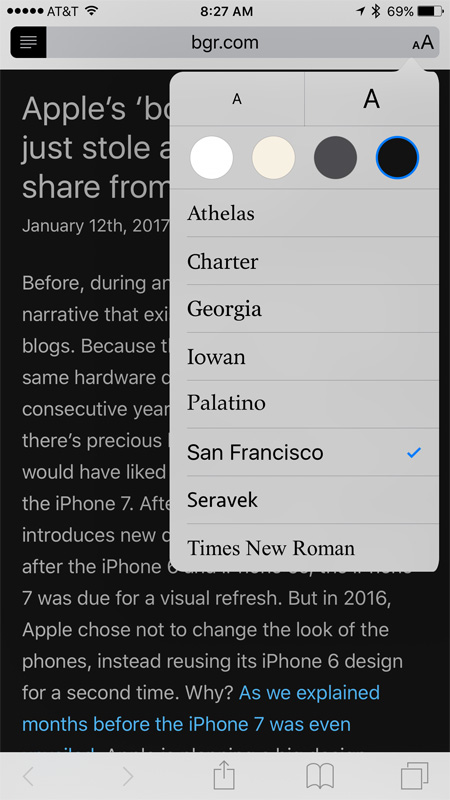 Here's what your screen will look like once you start scrolling around: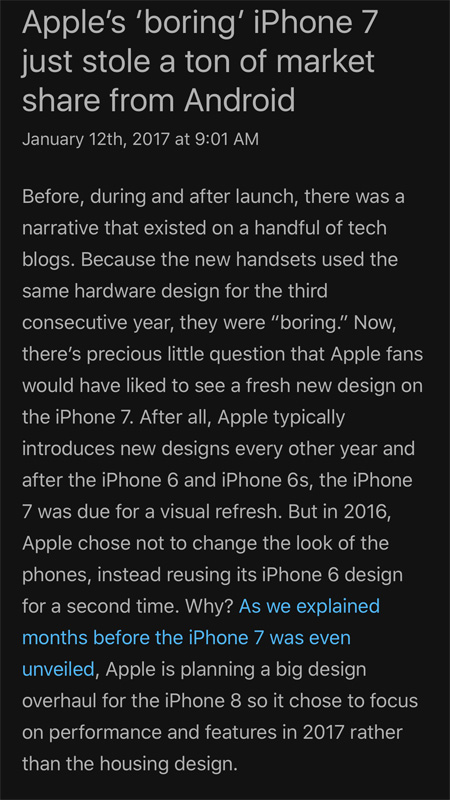 In-line pictures will still display normally, but the rest of the page will be dark, as pictured above. It's not the system-wide dark mode we've all been waiting for, but people spend a tremendous amount of time reading in Safari, so this should be a big improvement at night.