For the first time in history, more users last month accessed the web from mobile devices like smartphones and tablets than they did from desktops or notebooks. According to data released by StatCounter earlier this week, 51.3% of all web visits last month came from mobile devices compared to 48.7% of visits from traditional computing platforms.
DON'T MISS: Downloadable Wordle content so you can play unlimited for free forever
The following chart is a snapshot of worldwide internet usage through October of this year and the result truly speaks volumes.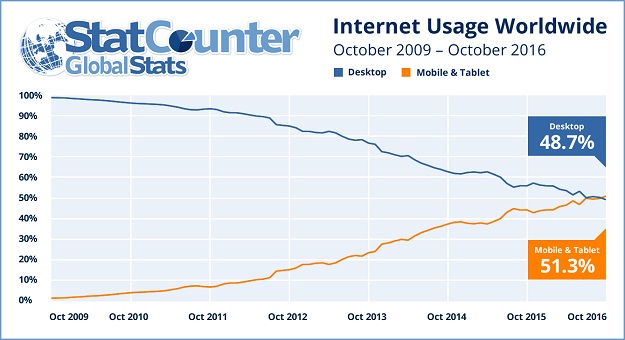 Interestingly, if we put tablets into their own category, the data changes ever so slightly. Breaking tablets out into a group all its own, mobile-based web visits account for 46.53% of traffic while tablet-based traffic would account for 4.73% of web traffic. In other words, internet usage is on the verge of being dominated by smartphones.
Also interesting is that if we look exclusively at web visits originating from the U.S, we see an entirely different picture. As evidenced via the chart below, desktop machines accounted for 58% of web visits while while mobile devices accounted for 42% of visits. It's also worth highlighting that this trend is reversed in emerging markets where mobile devices remain the primary point of Internet access for most individuals.
While there was never any doubt that society has been moving towards a decidedly mobile-oriented world, the charts above show that mobile is rising faster than perhaps most people assumed.
What's particularly impressive is how fast the transition to mobile has taken place. The iPhone ushered in the modern smartphone era in 2007, but mobile Internet usage didn't even approach the 30% threshold until last 2013.