Intel is once again setting records with its latest processors. The company previously hit 6GHz with its i9-13900KS, which was released earlier this year. Now, the company is promising to hit the 6GHz mark again, but this time in its new 14th-gen desktop CPUs.
Hitting this kind of mark used to mean hours of time spent trying your luck with overclocking, tweaking the settings your CPU runs at to just the right numbers, and allowing the processor to run at increased speeds without completely frying itself. Now, you can get that kind of power right out of the box, at least for a short while.
That short while comes into play because the new Intel 14th-gen desktop CPUs might hit up to 6GHz, but they only do so thanks to a short-lived "Thermal Velocity Boost" speed. That means you aren't going to be running 6GHz all the time. It isn't a very sustained boost, but it is something the company can use in its marketing plays against AMD.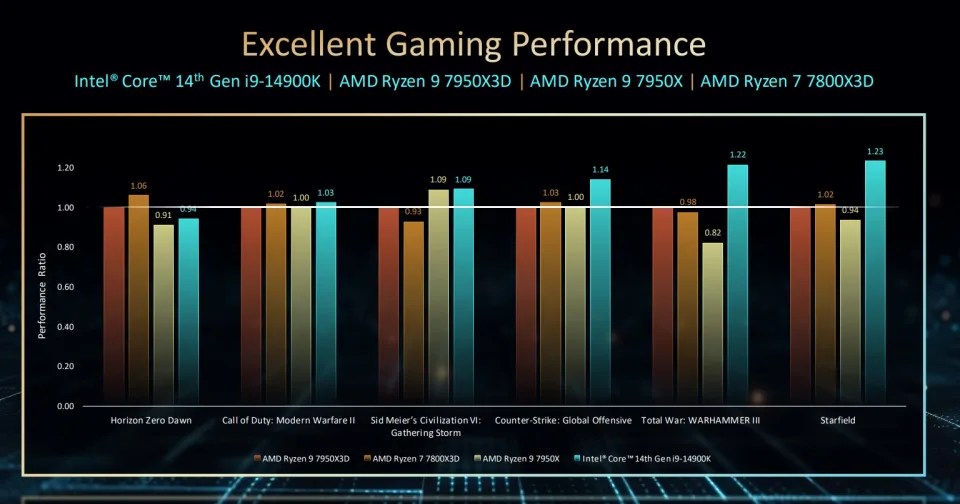 Let's be clear, though, these 14th-gen desktop CPUs are way different than the previously revealed 14th-gen Core Ultra processors, which Intel dropped recently. Those Core Ultra processors are designed to work with mobile laptops, so they're more focused on efficiency.
The 14th-gen desktop CPUs are designed to give you as much power as they can without impacting how much power they use. Ever since Intel started losing ground to AMD in the CPU market, the company has been looking for ways to make its processors stand out a bit more, and this claim to 6GHz speeds could be something that does just that.
But does that mean you should go with the most expensive processor that Intel offers in this lineup? Not necessarily. The i7-14700K will most likely offer everything you need for $409, and it'll save you around $150 off the price tag of the 14900K, which is currently listed for $589.
These new chips also don't take advantage of the 3nm process, as we'll probably have to wait until the 15th gen Intel CPUs for that.
These new Intel 14th-gen desktop CPUs will be available starting on October 17, and they'll be available from retailers and system manufacturers. So, if you've been looking to build a new system, you only need to wait a bit longer to take advantage of 6GHz speeds.