I wouldn't blame you if you had no idea that Huawei, the Chinese telecom giant that's making plenty of waves in the mobile business right now, manufactures Windows laptops. But the fact is that Huawei has been at it for a few years now, and the recently unveiled MateBook X Pro represents the epitome of Huawei's craftsmanship.
As I said after my brief hands-on at MWC 2018, where Huawei announced the nimble laptop, the MateBook X Pro feels like a mix of Apple's MacBook Air and MacBook Pro. Because, let's face it, the design inspiration behind the MateBook X Pro is Apple's iconic MacBook Air. Huawei, however, didn't stop there, turning it into a Windows 10 Notebook that stands out, in many ways, from the crowd. After spending a few weeks working and playing with the MateBook X Pro, I can tell you, without a doubt, that Huawei managed to build a computer that you should absolutely check out in a store near you – that is if local stores do sell Huawei hardware.
Design
The Space Gray version of the MateBook X Pro may look similar to an Apple laptop from a distance. But as soon as get closer, you realize that's not an Apple logo on the lid. Instead, it reads Huawei. Lift the top and the best thing about the MateBook X Pro – and there's no question about this – appears before you.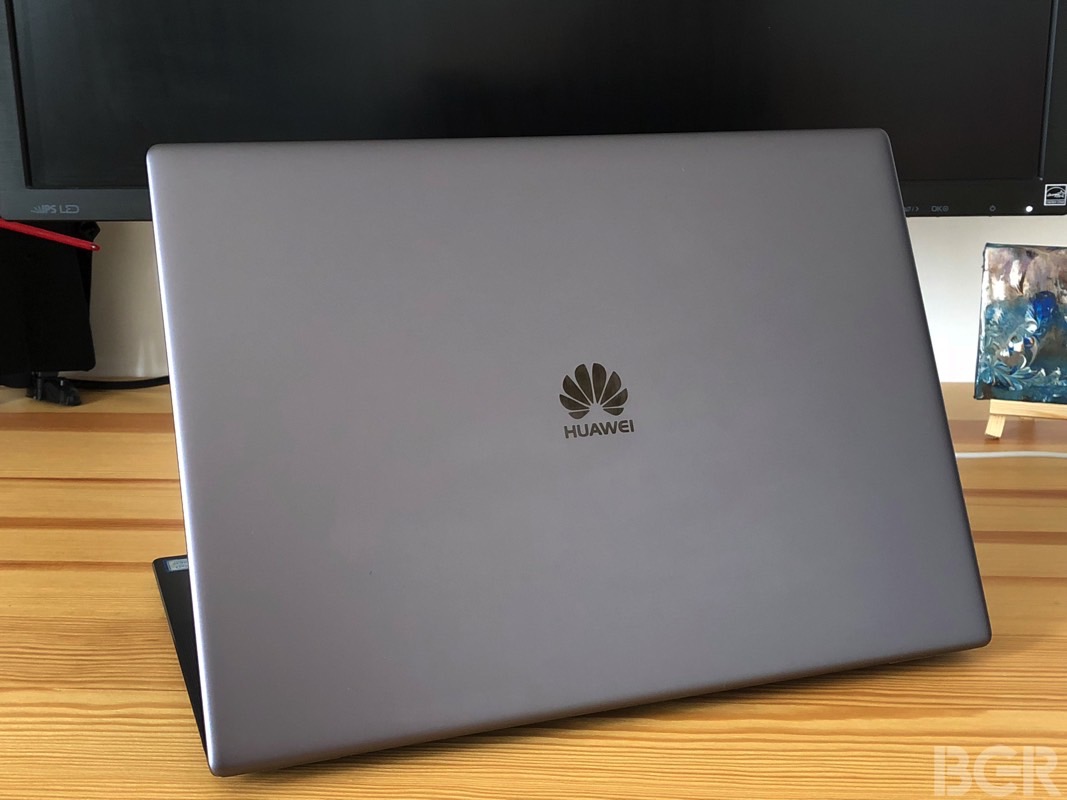 It's the gorgeous 3K display (that's 3000 x 2000 resolution and 3:2 aspect ratio) that Huawei calls FullView Display. It's a FullView screen because it extends almost from edge to edge. This is far beyond what Dell did with its now-iconic InfinityEdge screens because Huawei managed to reduce the bezels further. We're looking at an impressive 91% screen-to-body ratio that I'd like other laptop makers to copy ASAP.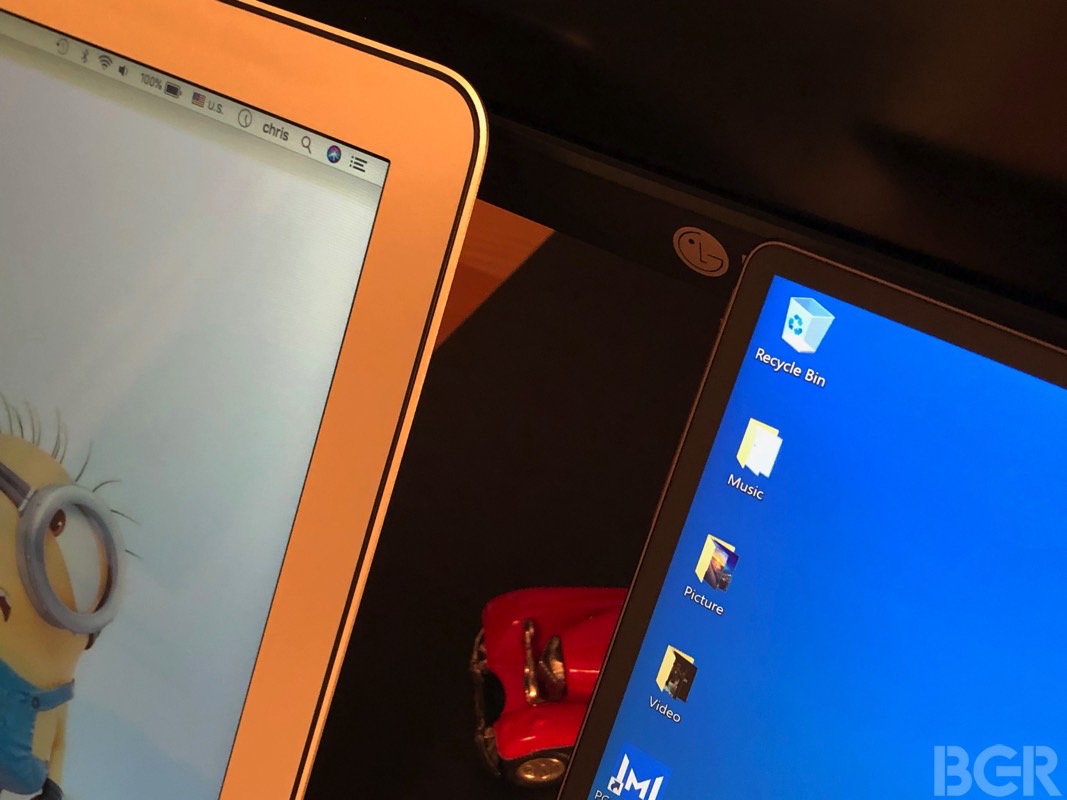 To put it differently, Huawei managed to increase the screen size of 13-inch laptops, without increasing the overall footprint of the device. The screen measures 13.9-inch, 0.6-inch larger than regular 13.3-inch displays. But the laptop itself is smaller than the MacBook Air, and about the same size as the MacBook Pro – it also weighs just 1.33kg, on par with Apple's MacBook Pros.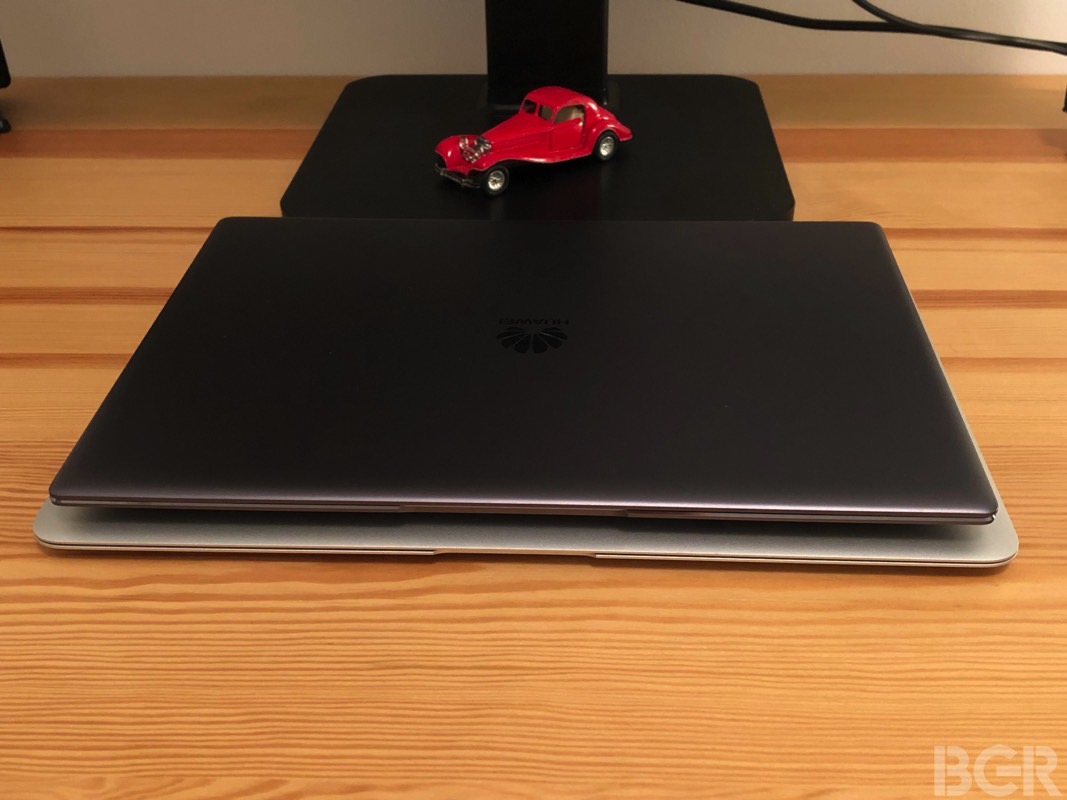 How was this all possible? You might remember from our preview with the laptop that Huawei removed the camera from the front panel. The camera hasn't gone away for good. It resides between the F6 and F7 keys.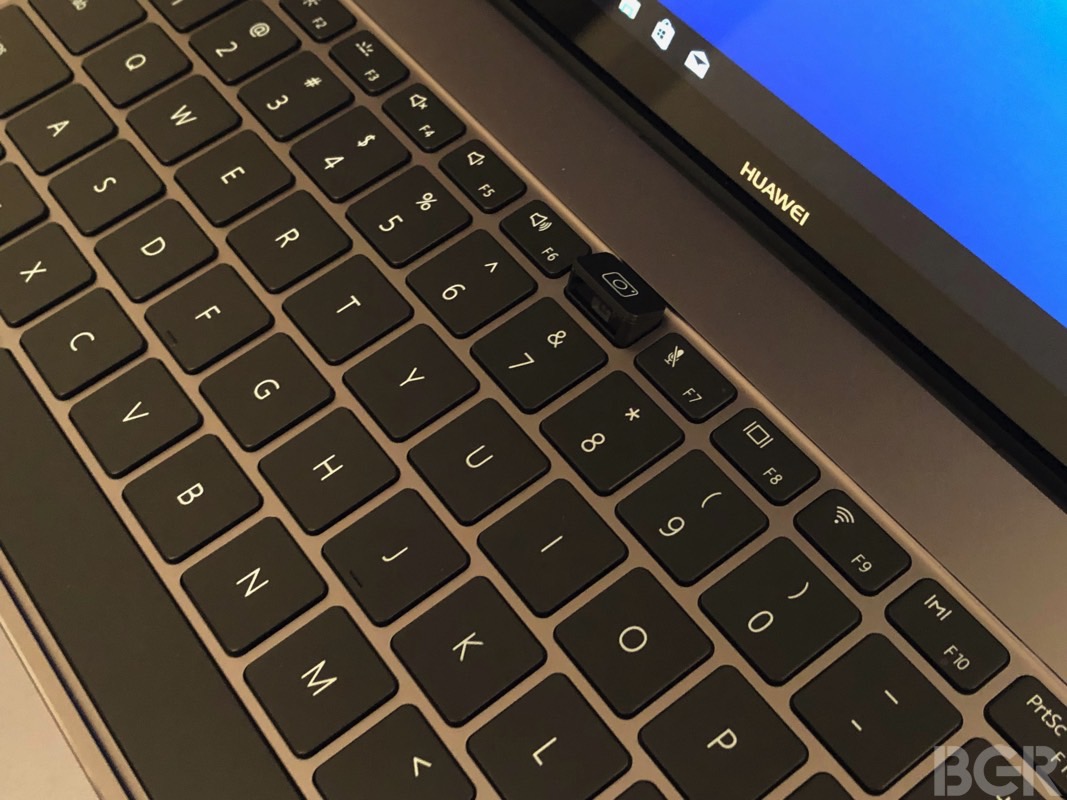 Pop it, and it comes to life to serve your video chat needs. Hide it away when you're done with it. This, by the way, is a great way to make sure nobody is recording you without using any tape to block the camera. For added protection, you can disable the microphone too with a press of a button (that's F7). If there's one thing you won't like about the camera is that you can't adjust the angle when in use. I had no real problem with that because video chat isn't part of my daily computer routine. That's something I reserve for the smartphone, and I'm sure many people will feel similarly about it.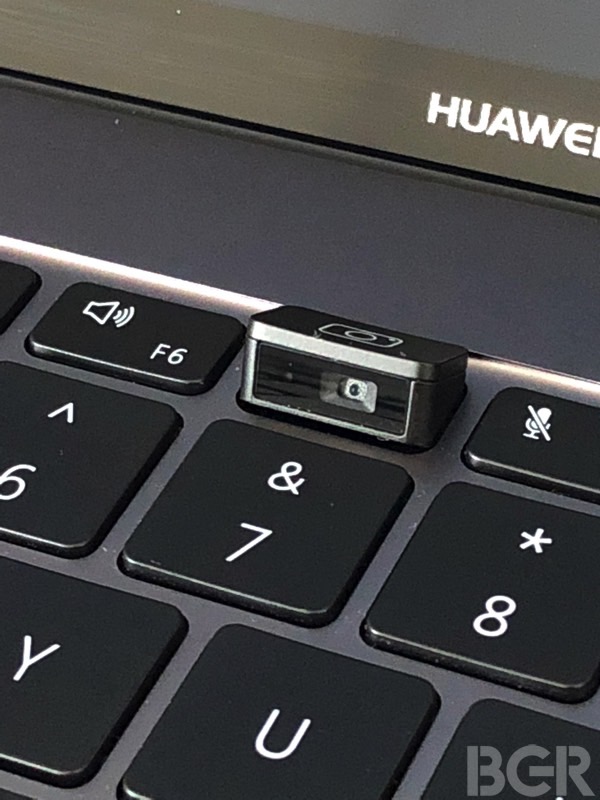 Aside from the gorgeous display, the MateBook X Pro offers a slick metal body and an overall feel that screams premium and expensive. Indeed, the MateBook X Pro is very expensive – maybe too expensive, but we'll get to that later.
Power
The wedge-like design may be reminiscent of MacBook Air's lines, but the MateBook X Pro is a lot more powerful than the Air. The unit I got to play with packs quite a punch under the hood. An 8th-gen Intel Core i7 processor, 16GB of RAM, 512GB SSD, and a discrete Nvidia GeForce MX150 GPU is more than enough for regular computing needs. And this amazing device also doubles as a gaming laptop.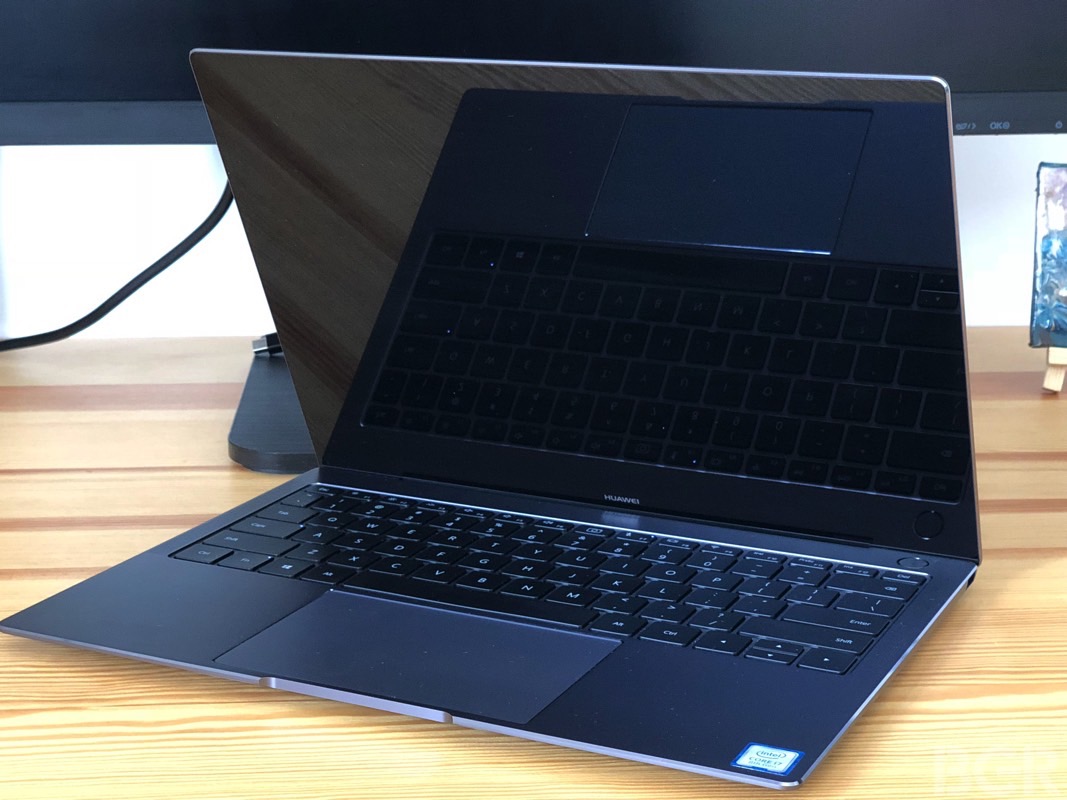 It's not as good as a real gaming laptop, but you'll be able to run most of the popular games out there quite decently. I was able to play shooter games like Fortnite and CS:GO flawlessly, which means PUBG and Overwatch will also run rather well on the machine. Hook it up to an external monitor, and you end up with a gaming station that'll keep you entertained for hours.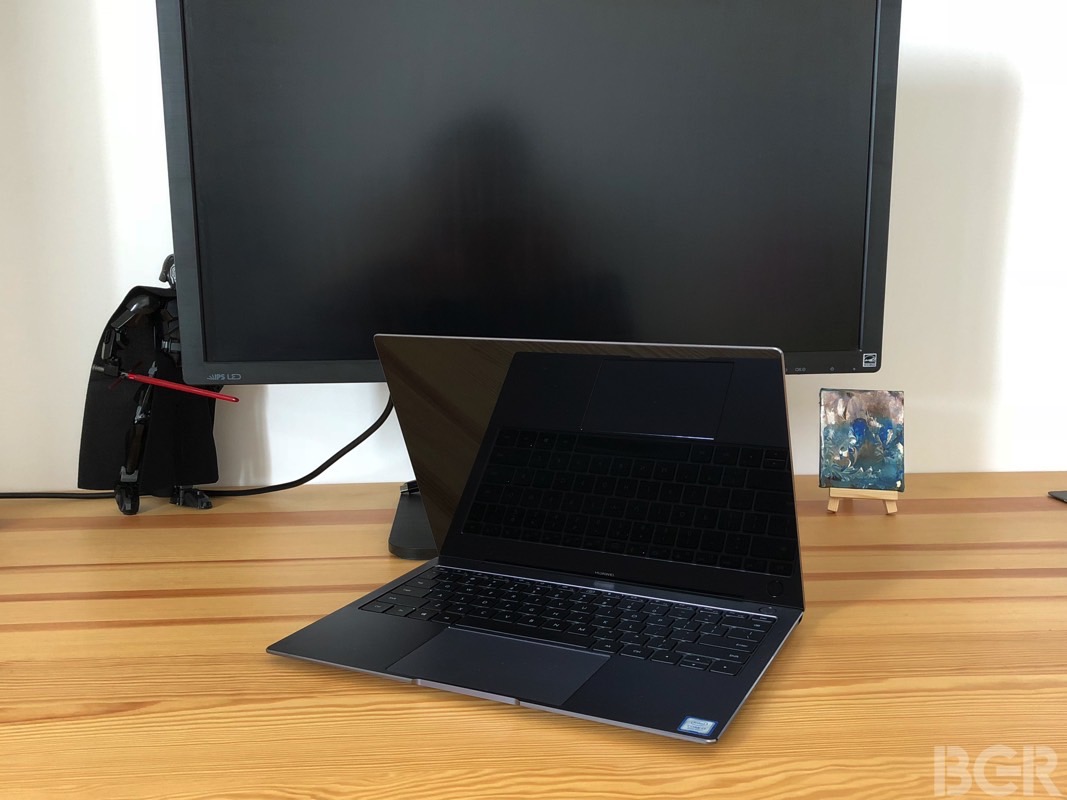 The laptop can get rather hot during peak performance, however, so using it on your lap while performing hardware-intensive tasks isn't recommended. For gaming, you'll need a mouse, and maybe a keyboard too. Yes, the built-in keyboard does get hot the more you use it, and worrying about heating keys while you try to frag someone is the last thing you should do.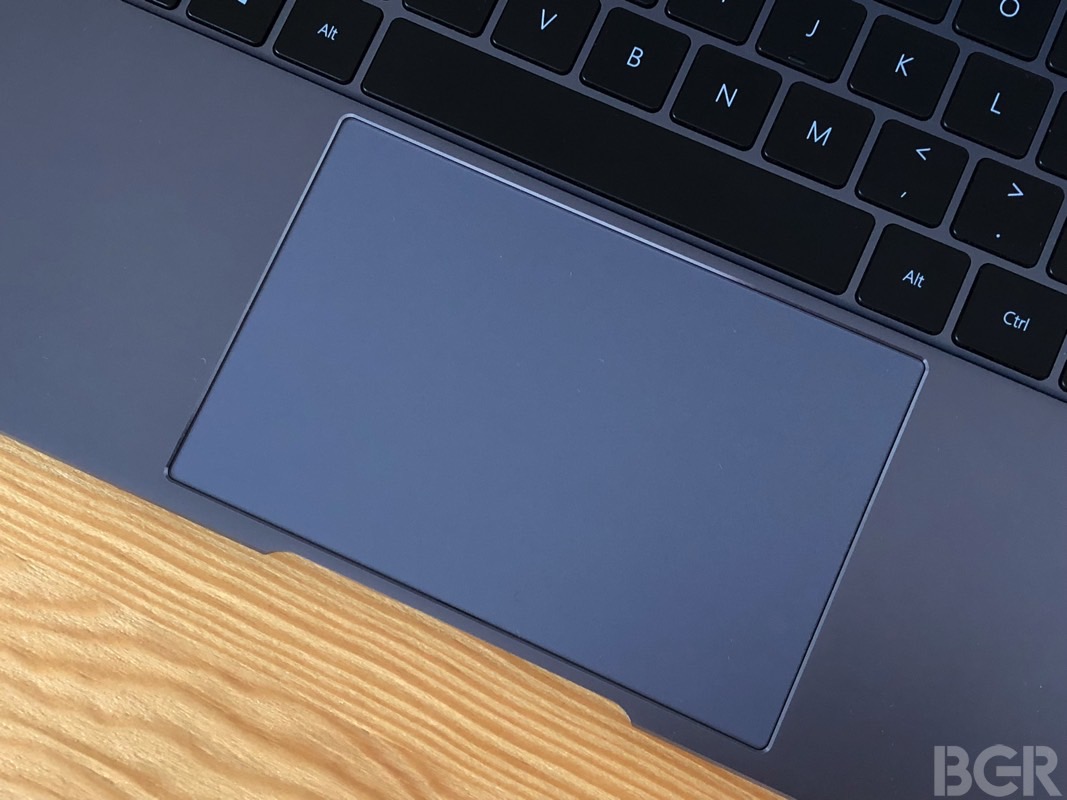 Speaking of peripherals, I have to tell you that I'm a trackpad kind of Mac guy. I never use a mouse, that's how good the MacBook's trackpad experience is. The MateBook X Pro wants to offer the user plenty of real estate when it comes to the touchpad and that's great. However, I did find it more challenging to interact with to the point where I'd rather use a mouse. I have no idea whether it's a Windows 10 thing, and I did try to adjust the sensitivity. But I kept experiencing unusual touch behaviors when I'd want to select text and items on the screen.
Luckily for me, and any Windows 10 user, laptops come with touchscreen displays nowadays, and the same goes for the MateBook X Pro. It's a 10-point multitouch screen, and I found myself reaching to touch it almost instinctively from the get-go. It's how I played Hearthstone on it, which is much better experience than on Macs. You get tired faster too.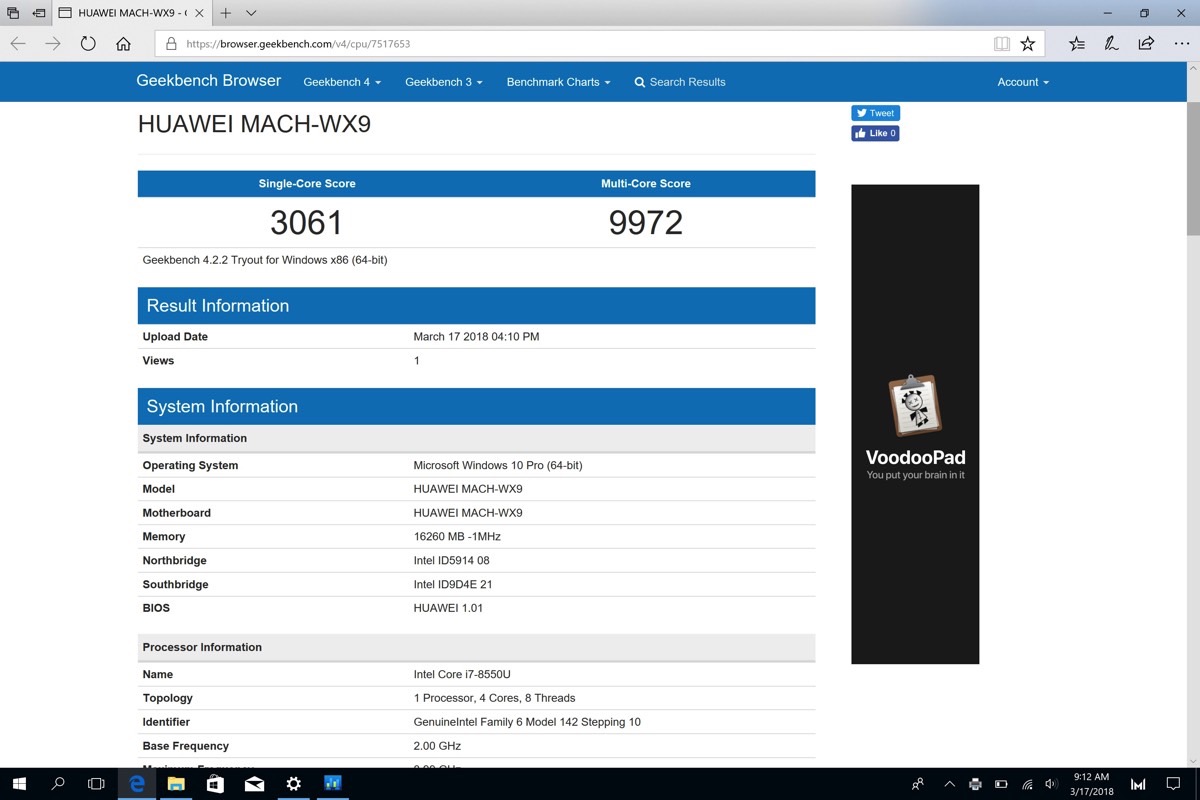 When it comes to benchmarks, the MateBook X Pro scored more than 3,000 points in single-core Geekbench 4 tests, almost 10,000 in multi-core. The top of the line 13-inch MacBook Pro does 4,600 and 9,500 in the same tests. You can check out OpenGL scores and SSD performance in these screenshots as well.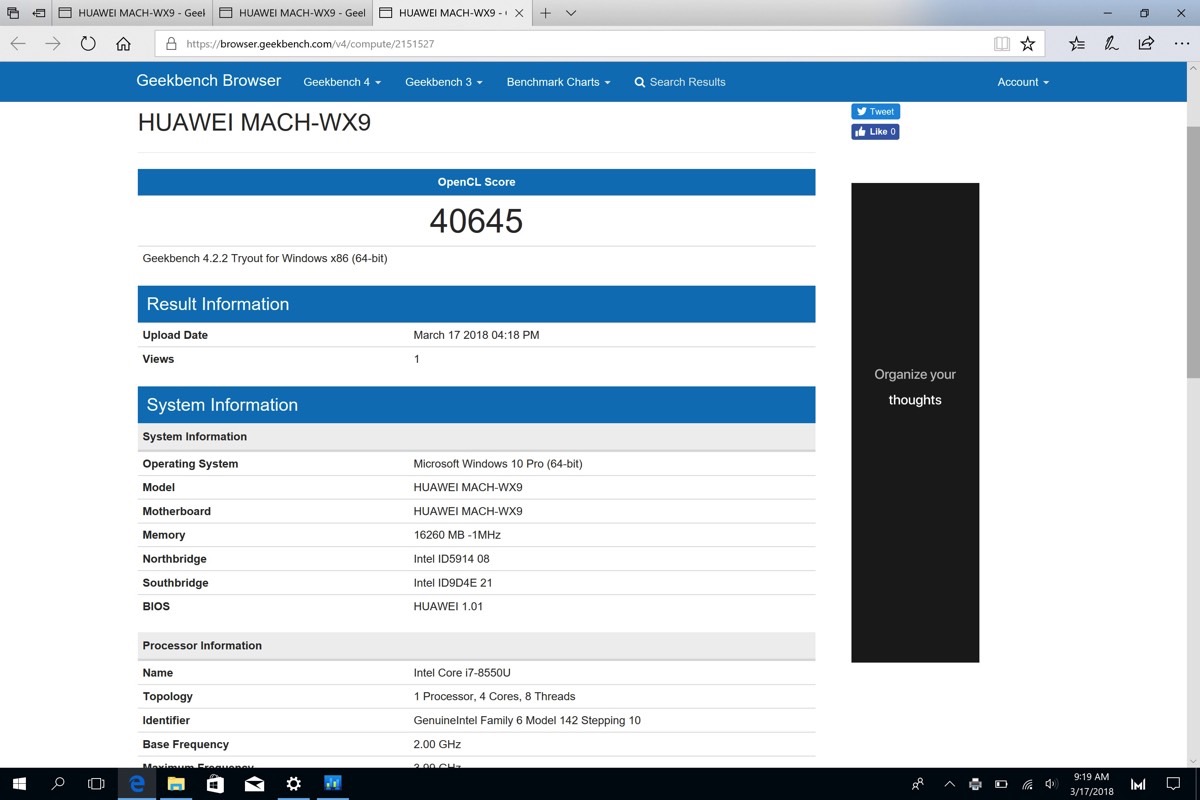 Since I did talk about using the laptop for entertainment purposes, I do have to tell you about a critical aspect of that experience. The sound is something else on the MateBook X Pro. Quad speakers and Dolby Atmos support should upgrade your Netflix experience and extend binging sessions. It's almost a shame to use headphones with the laptop, that's how loud the sound can be. In fact, depending on where you are, you might not always be able to crank it up to full volume, because others will definitely mind.
The keyboard and fingerprint sensor
Because, generally speaking, the MateBook X Pro is a MacBook lookalike, the keyboard will also seem pretty familiar. It's got almost the same design and shape, so if you're coming from MacBook, you'll have no time adjusting. The typing experience was nearly flawless, and the only issue I can think of concerns the trackpad incidents as mentioned above. It's not that I'd accidentally press my palm against the touchpad while typing. That didn't happen at all. It's just that the trackpad seemed to slow down my productivity as I had to pay attention to how I was touching it constantly and whether the result was what I wanted, whether that means cropping images, selecting text, moving files, or resizing windows.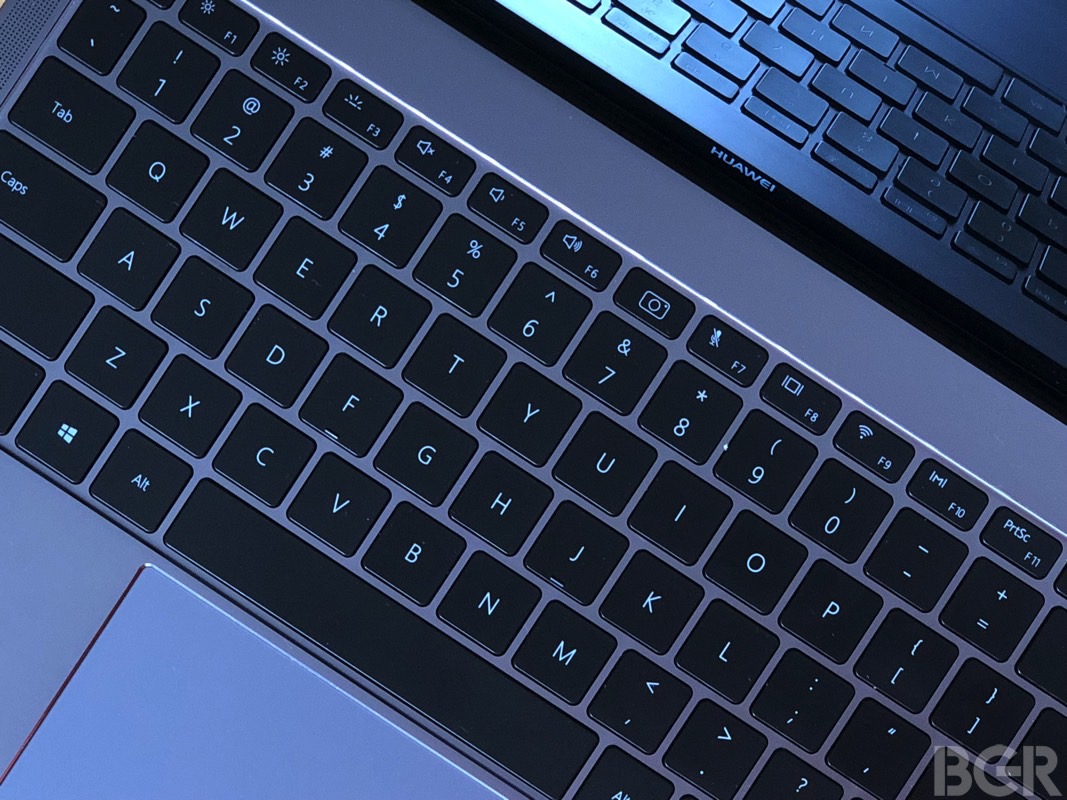 One of the highlights of Huawei's MateBook X Pro presentation was the "super-fast power button 2.0" technology that enables incredibly quick logins, whether from power off or sleep. I can attest that the fingerprint sensor is indeed as fast as Huawei wants it to be. With a touch, you're up and running, a tiny detail which contributes to the whole "it's-so-fast" experience. You do have to set up a password and a PIN as backups, but I never found myself in a situation where the fingerprint sensor would not work.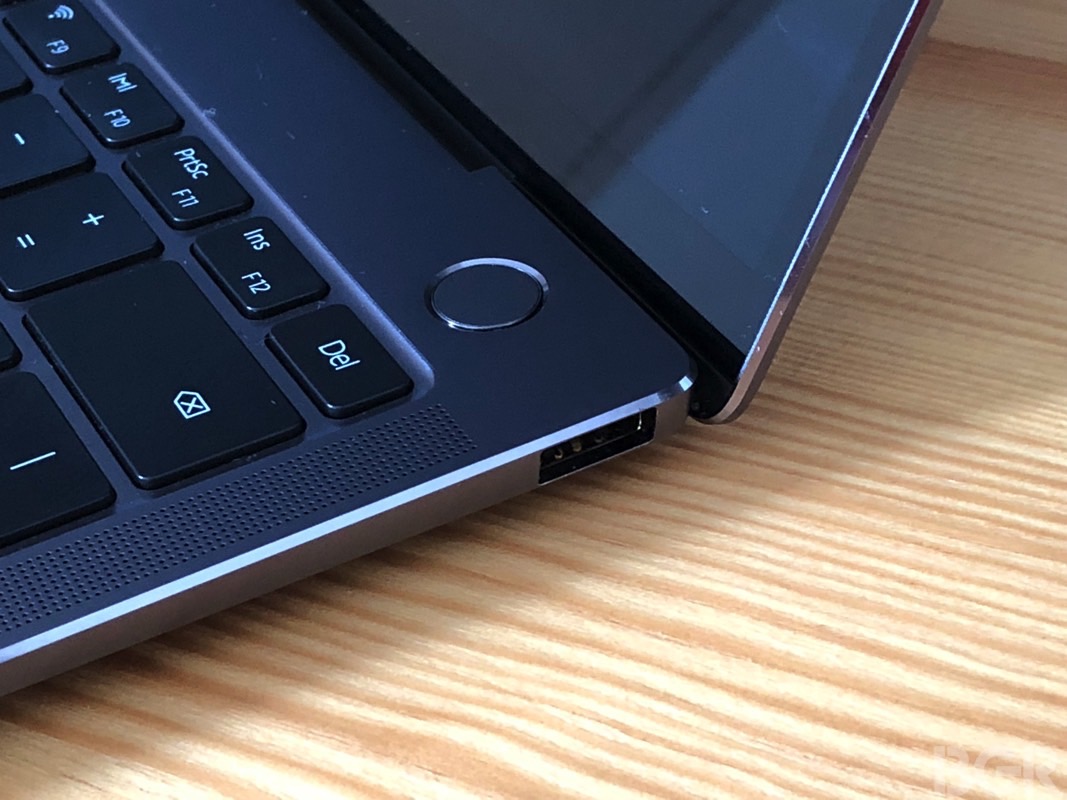 Dongle hell
If you're buying a device like the MacBook, MacBook Pro, and any of their direct rivals, then you should be prepared to live the dongle hell life. The MateBook X Pro is almost similar in that regard. The laptop comes with two USB-C port, both ready to deliver charging and data transfer. But only one doubles as a Thunderbolt 3 port, if you need to connect it to an external display. For me, that meant using a USB-C to Thunderbolt 2 adapter to get my external display up and running. You also get a USB-A port on the right side of the notebook. If you have a bunch of USB-A peripherals, you'll need a dock to connect everything.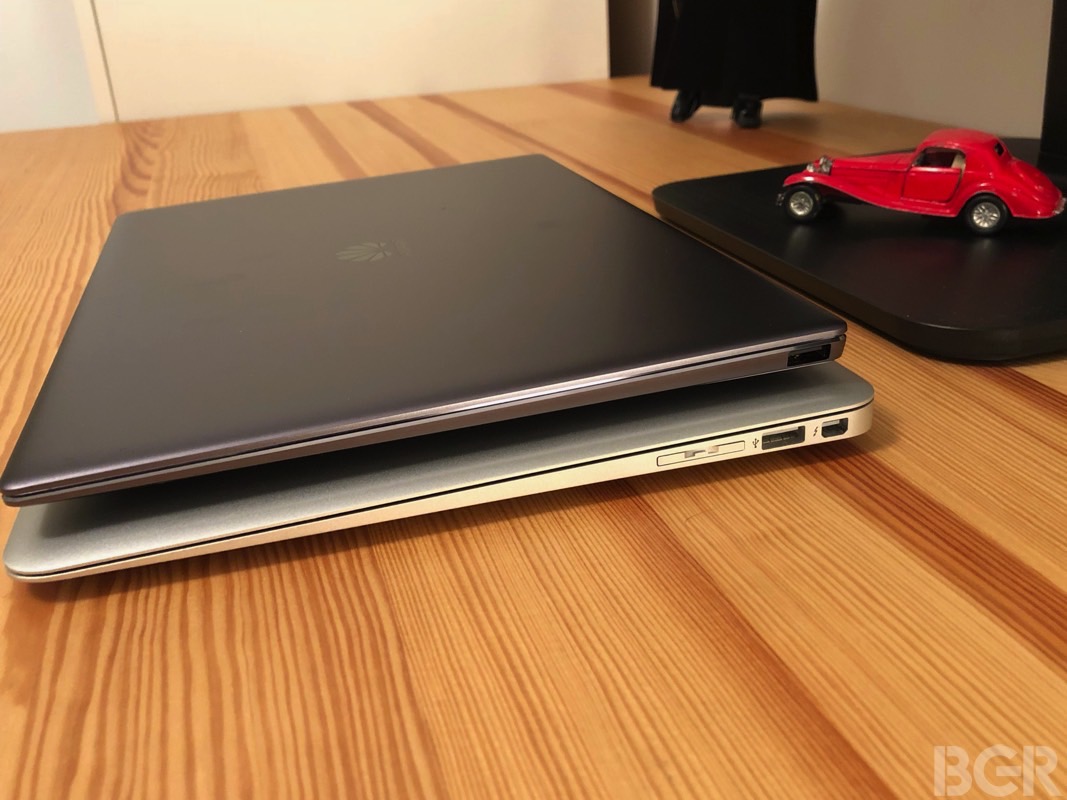 Finally, there's a 3.5mm headphone jack on the left side, although I mostly used AirPods with the MateBook X rather than wired headphones.
Battery life
Huawei says the MateBook X Pro should offer you up to 12 hours of Full HD video playback, 14 hours of work and up to 15 hours of web browsing. However, in day-to-day use, you'll do a bit of everything so that mileage may vary. Playing an HD video on loop killed the battery in 10 hours and five minutes. It took me five hours and 35 minutes to deplete 64%, and Windows estimated I still had some three hours of juice left. But forget about battery worries because modern laptops have fast-charging… chargers. The MateBook laptop uses USB-C for charging, which means that not only will it recharge faster than traditional laptops, but it also takes compatible external battery packs. In the example above, the laptop told me it needs 58 minutes to reach a full charge which is impressive. It's likely that you won't have to worry about running out of battery life if all you do is work and consume media on the laptop.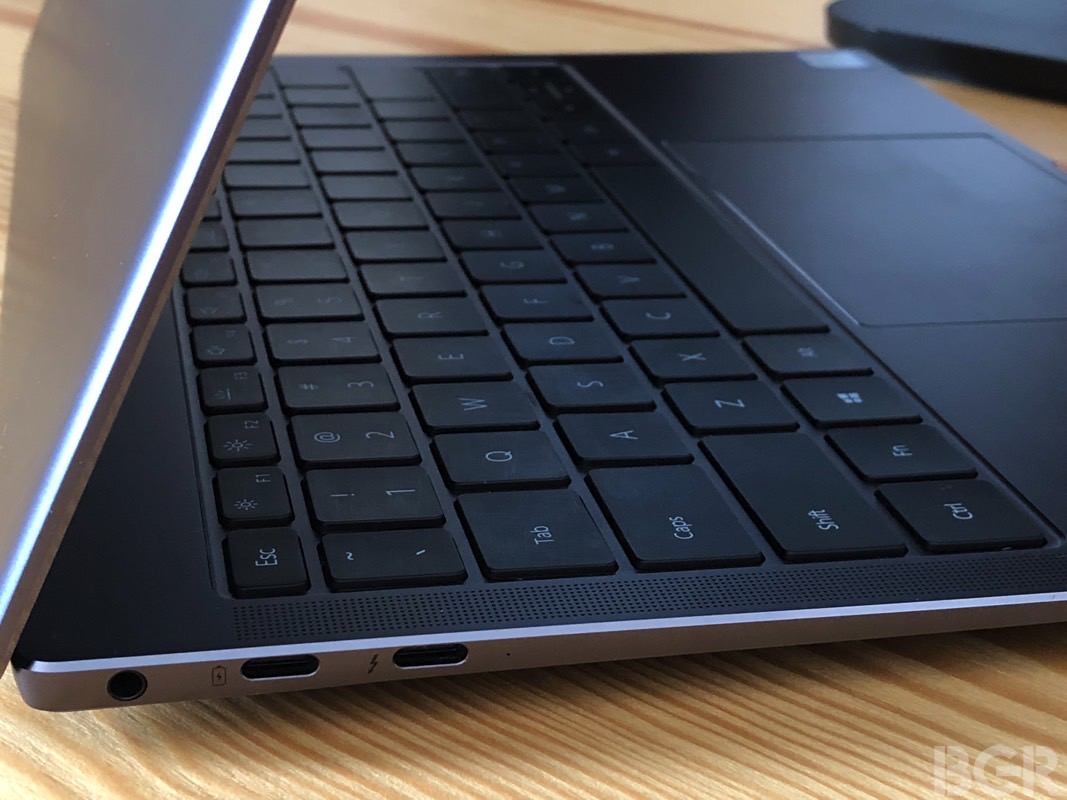 Gaming, on the other hand, is something that needs a charger. Plus, you'd want your laptop to be hooked up to a monitor, mouse, and keyboard when you do play games.
Conclusions
If you're in the market for a new top-of-the-line Windows 10 laptops, the Huawei MateBook X Pro has to be on your radar. It's a well-built, good-looking machine ready to meet most of your computing needs and then some. It's got a spectacular display, incredible sound, a fast fingerprint sensor, and battery that will last you through the day, in most use cases. The laptop is ready to offer you the best Windows 10 experience possible – it is Windows after all.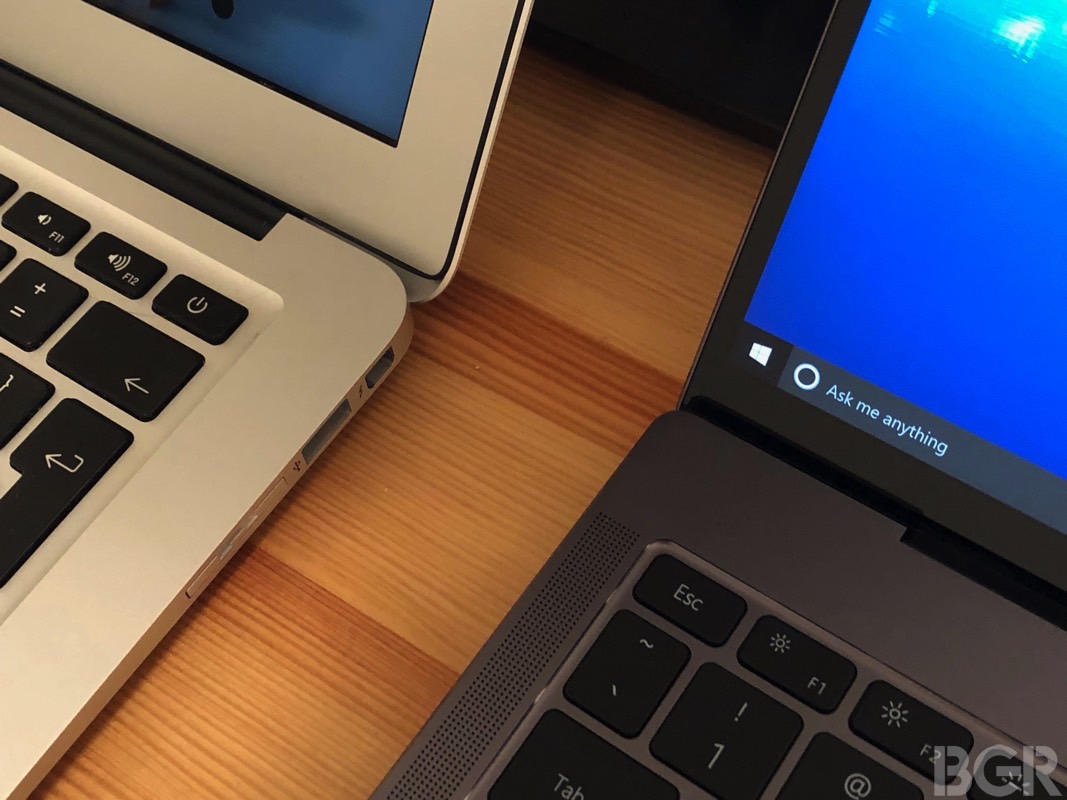 The worst thing about the laptop is the price. The cheapest model (Core i5/8GB/256GB) costs €1499. Add an extra 256GB of storage and you'll have to fork out an extra €200. The top of the line Core i7/16GB/512GB, meanwhile, retails or €1899. You'll have to think long and hard whether you want to pay that much for a laptop – and before you do decide, I urge you to try the MateBook X Pro in a store near you.
For a subset of Windows 10 customers, the US-based ones, there's an even more annoying thing than the price, which is why I'm not even converting Euros to dollars above. It's unclear at this time whether the MateBook X Pro will be available in America, given the anti-Huawei stance of the US government. Best Buy, one place where you'd have hoped to find the MateBook X Pro, has terminated its deal with the Chinese company. Huawei did say it's not abandoning the US when talking about smartphone sales. Let's see what that means for tablet and laptop sales.