Google Maps is easily one of the must-have mobile apps that you need to install when setting up a new phone, whether it's iPhone or Android. It'll help do more for you than help navigate your surroundings to reach your destination, although you'll use Google Maps for directions the most. But Google Maps has other neat features, like the ability to measure the distance between any two places.
The feature is built into both the desktop and mobile versions of the app, and you can use it easily if you're interested in finding the exact distance between two points.
Google Maps already tells you how far your destination is from your starting point, so you always know what distance you have to cover. But that's not a measurement in a straight line. Google Maps algorithms surface the fastest route to your destination, and that's rarely a straight line.
How to measure distance with Google Maps on iPhone and Android
The measurement tool is hidden in plain sight, especially on the mobile app, so we'll cover that experience first. Here's what you need to do to measure distance with Google Maps for iPhone and Android:
Place a pin on the map by tapping and holding
Tap Measure distance in the menu that appears (you might have to scroll down to find it)
Move the map so that the target symbol reaches your destination
Read the measurement at the bottom of the screen
You can add more waypoints to measure a more complicated route in Google Maps. For example, I used the iPhone to measure the distance between the Eiffel Tower and the Arc de Triomphe in Paris, France. In case you were wondering how far John Wick (Keanu Reeves) had to move from one place to another in John Wick 4: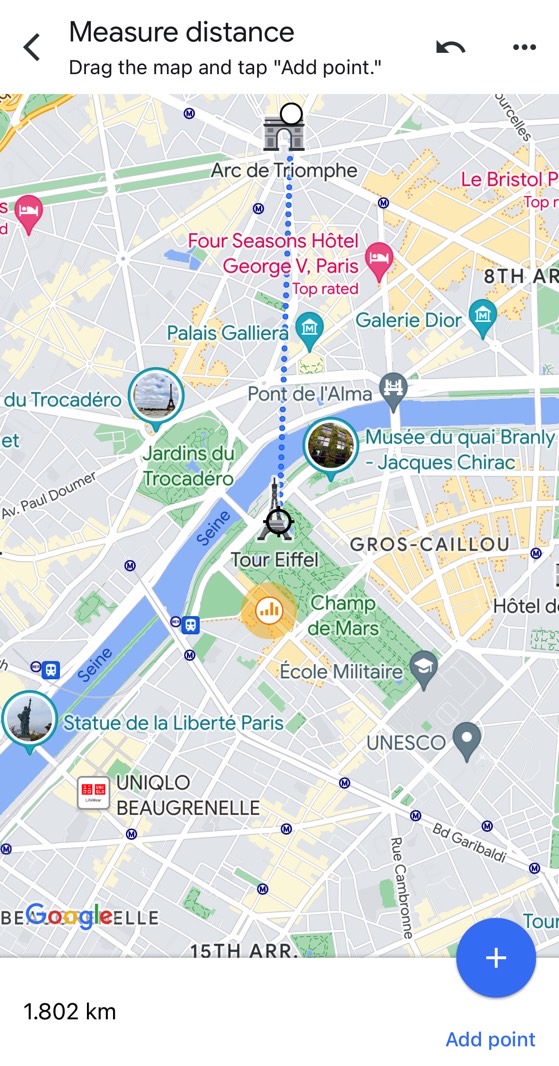 How to measure distance with Google Maps on desktop
The character's journey at the Sacre Coeur, so I went to the web version of Google Maps to chart a more complex journey. That's right; you can use Google Maps on any computer to measure the distance between two or more points. But the feature is hidden in the web version of the app.
Here's how to measure distance with Google Maps using the web app:
Right-click on the map where you want to start the measurement
Choose Measure distance from the menu
Click the destination, and you'll see a line on the screen and a box that will tell you the distance
Click a second time to add another waypoint
Getting back to John Wick 4, here's how far the three waypoints are from each other:
The journey starts at the Eiffel Tower, then Arc de Triomphe, then the Sacre Coeur church. But, again, the distance measuring tool isn't useful for planning trips. But you might find more practical uses for it now that you know Google Maps can measure distance.