Instant messaging apps are a dime a dozen these days. iMessage, WhatsApp, Facebook Messenger, Allo, Slack… pick your chat poison. No matter how time-consuming they are, we can't live without them, and I dare not envision an alternate universe where we'd be stuck using only SMS messages to communicate with each other. Or, God forbid, actual phone calls.
That's why the new Google Reply app might be one of the best things that is about to happen to chat apps. The app will suggest smart replies to notifications, allowing you to respond with a single touch. And don't worry, your witty remarks and burn responses aren't going away.
Google Reply isn't available to download from the Play Store yet, as it's in closed beta. But Android Police offers a handy download link — if you want to test it, you can download it right here.
The app will let you sign in to your Google account for a more personalized experience, and requests access to notifications. Once that's done, it'll provide smart replies right inside notifications from any chat apps that allow users to reply directly from the notification shade.
Android Police says it tested the app with Twitter direct messages, Android Messages, and Hangouts, but it would work just as easily with WhatsApp or Facebook Messenger because it only resides in the notification shade.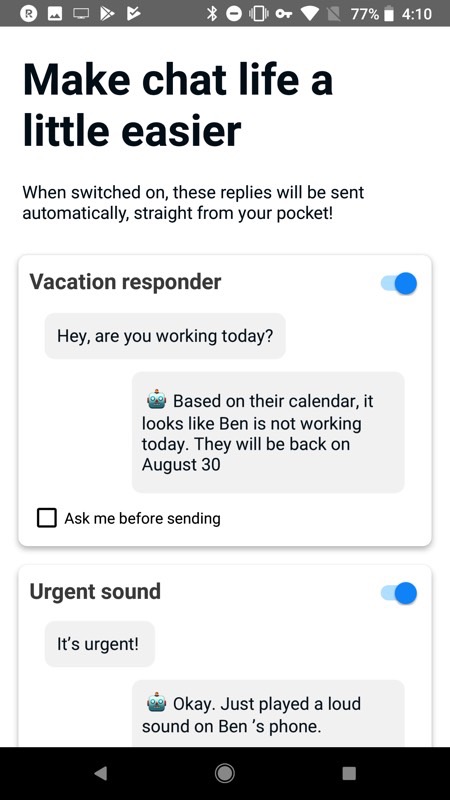 Reply offers you various responses to choose from and works best with short exchanges. An "automated responses" feature can also be found in the app. When enabled, the recipient is notified via a robot emoji about what has just triggered the response they received — but the feature doesn't work in the beta.
Furthermore, responses can include contextual data like travel time to a location, but that's not working either.
Some of the suggested replies are actually hilarious, as you can see in these screenshots — more screenshots are available at this link, alongside a download link.