We're one month away from the latest Google I/O developer conference, and as expected, all of the hardware Google plans to unveil has seemingly already leaked. The newest leak comes from MySmartPrice (via @OnLeaks), featuring images of the Pixel 7a. Google's budget phone has leaked repeatedly in recent months, but this leak gives us our first look at an all-new light blue color coming to the Pixel 7a lineup later this summer.
Light blue Pixel 7a revealed in new leak
As noted above, there aren't many mysteries left when it comes to the Pixel 7a. The design and specs of the upcoming phone have been trickling out for months.
As you can see from the leaked marketing images below, the Pixel 7a will bear a rather strong resemblance to the Pixel 7. The unique rear metal camera bar returns with two cameras and a matte finish, the hole punch selfie camera is once again centered at the top of the display, and even the bezels surrounding the screen look about the same, if not a bit larger.
More importantly, the leak reveals that the Pixel 7a will come in three colors: Black, White, and Blue. The shade of blue on the Pixel 7a seems to be very similar to that of the old Barely Blue Pixel 4a, but might be slightly brighter than Google's 2020 colorway.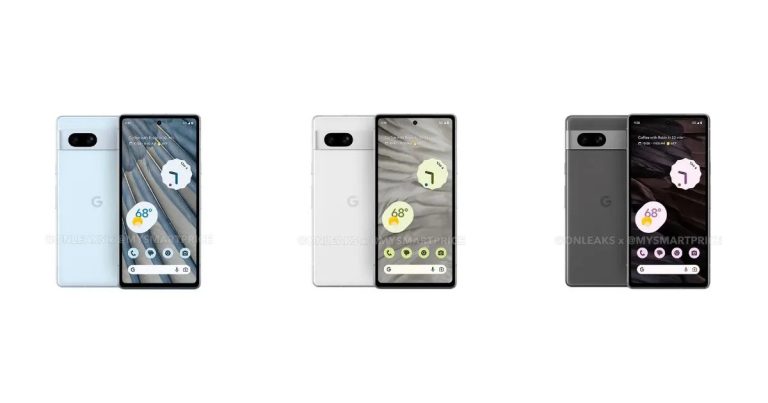 Beyond the sky blue color option, the Pixel 7a lineup is also expected to feature Google's Tensor G2 chip, support for wireless charging, upgraded primary camera sensors, 6.1-inch OLED display with 90Hz refresh rate, 8GB of RAM, and up to 256GB of storage.
Google will reportedly reveal the Pixel 7a at Google I/O 2023, which starts on May 10.