The iPhone 14 series introduced a feature that all smartphones should have: support for SOS communication over satellite in emergencies. We've seen several first-hand accounts from iPhone 14 owners who used the satellite SOS functionality to call for help, making the satellite communication support an incredible addition to the iPhone. It happened most recently in Maui during the wildfires.
New findings in the Android 14 beta code indicate that Google Messages might get support for satellite texting in over 150 countries. That's what most headlines focus on, making the feature sound better than it already is. But don't be fooled by the vague headlines, though; Google Messages won't get support for regular satellite texting before iMessage anytime soon. Google is readying the feature to use it in emergencies as well.
Satellite support for chats isn't what you think
Developer Neil Rahmouni said a few days ago on Twitter/X that Android is preparing to add support for satellite communication in Google Messages. He mentioned UI changes for conversations and SOS messages.
More recently, he discovered evidence that indicates Google Messages may use Garmin Response tech for satellite emergency SOS.
The feature could be available in more than 150 countries where Garmin operates. And this isn't the first time we have seen evidence of Google working on the feature. Mishaal Rahman spotted it a few weeks ago:
Rahman noted that "satellite communication APIs did make their way into Android 14, though everything is marked as 'hide' so they're not available to third-party apps."
He added, "There's going to be a satellite service 'demo mode.' Supported datagrams include SOS messages and location sharing."
If that sounds familiar, it's because this is how SOS communication over satellite works on iPhone 14 models. The same feature should be available on iPhone 15 and all future iPhones.
However, the iMessage app has nothing to do with the SOS chats over satellite. Similarly, it's unlikely that you'll start SOS chats over satellite on Android via the Google Messages app. Instead, you're more likely to ask for help over SOS once you can't connect to first responders via a regular phone call.
You won't use the satellite connection on your Android phone to continue having feature-rich chats with friends and family once a cellular connection is unavailable. That's not going to be possible yet, regardless of the platform.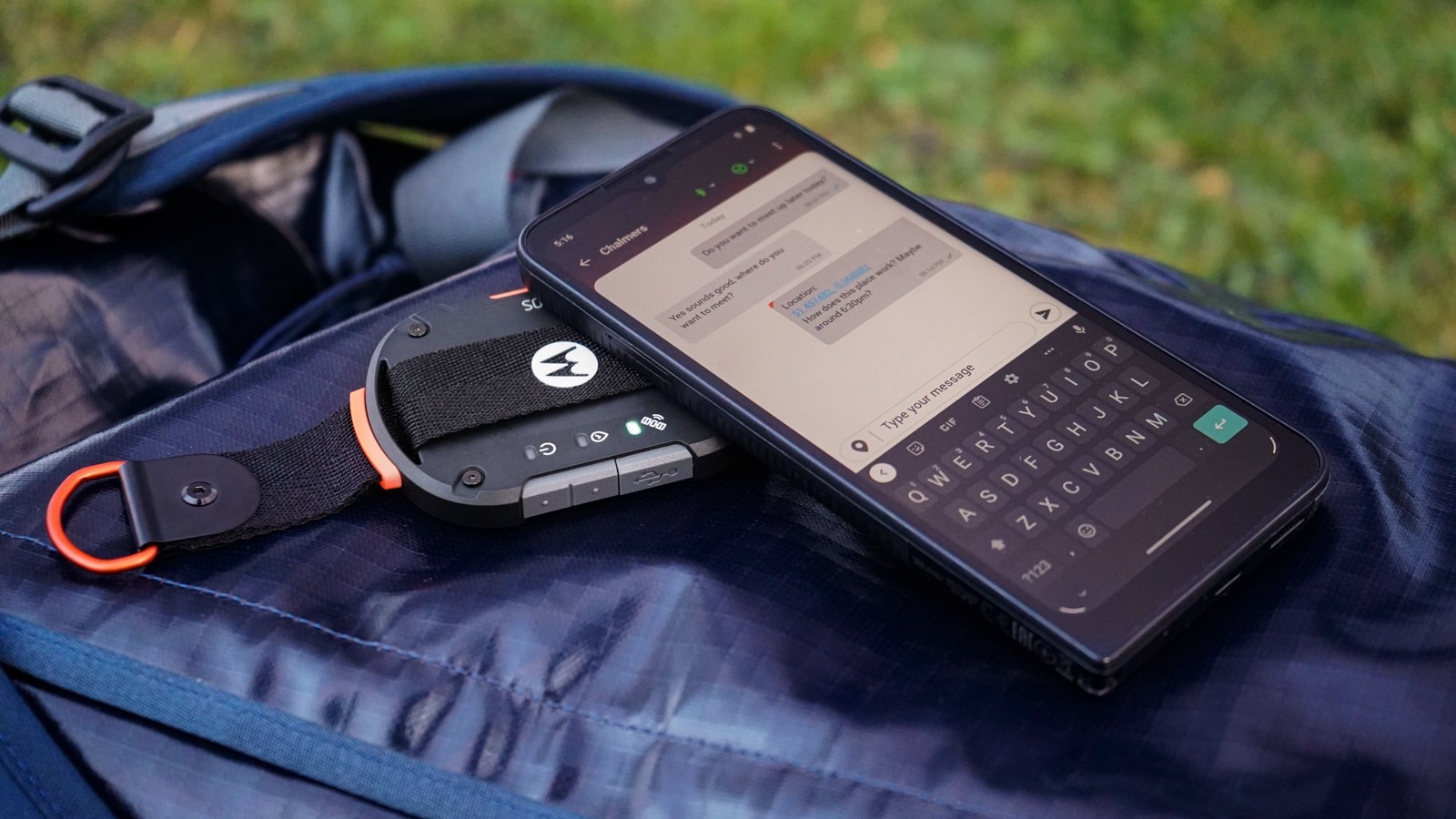 Satellite communication is still expensive.
If these findings are accurate, and Google can bring SOS chats to more than 150 countries, that's great news. It means even more people will have access to a potentially life-saving feature in case of emergencies. A feature nobody will ever want to use.
But it'll be years until the phones in our pockets can actually offer full satellite support for apps like Google Messages and iMessage. Satellite connectivity is still expensive. Companies like Google, Apple, and other phone vendors must also develop new tech to expand satellite support to regular texting and internet use. That means better modems and antennas.
The gadget in the image above, launched earlier this year, offers texting over satellite. The Motorola Defy Satellite Link only works with a satellite plan, however.
It'll come down to cost at the end of the day, and how much you'd be willing to pay each month for a satellite connection. Don't expect satellite support to be free, just like cellular connectivity isn't free.
iPhone users currently get two years of free SOS over satellite support. It's unclear how much it'll cost after that and whether you'll have to pay Apple or its partners. Apple might expand the service and announce more details about satellite features at the iPhone 15 launch event in mid-September.
Similarly, the Google-Garmin deal might bring satellite SOS communication to Android. But it won't be free for life, even though Google might always follow Apple's lead and offer the feature for free with certain Pixel phones. That's just speculation at this point. It's unclear whether the Pixel 8 series will support satellite communication for SOS purposes.
Once the tech is there, it's likely both Apple and Google will incorporate satellite support into all apps that use an internet connection. It'll be up to the user to sign up for satellite voice, text, and data plans, however.