Google about to roll out a cleaner look for Google Maps across desktop, Android and iOS devices – that much Google has already confirmed. But what might be more exciting for Google Maps fans is a new Wi-Fi only mode feature that's supposed to cut down the use of cellular data.
MUST WATCH: This is our best look yet at the iPhone 7
In a blog post on its Maps site, Google explained that it wants to "help you better explore the world around you" with the new visual changes.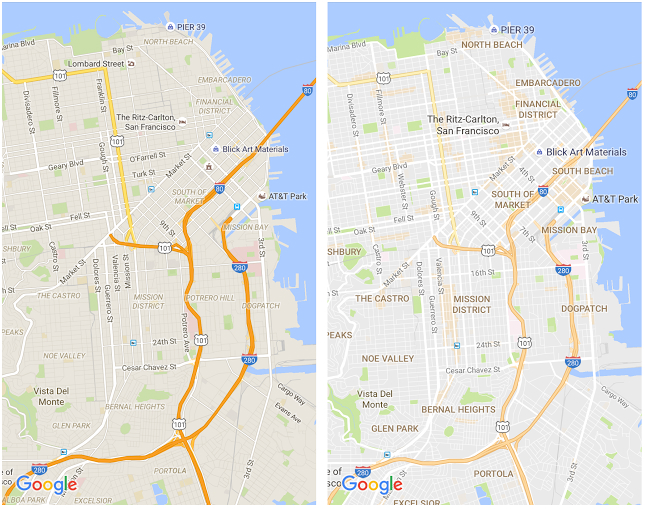 The new Google Maps update is going to get a "cleaner" look that ditches certain elements, including road outlines. "The result is a cleaner look that makes it easier to see helpful and actionable information like traffic and transit," Google said. "And we've improved the typography of street names, points of interest, transit stations, and more to make them more distinguishable from other things on the map, helping you navigate the world with fewer distractions.
The new Google Maps canvas is also supposed to let Google display local information "in entirely new ways." Orange-shaded areas will be "areas of interest," where a lot of activities usually happen. You'll have to zoom in on the orange shaded zone in order to get more details about a certain location. The video demo below highlights this particular feature.
Areas of interest are created using an algorithmic process, but Google also uses "a human touch" in high-density areas like New York City.
Finally, there's a new color scheme intended to let you easily differentiate between man-made and natural features, and identify some locations much more quickly.
But as Android Police notes, there's also a new Maps feature that Google has yet to announce officially, and that's a Wi-Fi only mode. With the mode enabled, you'll get most of your Google Maps data only over Wi-Fi, although the app may still use a small amount of cellular data during operation.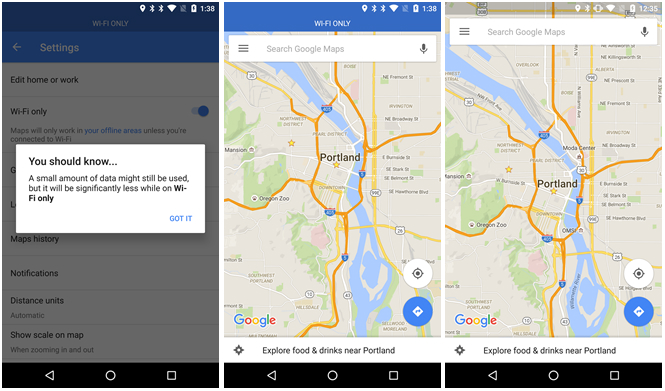 As seen in the image above, a bar will appear at the top of the screen to indicate the fact that Wi-Fi only mode is enabled.
If you're using Google Maps for its mass transit features, you'll be happy to hear that notifications for mass transit delays are also coming, with some users having already spotted the feature live in their apps.