The 2022 Apple Watch app of the year, Gentler Streak, has released a new update to expand its goal to bring a comprehensive approach to people's everyday fitness lives with enhanced accessibility features for visually impaired and blind users.
This is part of the Gentler Stories' vision of making health and fitness inclusive to all people. Starting with version 3.0.4, the app now extensively supports the visually impaired and blind by letting anyone with sight disabilities customize the app's appearance and functionality to fit their needs.
With the iOS version of Gentler Streak, users can change these accessibility features:
Display & Text Size: Full support for Bold Text and Dynamic Type, including larger accessibility sizes, reduced transparency, and increased contrast.
Motion: Full support for Reduce Motion and prefer Cross-Fade transitions.
In addition, the app has added a Voice Over overhaul. The developers explain that it now provides spoken descriptions of the app's interface and functionalities, making it easier to navigate and use Gentler Streak independently.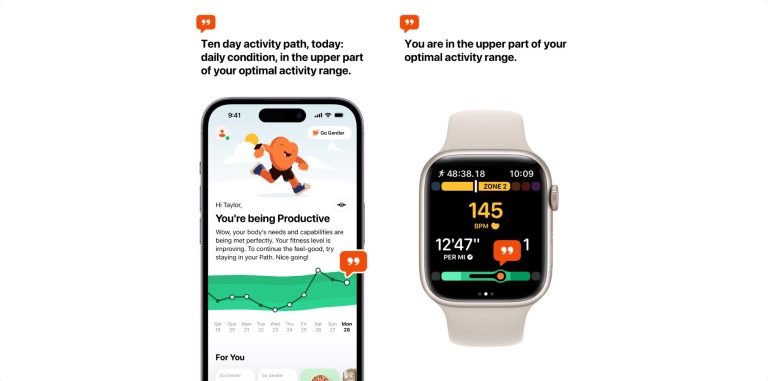 For the Apple Watch counterpart, these are the new accessibility features available:
AssistiveTouch enhancements;
Text Size enhancements;
Reduce Motion support;
Voice Over fixes.
To celebrate this update, Gentler Streak is offering 50% off its subscription for new and existing users from today until April 13.
Besides that, at the end of February, the app released one of its most important updates yet. With a new Wellbeing tab, Gentler Streak helps you keep track of seven key health metrics: sleeping heart rate (SHR) or resting heart rate (when SHR isn't available), sleep duration, heart rate variability (HRV), respiratory rate, oxygen saturation, and wrist temperature.
They all help your goal to improve your fitness with compassion as the app can gather more insights about your body and how they could impact your workout routine.
Gentler Streak's Monthly subscription is $7.99, Premium Yearly is $49.99 with Family Sharing included. It costs $139.99 for a lifetime subscription with Family Sharing included.