Look, there is no question whatsoever that the iPhone X is the best smartphone Apple has ever made, in my opinion. It's not perfect, of course, but the iPhone X is the best phone on the planet right now, all things considered. The design is absolutely stunning — notch included — and the combination of sturdy glass and stainless steel make for a phone that feels far more premium than anything else on the market. Performance and power are as good as it gets right now, and Apple's new gesture based navigation is far more natural and fluid than any prior mobile UX.
It's a fantastic phone for sure, and I've been using an iPhone X as my personal phone since the day it was released. There's no other phone I would consider replacing it with, but reviewing the Galaxy S9+ has definitely made my least favorite thing about the iPhone X even more pronounced.
I've been an iPhone user since the original model was released more than a decade ago. Apple's iPhone lineup has changed the game over and over again throughout the years, leaving rivals chasing every big move Apple has made. That continues to this day, as evidenced by the countless Android vendors that have stolen Apple's iPhone X design — most of which have done a horrible job of it, I might add.
But there's one thing that Apple has never gotten right over the years, at least not to my taste, and that's display size and overall device size. These are obviously matters of personal preference, but I have always found Apple's iPhones to be too small. That changed in 2016 when the iPhone 6 Plus was released, and that phone was far too large. The kicker, of course, is that the iPhone 6/6s/7/8 Plus is too big overall, but the display is far too small for phones of that size. Comparable Android handsets have designs with much larger screens, which is part of the reason Apple is in the process of moving to an "all-screen" design for its iPhones.
The iPhone X is as close as Apple has come to a phone that's perfectly sized for me. It fits comfortably in the hand and the display is as large as it can possibly be in light of today's technological limitations. That said, I've always thought the screen on the iPhone X was too small, and using Samsung's new Galaxy S9+ over the past few weeks has made things even worse for me.
I think a big part of my issue is the iPhone X's odd dimensions, which have led to a display that has a 19.5:9 aspect ratio. This… is not a common aspect ratio. The screen is so narrow that it's actually not as big as its diagonal measurement would have you believe. In fact, it's so narrow that the 5.8-inch iPhone X display is smaller in terms of surface area than the iPhone 8 Plus' 5.5-inch display.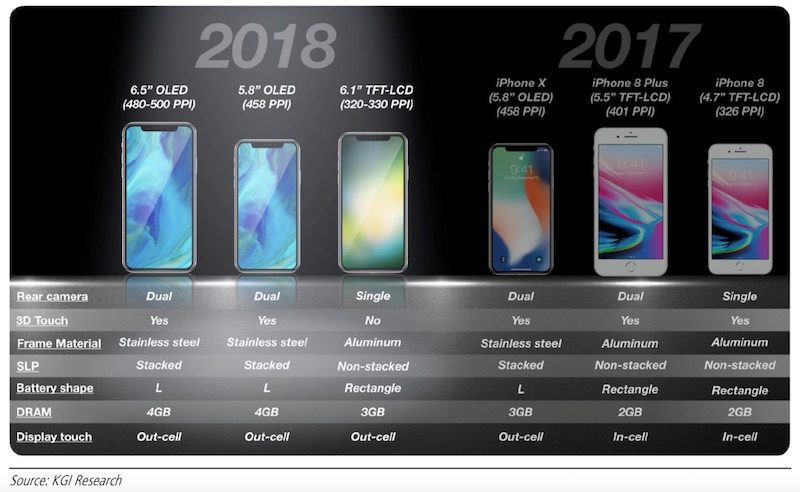 If KGI Securities analyst Ming-Chi Kuo is correct about Apple's 2018 iPhone lineup, there's a good chance we'll finally hit the sweet spot this year. According to Kuo, Apple is planning new iPhone models with the iPhone X's overall design, but with larger displays. One will supposedly be an "iPhone X Plus" with a 6.5-inch OLED screen, and the second will reportedly be a mid-range phone with a 6.1-inch LCD display. Both should be much closer to ideal than the current iPhone X model, so let's hope Kuo is correct again.