A few days ago, we saw a bunch of Galaxy S9 benchmark scores pop up, including leaked and official ones. It started with a leak showing Geekbench scores for the Snapdragon 845 version of the handset, which were quickly confirmed by the early Snapdragon 845 reviews that hit the web.
Immediately after that, the first Galaxy S9 Geekbench benchmark for the Exynos 9810 version was leaked, suggesting that the international model will be a lot more powerful than the US-bound one. A fresh leak reinforces that idea. Samsung's new chip seems to be much closer to Apple's A11 Bionic than the Snapdragon 845. That means the Galaxy S9 you can't buy in the States might be faster than most of this year's Android flagships, as many of them will be powered by Qualcomm's mobile platform.
Discovered by Dutch site TelefoonAbonnement, the Geekbench test shows the same scores as last week's leak. The Galaxy S9+ hit 3773 and 9024 in single-core and multi-core tests, which are slightly higher than last week's leaked Galaxy S9 scores (3648 and 8894). The benchmark listing also proves the Galaxy S9+ will have 6GB of RAM, 2GB more than the Galaxy S9.
Qualcomm's Snapdragon 845 is nowhere near, at least when it comes to single-core scores — it averages around 2400 and 8400 respectively.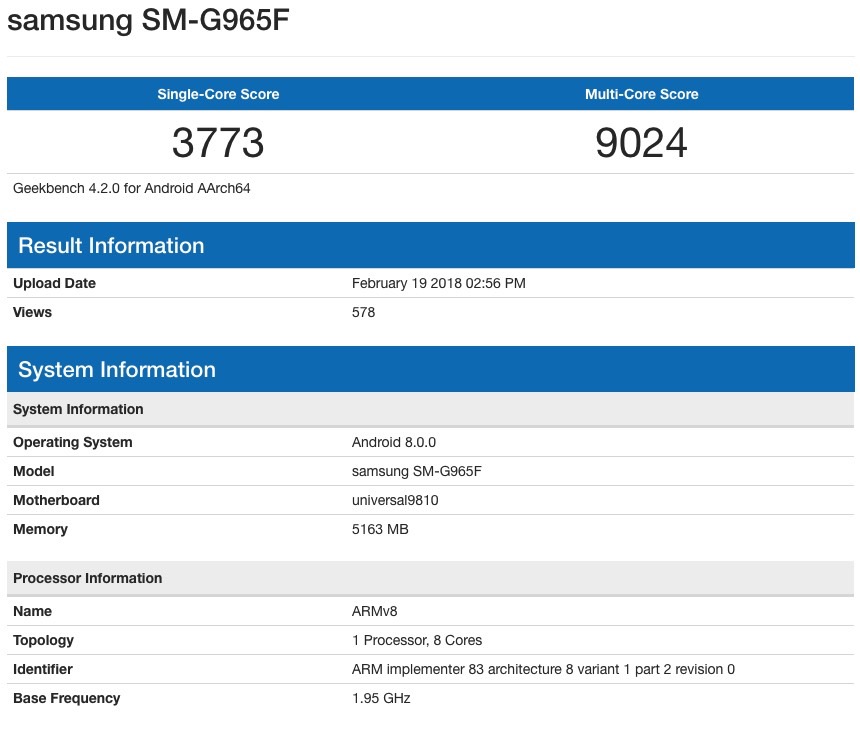 What's impressive about these benchmark leaks is that Samsung appears to be closing in on Apple a lot faster than Qualcomm. Even so, Samsung's scores might be a lot better than Qualcomm's, but the Exynos 9810 barely outperforms the two-year-old iPhone 7 Plus when it comes to single-core performance — the iPhone 7 Plus averages at around 3500 and 5900 in the same tests. The iPhone X and iPhone 8, meanwhile, score 4,200 and 10,000 in Geekbench.
The Exynos-powered Galaxy S9 and S9+ versions will be available in Europe and other international markets, while US buyers will get the Snapdragon 845 versions.