Samsung may be on the verge of doing something it hasn't managed to pull off in years, and that is launching a flagship device with performance that can actually rival Apple's latest iPhone models. Sadly, the Galaxy S9 that pulls off this impressive feat isn't going to be the one you can buy. That US model will only be fast, whereas the Galaxy S9 sold in international markets might be insanely fast.
A benchmark leak last week revealed that the U.S. Galaxy S9 will score around 2,400 and 8,100 in single- and multi-core Geekbench tests, respectively. A few days after that, we learned those were accurate Qualcomm Snapdragon 845 scores, as various media outlets were able to test out the performance of Qualcomm's new flagship chip. At the time, I speculated that Samsung's Exynos 9810, which will power the global Galaxy S9 phones, might be faster than the Snapdragon 845. That would explain Qualcomm's interest in having everyone know how fast the new mobile platform is compared to the Snapdragon 835.
It turns out that may indeed be the case. The Exynos 9810 chip that Samsung created for Galaxy S9 series scores much better in single-core Geekbench tests, as this recently leaked benchmark shows. Found initially by TechTastic, the benchmark lists the SM-G960F version of the Galaxy S9. The phone packs 4GB of RAM runs Android 8.0 Oreo and has an Exynos 9810 system-on-chip (SoC) inside.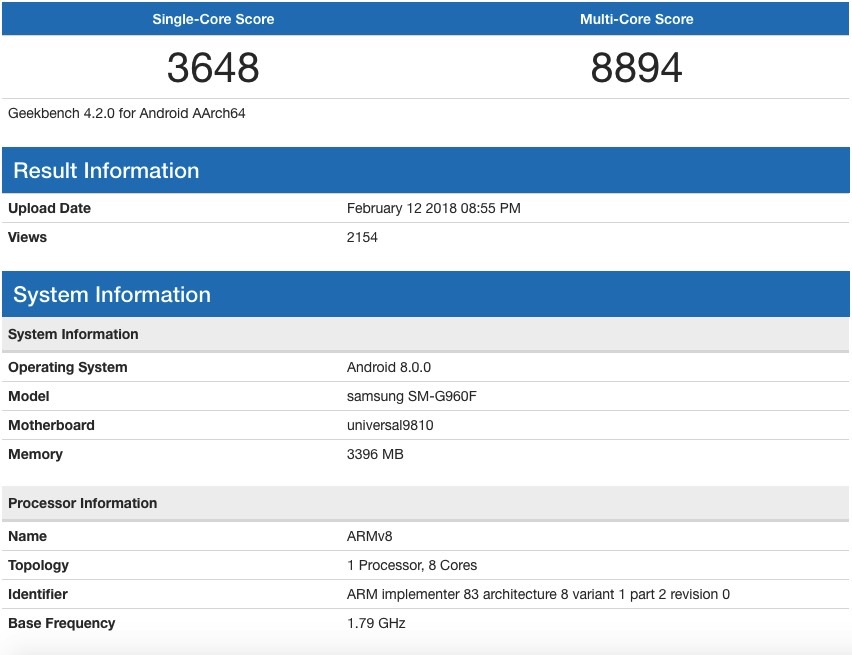 As seen in the screen capture above, the benchmark was recorded just this past Monday, with the Galaxy S9 scoring 3,648 and 8,894 points in tests. For reference, the iPhone X and iPhone 8 reached 4,200 and 10,000 in the same single-core and multi-core tests. While the Exynos 9810's single-core performance is still miles below the A11 Bionic, it's still a lot closer to it than Qualcomm's best chip.
Unlike the Snapdragon 845 benchmarks, which are official, the test above isn't. So we'll have to wait for the Galaxy S9 to come out before we know what's what. For the time being though, it sure looks like the Exynos 9810 is the chip you'll want in your Galaxy S9.