The Galaxy S9 will be unveiled in late February, Samsung revealed earlier this week, not that we expected anything else from the South Korean company given the recent wave of Galaxy S9 rumors that basically said the same thing.
We also know that the phone will sport brand new processors, including the Snapdragon 845 from Qualcomm and Samsung's recently unveiled Exynos 9810. A report this week said that US and Canadian Galaxy S9 and Galaxy S9+ versions will come with FM radio support. But if you want even more specs, all you have to do is take a close look at the following image, which was just posted on Reddit.
We're looking at the purported retail box of the Galaxy S9, which lists several of the main specs of the phone — you know, assuming it's the real deal. Reddit user minhvn, who shared the image, does say that it's an unconfirmed leak, so take it with the appropriate salt quantity.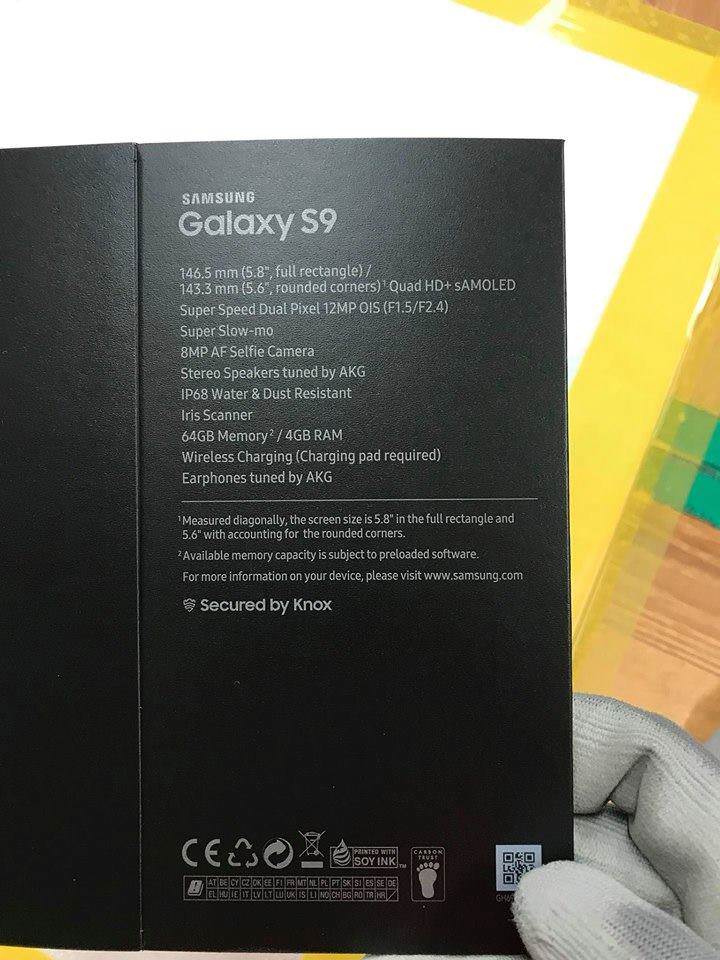 But everything in it does sound familiar because some of this specs were mentioned in previous reports.
The Galaxy S9 will have a 5.8-inch Quad HD SAMOLED screen. That's precisely what we got from the Galaxy S8 last year, and the Galaxy S9 will basically reuse the same design. Other features including IP68 water and dust resistance, the iris scanner, and wireless charging support are also expected from a new Galaxy S or Note model.
The phone is supposed to pack 64GB of base storage and 4GB of RAM, which is in line with recent rumors. The speakers, meanwhile, are tuned by AKG, as are the earphones.
I let the camera specs for last because the camera is supposed to be the main selling point of the Galaxy S9, previous reports said.
The alleged retail box says the phone is getting a Super Speed Dual Pixel 12MP camera with optical image stabilization and flexible F1.5/F2.4 aperture. That sounds familiar because a recent leak did say the Galaxy S9 will have a camera lens with F1.5 aperture. Super slow-motion is also listed as a feature, although it's unexplained. Is it that 1000fps slow motion feature that was rumored for last year's Samsung flagship phones?
When it comes to the front-facing camera, you should expect an 8-megapixel resolution selfie cam to power all those, well, selfies.
The Galaxy S9+ should have slightly better specs, including more RAM, various storage options, and a dual-lens camera on the back. The Galaxy S9+ retail box did not leak.