Next week, Samsung will finally unveil the Galaxy S8 phones as well as various new accessories that were crafted specifically for the new Galaxy S series. Among them, there's going to be a device that Samsung has never made before, a pocketable dock that will turn the Galaxy S8 into a full-fledged Android-based computer — something the iPhone 7 clearly can't do. We already know plenty of details about this new "DeX Station," including its features and pricing, and now we have a leaked image of the device to going along with everything else we've learned.
Discovered by WinFuture, this fresh DeX Station leak gives us even more details about the dock that will allow the Galaxy S8 to enter a desktop mode.
The device has a hockey puck design complete with a collapsible part that unveils the docking port and doubles as a cooling fan. Presumably, Samsung wants to prevent overheating problems with the Galaxy S8, and that's why the dock ships with a cooling solution.
The docked Galaxy S8 will be able to power a 4K desktop via an HDMI connection, support 4K video at 30fps, support 2 USB 2.0 connection and 100MB Ethernet port, and charge while doing all that. The dock even supports Adaptive Fast Charging and USB PD. It's likely that the processor will be pushed to its limits in docked mode, so an extra cooling source will come in handy.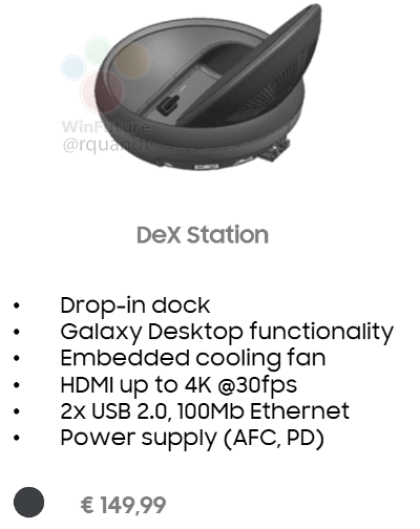 The leak indicates that the DeX Station will cost €149.99, which is in line with what we've heard before.
Now that the hardware seems to be in place for turning the Galaxy S8 into an ad-hoc desktop replacement, it'll be interesting to see how Samsung adapted Android to take advantage of a bigger display. All of that and more will be revealed next Wednesday.