The Galaxy S8 is selling much better than its predecessor, Samsung said recently, and the company is not done releasing new models. In the past weeks, Samsung unveiled pink and blue versions of the handset, but those don't bring any new features aside from the new colors. Samsung, however, seems close to launching a brand new Galaxy S8 version, a fresh leak indicates

The rugged Galaxy S8 Active was seen in various leaks so far. We know it'll have mostly the same components as the Galaxy S8. But it'll feature a different design, complete with metal and plastic back, and a flat screen on the front.
If you need even more proof, then check out the following images, as posted on Weibo. It looks like they originate directly from a Samsung presentation.
The Galaxy S8 Active's screen is "shatter resistant," and while it lacks curved edges, it still occupies most of the front side. That's probably why Samsung labels it as an Infinity edge display — the "edge" mention is somewhat strange there. The screen is a 5.8-inch Super AMOLED display with 2K resolution, protected by Gorilla Glass 5 glass.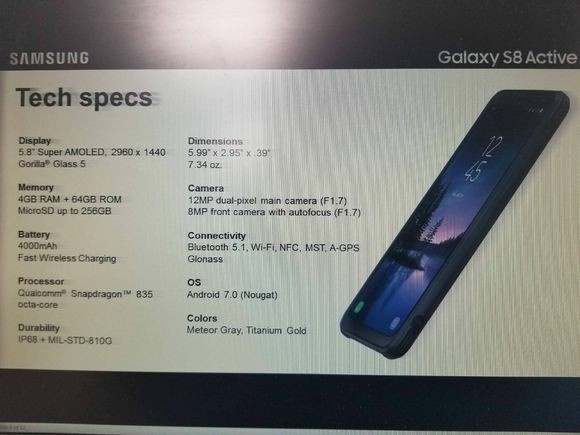 In addition to IP68 water and dust protection, it also gets MIL-STD-810G certification. The phone is thicker and heavier than the original Galaxy S8.
The phone also houses a bigger battery than the regular Galaxy S8 version, giving users 4,000 mAh of charge.
The rest of the specs list is in line with what you can expect from the Galaxy S8 and Galaxy S8+.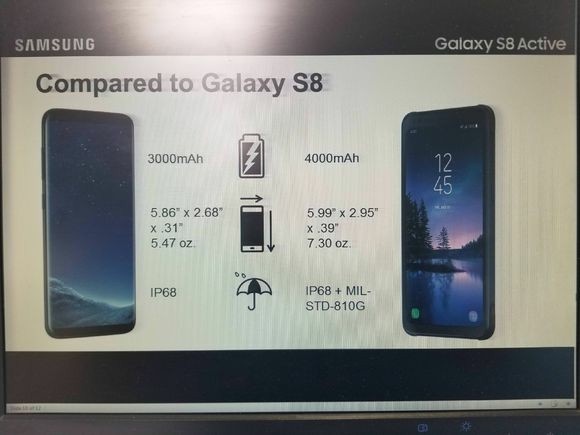 It's unclear when the phone will launch, but it's safe to assume AT&T will carry it.