It's time for a brand new episode of the Galaxy S10 leaks saga, and this time around we have a photo of an actual Samsung prototype. So far, we've only seen unofficial renders created with the help of existing rumors about the upcoming flagship phone, as well as renders based on allegedly leaked Galaxy S10 CAD designs.
Unfortunately, the renders were far more exciting than reality, if this alleged prototype, feature in the photo below, is really what Samsung's premium flagship is going to look like in 2019.
In the image below, posted first on Facebook and then on Slashleaks, we see a phone labeled "Beyond 2," featuring a dual selfie camera in the right corner of the display.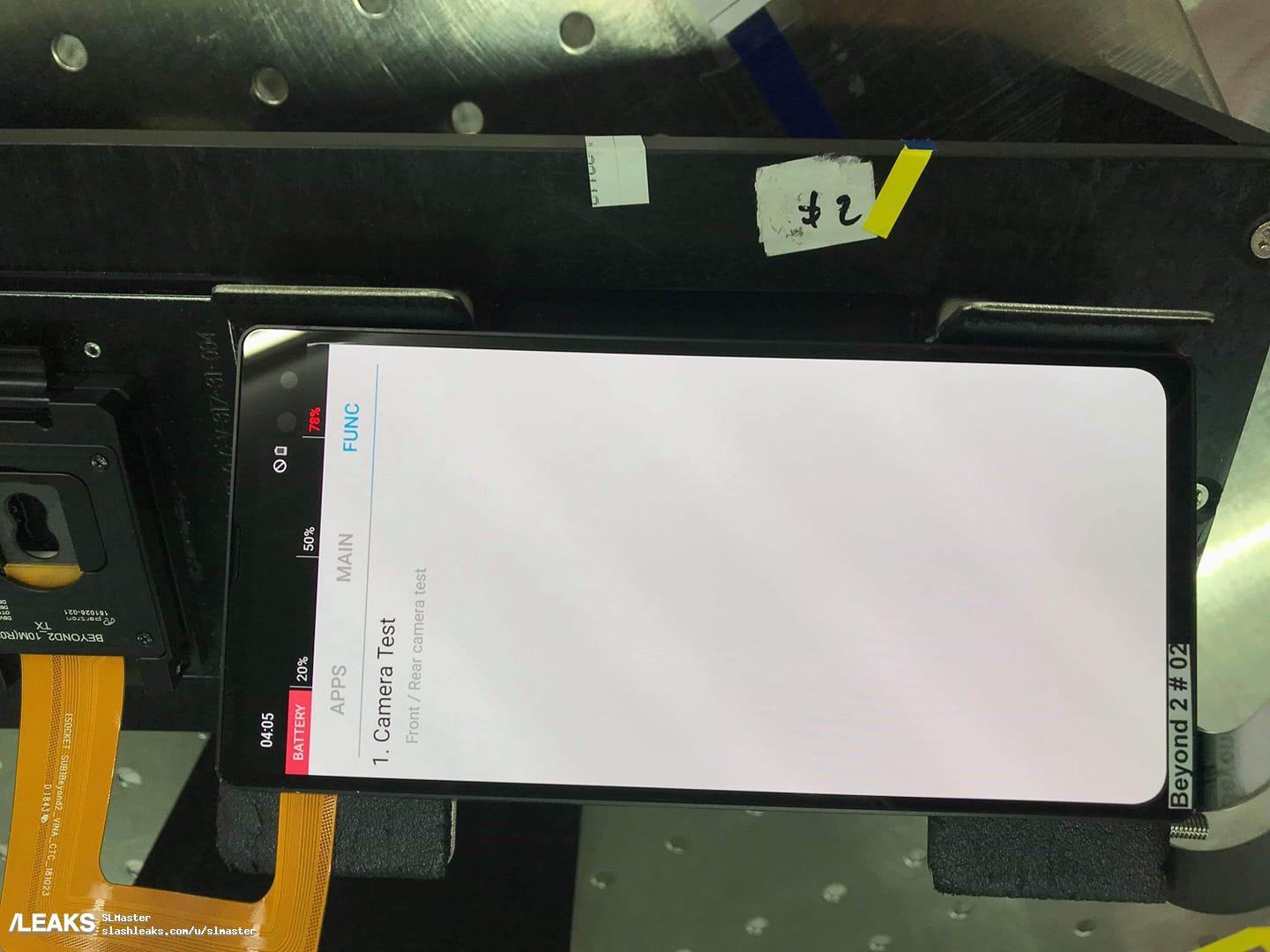 But this isn't the exciting Infinity-O screen we expect Samsung to use on the Galaxy S10 phones next year. Instead, we have a device with a significant bezel at the top and a camera notch in the top right corner. The phone also has a considerable bottom bezel. Moreover, the screen doesn't appear to be curved.
Previous reports did say that Samsung will make four distinct Galaxy S10s, including models with dual-lens cameras on the front. Those reports also said the Galaxy S10 Lite, the cheapest of the bunch, will have a flat screen.
The Galaxy S10+ (codename "Beyond 2"), meanwhile, is expected to feature both a dual-lens selfie camera and a curved Infinity-O display, which features holes at the top where the cameras would go. Samsung already launched the first Infinity-O handset in China: The Galaxy A8s that it's been teasing for a few months now.
On the other hand, the prototype in this leaked image does look a lot like the 5G handset that Samsung demoed last week at Qualcomm's Snapdragon event. Samsung is working with several carriers around the world, including AT&T and Verizon in the US, to launch at least one 5G phone next year. A 5G Galaxy S10 is also in the making, recent reports have claimed, suggesting that the 5G version will have a few additional features compared to the Galaxy S10+.
The Galaxy S10 designs have been reportedly finalized for quite a while, and Samsung is already mass-producing components for the phones. The handsets will be unveiled by the end of February, and launch in stores a few weeks later.