Samsung plans to launch a new smartphone in 2019 that will be a first of its kind for the South Korean tech giant. Dubbed the "Galaxy F" or "Galaxy Flex," the device will be the size of a small tablet and will actually fold in half, display and all, so that it fits comfortably in your pocket. It'll be packed with the latest and greatest specs, and it'll be among the first smartphones to feature Samsung's new One UI, an updated interface designed to work as well on large displays as it does on small screens. It'll be a a nifty phone indeed, but we already explained in some earlier coverage why you probably shouldn't bother getting too excited about it. Long story short, it's a first-generation Samsung device and Samsung is typically terrible at first-generation devices. Once the design and technology mature a bit, that's when Samsung shines.
You know which new Samsung smartphones in 2019 will feature designs and cutting-edge technology that is indeed mature? That's right, the Galaxy S10 family of phones that are shaping up to be the most exciting new smartphones Samsung has ever released. Rumors have been flying left and right over the past week, and new a new set of leaked renders likely gives us out best look yet at Samsung's upcoming new Galaxy S10+, which will likely be the most popular model Samsung releases next year.
Created by Twitter user @OnLeaks and posted by a blog called 91mobiles, the renders are believed to be based on leaked CAD files that accurately represent the Galaxy S10+'s design. We've seen plenty of other leaks over the past couple of weeks that all point to a similar design, so we have every reason to believe these renders are accurate. Of course, @OnLeaks published incorrect Galaxy S10+ renders at first, but the graphic designer he uses apparently accounted for the error and these new renders are believed to more accurately represent the Galaxy S10+'s actual design.
So what are we looking at here? We're looking at a thing of beauty, that's what.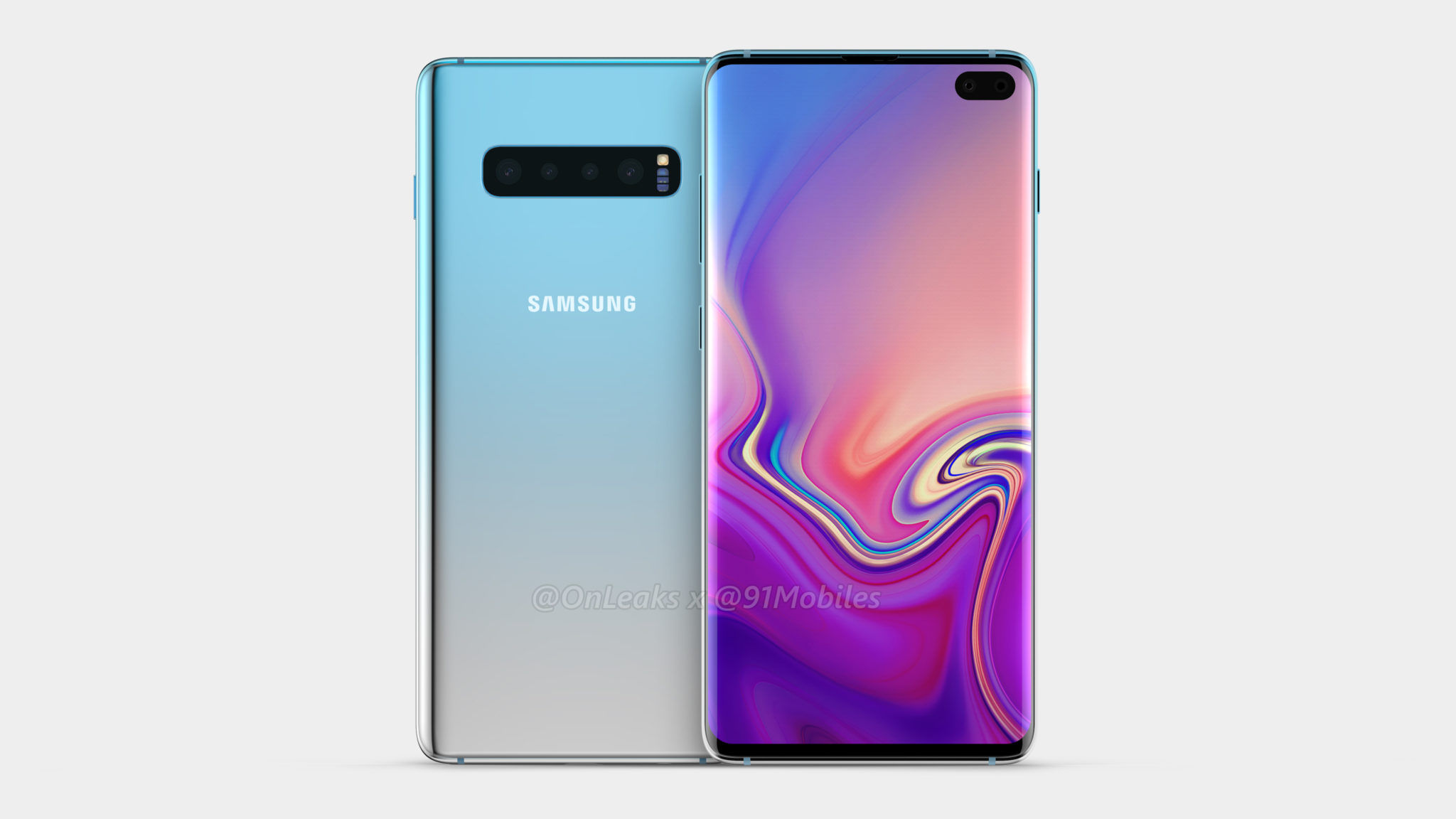 Samsung unveiled several different types of next-generation Infinity displays during its developer conference last month, and the one it will use in its Galaxy S10 line of flagship phones is called "Infinity-O." Why "O"? Because it uses what's called Hole in Active Area (HIAA) technology to drill a hole right through the display. This way instead of including a big bezel or notch at the top for the selfie camera, Samsung can carve right through the screen. There's much less wasted space as a result, and it actually looks pretty terrific.
The Galaxy S10 will have a small round hole in the display for its single-lens selfie cam, while the Galaxy S10+ pictured here has an oblong hole that houses a dual-lens camera. Apart from that, we can see that the display on the Galaxy S10+ occupies almost the entire front of the phone, leaving almost no bezels on the sides and very thin bezels above and below the screen.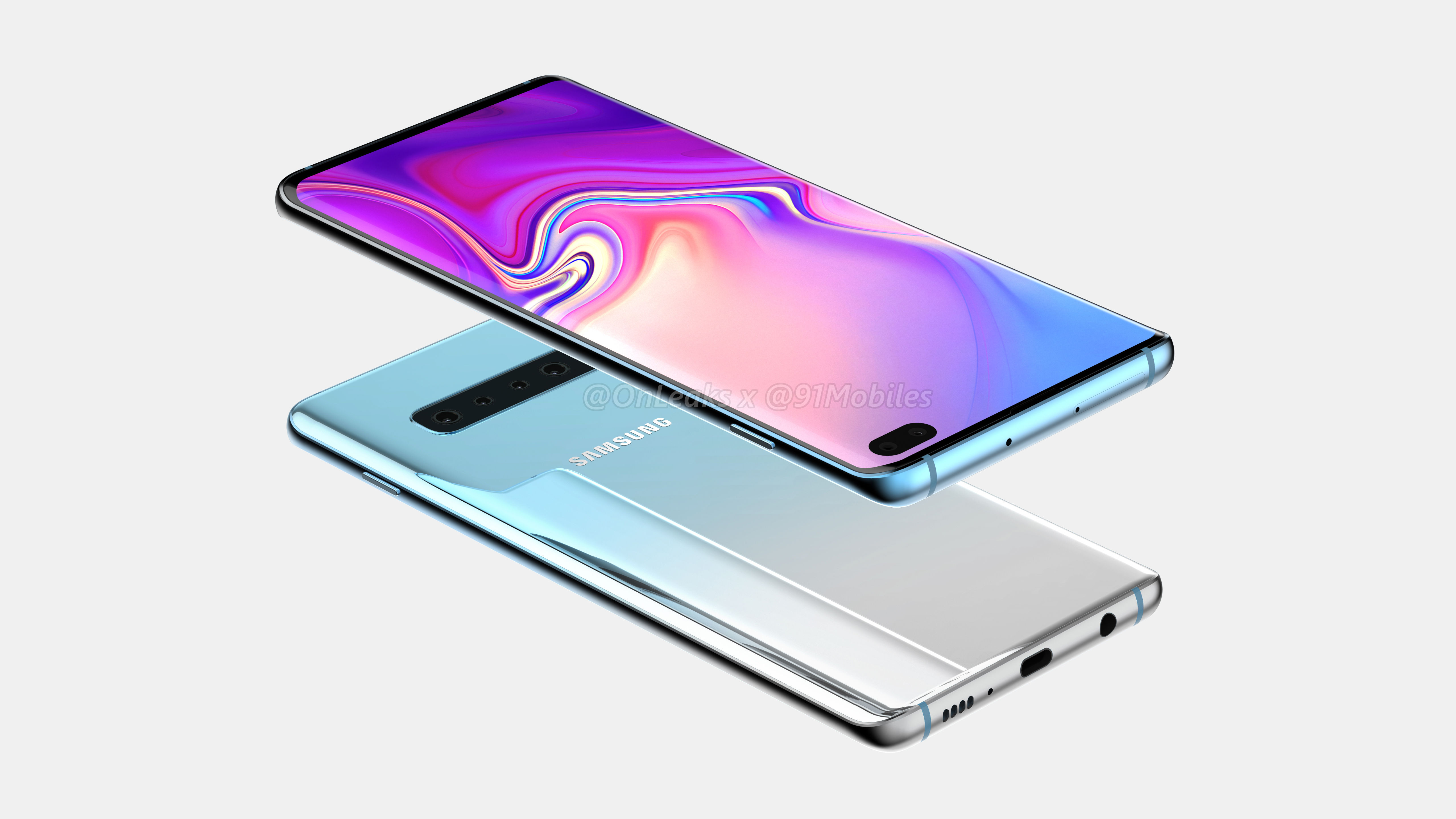 Samsung's new all-screen design looks gorgeous in the renders, though the phone's overall design is largely the same as the Galaxy S9 aside from the screen on the front and the triple-lens camera on the back. One more important difference can be seen on the back of the phone though, and that's the missing fingerprint sensor. Samsung's new Galaxy S10 and Galaxy S10+ will utilize a new ultrasonic fingerprint sensor embedded behind the display, so the user can unlock the phone and authenticate payments simply by touching the screen. Other specs include next-generation 8nm chipsets, new faster RAM and flash storage chips, and according to these renders, a 3.5mm headphone jack.
The new Galaxy S10 lineup is expected to be unveiled toward the end of February, possibly during a press conference at the annual Mobile World Congress trade show in Barcelona, Spain. We'll see plenty more leaks before then, of course, and in the meantime you'll find a video showcasing these new renders embedded below.