There is virtually nothing left to be leaked when it comes to the Galaxy Note 9, and yet, the internet continues to turn up details about the upcoming phone ahead of its August 9th reveal. Following a deluge of leaks over the weekend, AndroidHeadlines on Monday shared renders of the Note 9 in black, blue, and even brown.
In addition to providing yet another close look at the phone before Samsung has even announced it, the images also confirm that the Note 9 will launch in a new "Teddy Brown" color scheme. Samsung's last brown Note was the Note II, which launched nearly six years ago. The images also give us a look at the multi-colored S Pens shipping alongside the different models, though it appears they won't all necessarily match the color scheme.
Beyond the phone itself, we also get a glimpse of the accessories that Samsung will sell alongside the Galaxy Note 9, including a wireless charger, a pair of GearX Icon earbuds, and a Gear S3 smartwatch. As with previous launches, we expect Samsung to have a promotion available that will likely include these accessories.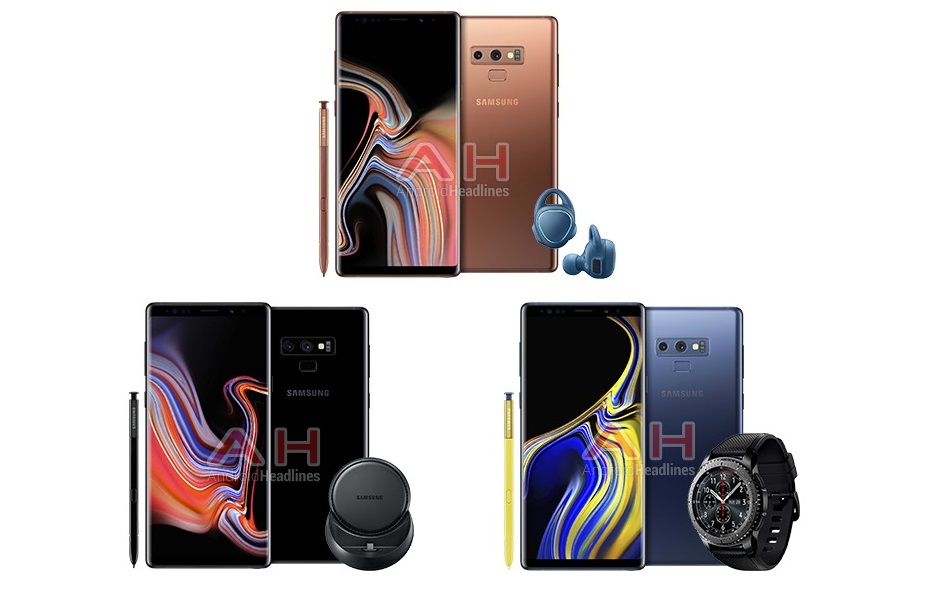 The appearance of the Gear S3 is somewhat surprising, considering the new Galaxy Watch is widely rumored to be launching alongside the Note 9 at the Unpacked event in New York. Further proof of the watch's existence popped up this weekend in the form of a retail box for the Wireless Charger Duo. We don't want to make any assumptions based on unsourced renders, but it will be interesting to see what hardware Samsung brings to the event.
Other than that, everything else in these images has already been hinted at by dozens of leaks over the past several weeks. We know the specs of the Note 9, we know about the new S Pen, and we think we know when you'll be able to buy one. All that's left now is for Samsung to debut the phone on August 9th.