The Galaxy Note 8 is the next big thing coming from Samsung, the company made sure we all know that. It's basically a pumped up Galaxy S8, a phone that gets a better camera, a stylus, a 3D Touch-like display, and new software tricks. But at its core, the Galaxy Note 8 is as powerful as the Galaxy S8. Or, at least, it should be. A new benchmark leak, however, indicates the Galaxy Note 8 might not be able to beat the iPhone 7 Plus's record like the Galaxy S8 did.
The Galaxy Note 8 (SM-N9500 version) scored 179000 in AnTutu, Phone Arena reports.
That's above the 173575 rating obtained by the iPhone 7, and below the 181807 score of the iPhone 7 Plus. Meanwhile, the Galaxy S8 broke the iPhone 7's record earlier this year, getting a 205282 score in the same test.
That's a surprisingly huge difference in performance between the Galaxy S8 and the Galaxy Note 8. And that's something that probably shouldn't happen. Geekbench scores that leaked a few days ago also tell a similar story, with the Galaxy Note 8 scoring slightly below the Galaxy S8 in tests.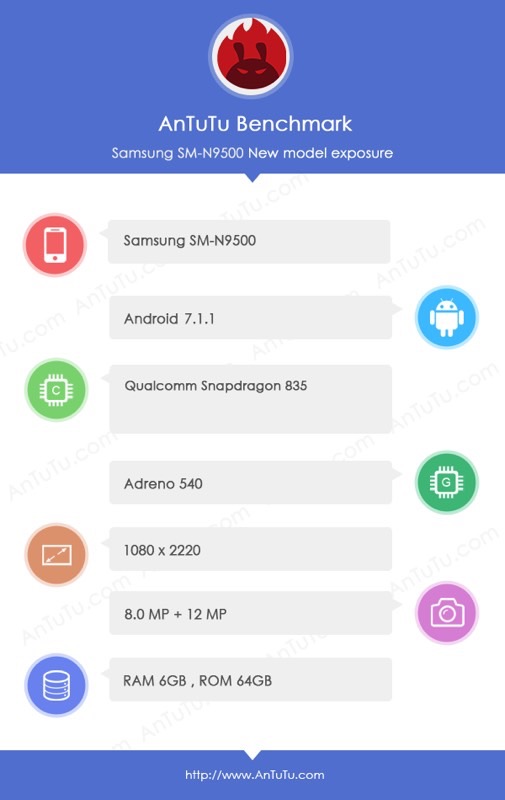 As always, these synthetic tests do not tell the same story. But what's important to remember is that both the Galaxy S8 and Galaxy Note 8 will pack the same exact hardware. Both devices will rock 10nm chips, which are the best mobile chips currently available. Apple, meanwhile, will only launch iPhones powered by 10nm chips later this fall, including the iPhone 8 and iPhone 7s.
That said, we'll also have to consider the possibility that the Note 8 in this test was not running the final, stable software the phone will ship with.
The AnTuTu listing for the phone does mention the phone's specs, including a 2220 x 1080 display, Qualcomm Snapdragon 835, 6GB of RAM, 64GB of storage, 12-megapixel camera, 8-megapixel selfie camera, and Android 7.1.1.