After months of rumors and speculation, the Galaxy Note 7 is finally official. But is the new Note the best smartphone in town when it comes to performance? Can it beat the iPhone? The first Galaxy Note 7 benchmarks are in, suggesting that the Galaxy Note 7 is indeed a powerful smartphone. We all knew that would be the case, but is it the absolute best?
DON'T MISS: Samsung is already making fun of the iPhone 7's lack of headphone jack
Benchmarks don't always tell the entire story, and we'll have to wait for real-life comparisons to see how the Galaxy Note 7 fares. But, on paper, the phone is a monster. It might not have 6GB of memory as many rumors indicated, and it doesn't pack a new Exynos chipset or the Snapdragon 821 processor, but the phone is faster than the Galaxy S7 series, at least according to AnTuTu.
The following image shows Phone Arena's preliminary benchmark results for the Galaxy Note 7, which scores more than 145000 points in AnTuTu. That's almost 10000 points higher than the Galaxy S7, which has similar hardware, and more than 2.5 times the score of the iPhone 6s Plus.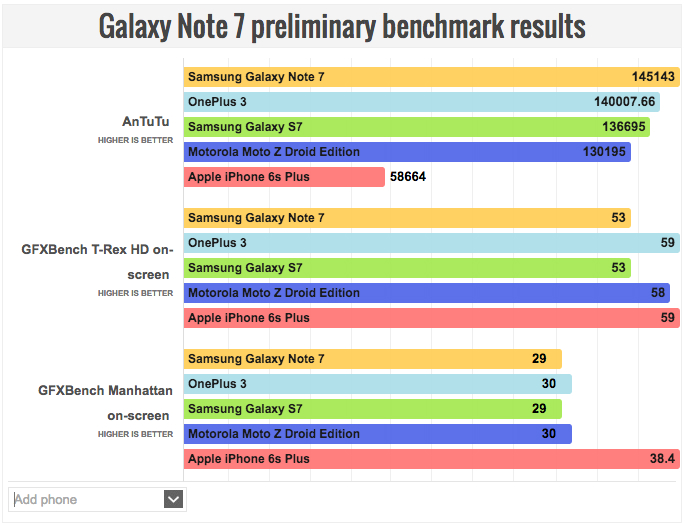 However, in GFX benchmarks, the Galaxy Note 7 only manages to match the scores achieved by the Galaxy S7. The new Motorola Moto Z Droid beats both handsets, and the iPhone 6s Plus is clear the winner. The OnePlus 3 also has impressive scores.
It's likely that more benchmark results and performance comparisons will pop up online in the coming days and weeks as the Galaxy Note 7 makes its way into the hands of more people. But it's clear that the new Samsung handset is one of the best Android devices currently available for purchase, even if it's not able to beat the iPhone across the board in benchmarks.
Check out our hands-on review of the handset at this link, and this post will show you how to preorder the new Note 7 right now..