It's 2023, and the iPhone and Android experiences are more alike than ever before. But iPhone is still the priority for many developers when they create new mobile apps. OpenAI is the latest example, with the ChatGPT creator launching its iPhone app back in May. At the time, OpenAI did not disclose plans to bring ChatGPT to Android.
However, ChatGPT for Android is almost here. OpenAI announced that it'll roll out the Android app in the coming days, and you can already preorder it. As a longtime iPhone user, ChatGPT's late rollout to Android further cements my conviction that I'll never abandon my iPhone and switch to Google's mobile operating system.
ChatGPT is available as a free download on iPhone. It'll be a free download for Android as well. You don't have to pay anything to use ChatGPT. Just register an account with OpenAI and get started. You can subscribe to the ChatGPT Plus experience that gives you access to OpenAI's best generative AI model and the chatbot's newest features. But that has nothing to do with the platform the app is running on.
By "preordering" on Android, you simply register your interest in installing the ChatGPT app as soon as it's available.
OpenAI did not list an actual release date when announcing the Android app on Twitter (now known as X). The company said it will release ChatGPT this week, as it's probably waiting for Google's review process to finish.
Google will surely approve the app, just like Apple did. Once that's done, you can download it, sign into your ChatGPT account, and start talking to OpenAI's chatbot on Android smartphones and tablets.
I don't want to wait for apps to launch on Android
It's interesting to see ChatGPT arrive on Android for a different reason. Google is one of OpenAI's biggest rivals. Google has its Bard chatbot out in the wild, and the service is widely available. But Google did not create separate mobile apps for Bard. Not even on Android.
I would expect a standalone Bard app to become available on Android before iPhone. But Google is also bringing all of its apps to iPhone, including the newest features.
Separately, Microsoft has its Bing Chat app that you can install on iPhone and Android. It's built on ChatGPT, giving users access to GPT-4 for free. That's the most advanced OpenAI language model, which is only available on ChatGPT if you pay the $20 Plus monthly subscription.
It's not like ChatGPT or its competitors needed special mobile apps. You can always access chatbots via a mobile browser. Like ChatGPT, Bard, and Bing Chat are available on iPhone and Android via the internet browser you're currently using. But an app provides a cleaner experience making either service easier to use.
That said, I don't want to wait for apps to come to my mobile OS after launching on the main alternative. Especially potentially life-changing experiences like ChatGPT. Generative AI will play an increasingly bigger role in our future. The faster you get on board and familiarize yourself with it, the better you'll be able to take advantage of it.
iPhone is still the place where such experiences will be available first as native apps. I don't see how Android will ever replace iPhone as the most important platform to develop for.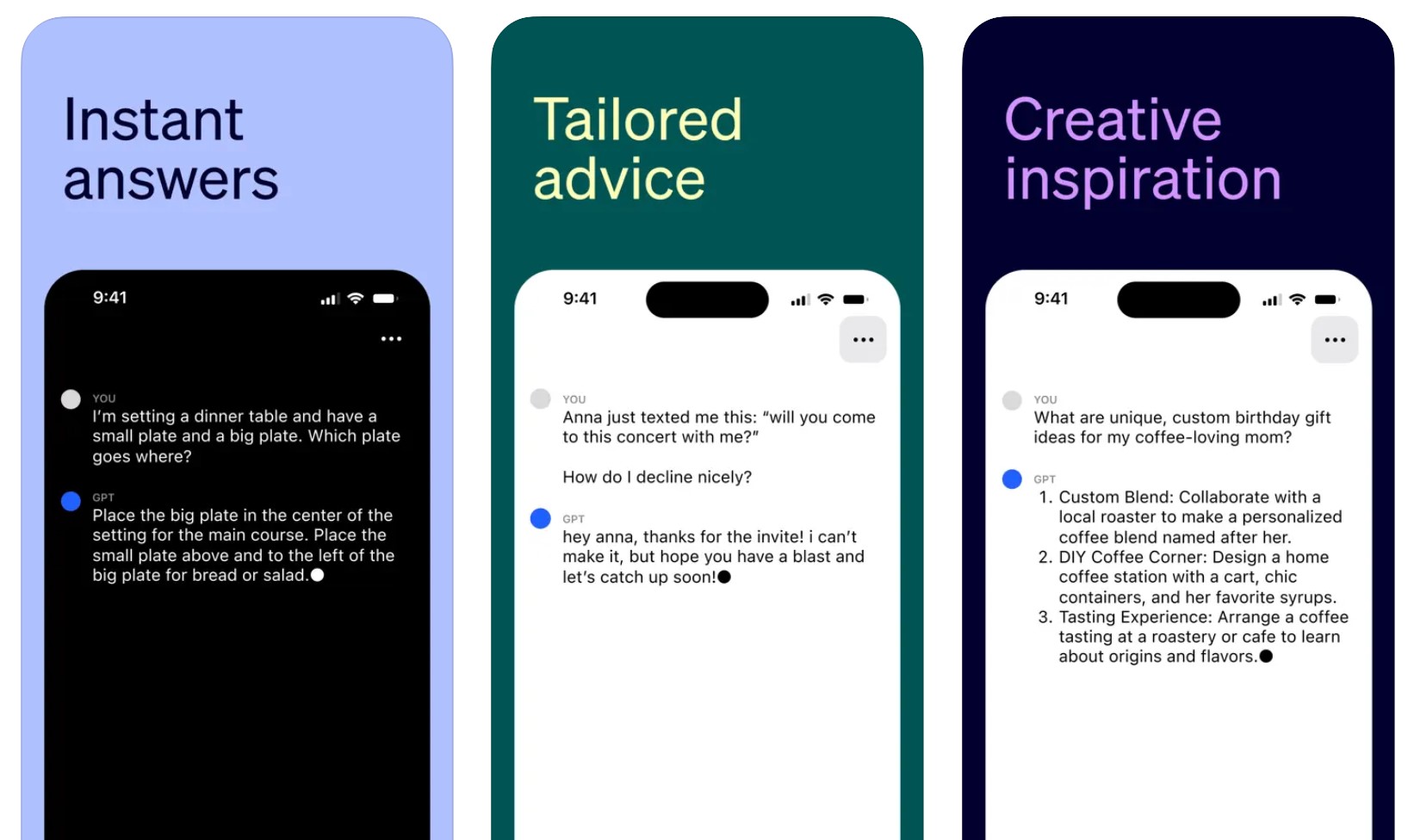 Access to genuine ChatGPT apps for iPhone and Android should also reduce the likelihood of users downloading malicious apps masquerading as ChatGPT. The same goes for Bard and Bing Chat.
As for the overall experience, you should expect the same ChatGPT design and user interface for Android as its iOS counterpart despite the delay. Of course, if you're rocking an Android handset, you can't run the iPhone app to see what it feels like.
But as you can see in the images above, the ChatGPT iPhone app offers a clean interface where you talk to the chatbot. Accessing your history is one button away. And yes, you can access all your previous chats with the generative AI product on your mobile app.
The Android experience should be similar, considering what OpenAI's official Google Play page shows. That's also where you preorder the app. Going forward, I'd expect OpenAI to bring new ChatGPT features to both iPhone and Android. But I wouldn't be surprised if the iPhone app gets some of those updates before the Android version.
With all that in mind, if you're a regular ChatGPT user and own an Android device, you should register for the preorder and download ChatGPT as soon as it comes out this week. Even if it's late to the party.