This year's Consumer Electronics Show doesn't officially come to a close until Friday, but everyone knows that all of the important announcements are made by the end of the day on day 2. Well, day 2 was yesterday so we can safely say that every big product launch from CES 2018 is now behind us.
CES is the biggest technology show in the world each year, so CES 2018 has undoubtedly set the tone for things to come for the next 12 months. Long story short, it's going to be a good year for consumer tech. We got to check out some of the most impressive new products we've ever laid eyes on at this year's show, so narrowing all those big announcements down to just 10 was no easy task. There are a handful of new devices that are a cut above the rest, however, and in this post you'll find our picks for the 10 most exciting new products that were unveiled at CES 2018.
Ban & Olufsen BeoSound Shape
Bang & Olufsen is a familiar name to audiophiles around the world. The brand is known far and while for creating audio products that offer phenomenal sound and designs that blur the line between speakers and works of art. With the introduction of BeoSound Shape, however, B&O has now officially erased that line.
BeoSound Shape is a modular wireless speaker system consisting of two-tone "tiles" that come in a wide range of colors. Each tile's hexagonal shape is designed to fit perfectly next to other BeoSound Shape tiles, allowing people to create works of art on any wall in a room. Tiles consist of speakers, amplifiers, sound-absorbing acoustic dampeners, and a "Core" that handles connectivity. The system supports AirPlay, Chromecast, Spotify Connect, Bluetooth 4.1, and wired audio inputs. The results are visually stunning, as can be seen in the video above, while still offering the hi-quality sound that Bang & Olufsen is known for.
BeoSound Shape will be released in August.
Samsung "The Wall" MicroLED TV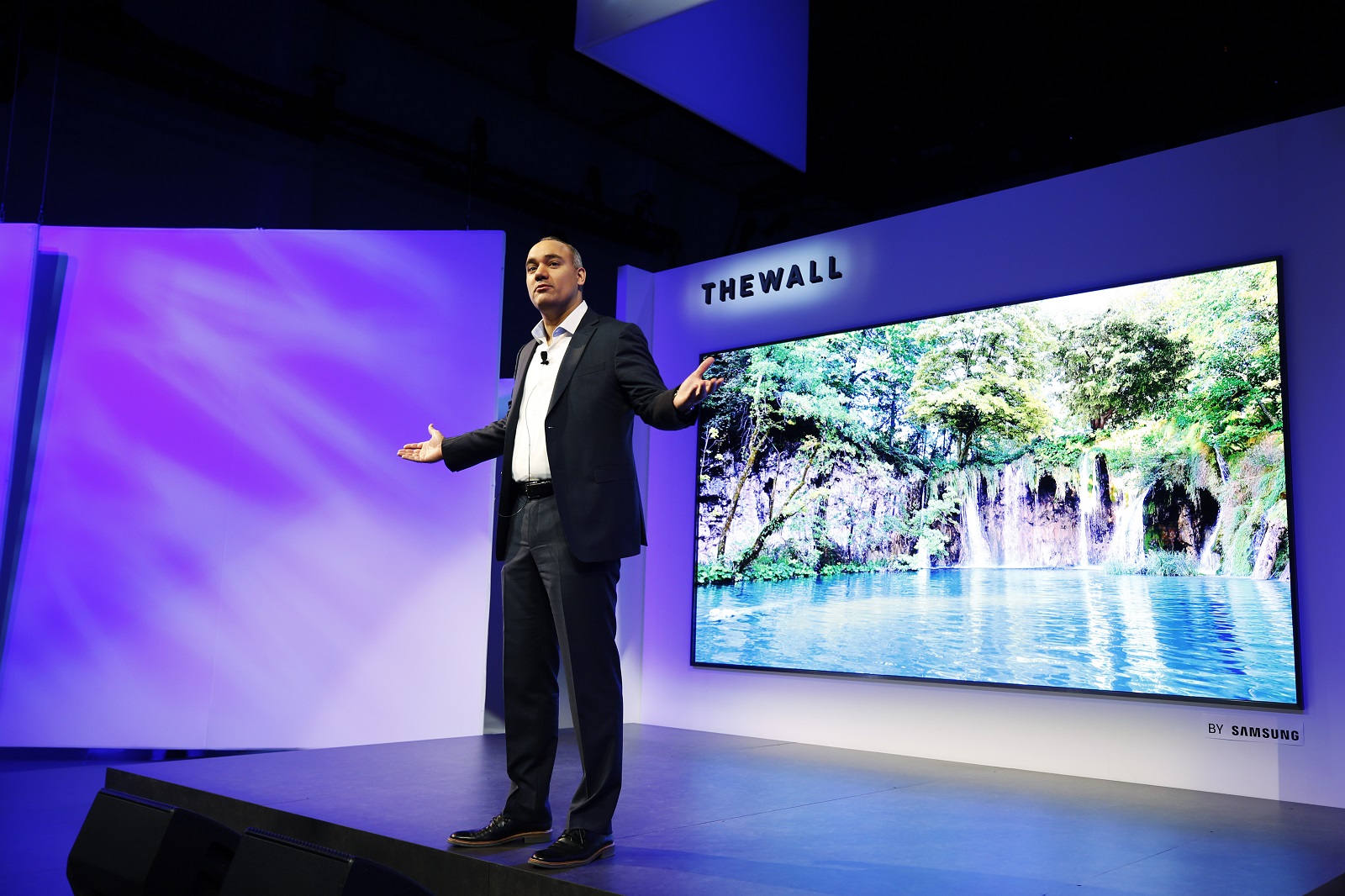 Samsung unveiled a beautiful new flat-panel television at CES 2017 called "The Frame," which was designed to look like a piece of art hanging on a wall when not in use. At CES 2018, Samsung took things a step further.
"The Wall" is a modular TV system that merges multiple borderless MicroLED TVs into one giant screen that measures up to 146 inches diagonally and can occupy an entire wall. They feature 4K resolution, and fewer panels can be used to create a TV that isn't quite as massive. Samsung hasn't yet announced pricing or availability for The Wall, but this is undoubtedly one of the most impressive creations yet from the world's #1 TV maker.
LG Signature OLED TV W8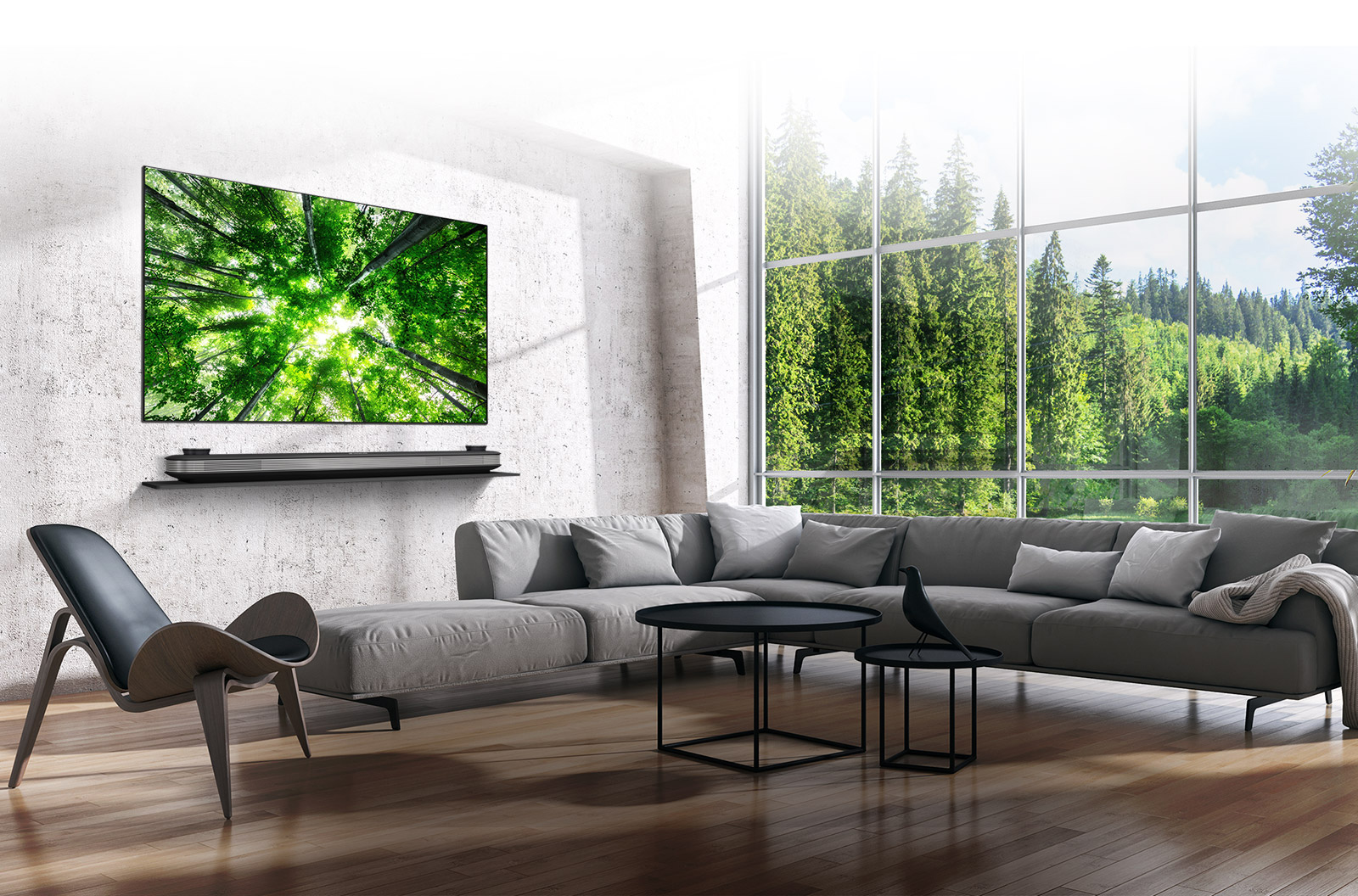 LG's 2017 OLED TV lineup was arguably the best in the world last year, and the company continued its hot streak at CES 2018 by announcing the new LG Signature OLED TV W8. This stunning 77-inch television is less than 3mm thick, and it uses a special zero-gap mounting system to hang flush on any wall. How is it possible to create a TV this thin? The internal components are housed within a connected sound bar so they don't occupy space behind the screen like they would normally.
The W8 will be among the first TVs to be powered by LG's new α9 Intelligent Processor, which powers the new LG ThinQ AI solution that doubles as a Google Assistant-enabled smart home hub. It also features the same great 4K OLED panel quality that has made LG a market leader.
Sony 4K Ultra Short Throw Projector (LSPX-A1)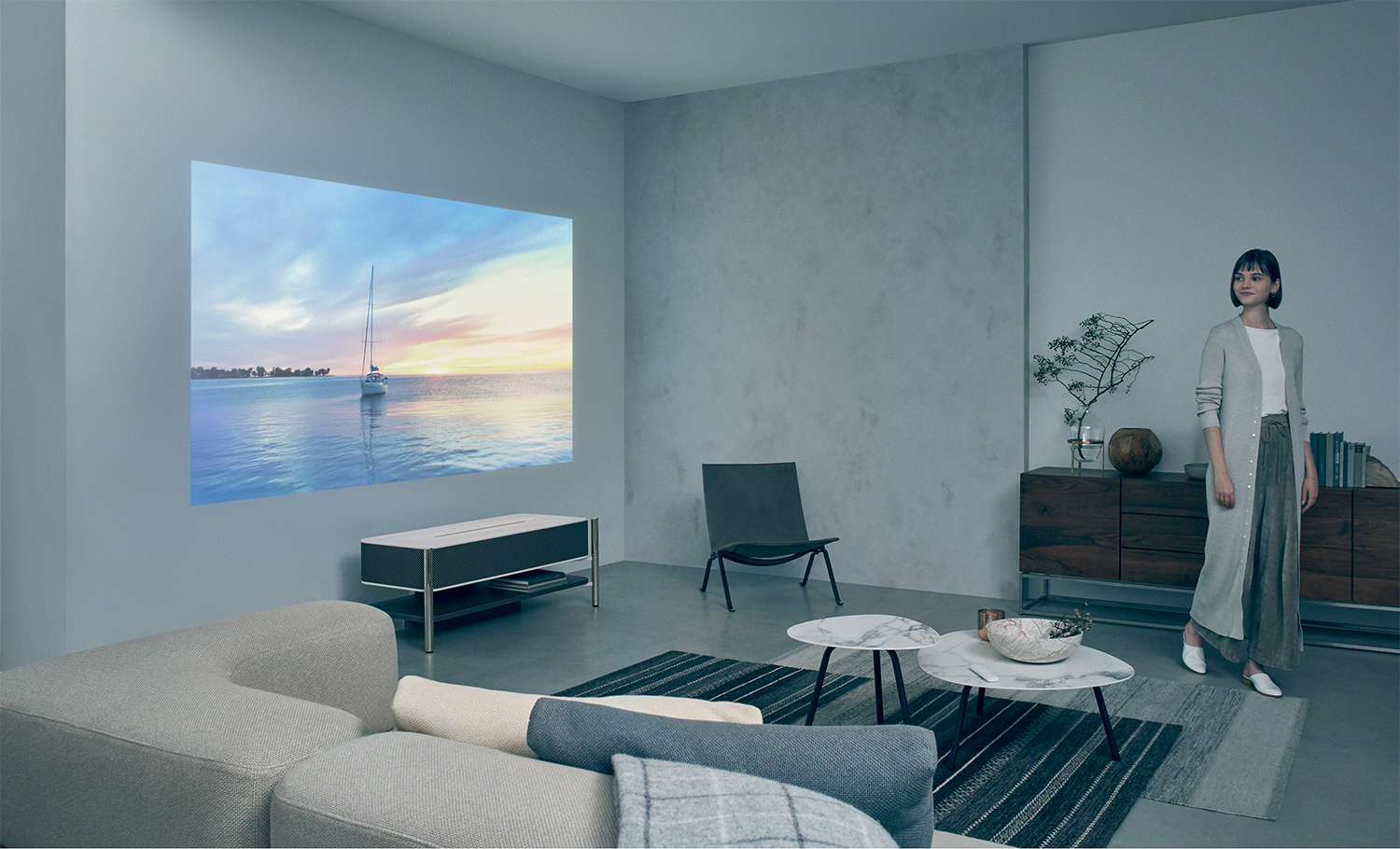 The Sony 4K Ultra Short Throw Projector (LSPX-A1) won't be found in many homes when it's released later this year, but it'll have nothing to do with a lack of desirability. It's aimed at the highest segment of the high-end market, and will carry a price tag of $30,000 when it launches.
Sony's LSPX-A1 projector looks like a piece of modern furniture, and it can sit just 9.6 inches from the wall. Despite that close distance, the 2,500-lumen laser projector is capable of beaming a screen that measures up to 120 inches diagonally. The same enclosure houses a Glass Sound Speaker with 360° sound, ensuring the best possible home theater experience without the need for any additional equipment.
Aura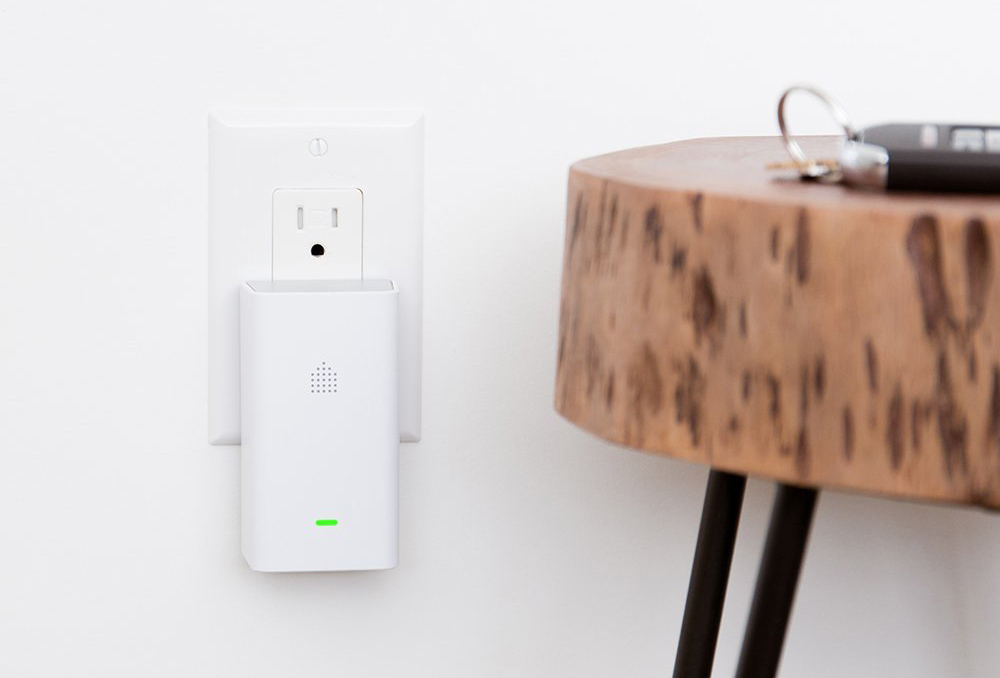 Smart home security was a big theme at this year's show, and the new Aura was by far one of the smartest solutions on display at CES 2018. This futuristic motion detection system doesn't use cameras or infrared sensors like existing solutions. Instead, Aura monitors the Wi-Fi radio waves that fill every home and reads the patterns as they bounce off of walls and objects. When these patterns are interrupted, Aura knows that motion is occurring and it can set off alarms or trigger smart home events as a result.
Aura offers a starter kit for $199 that covers 700 sq ft, and it's already available for purchase right now.
LG InstaView ThinQ Refrigerator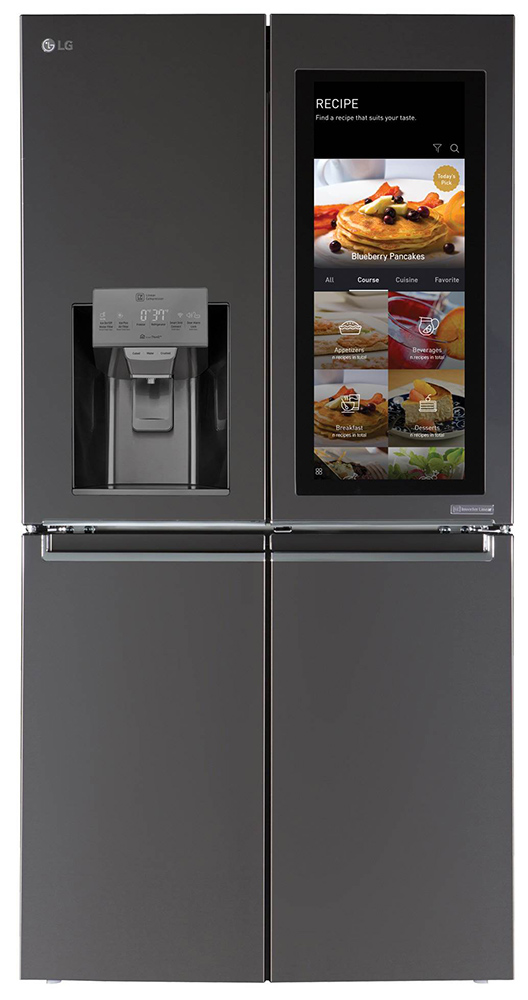 Refrigerators with built-in displays are becoming more common these days, but you've never seen one like the LG InstaView ThinQ fridge. This cutting-edge refrigerator features a gorgeous design and a 29-inch touchscreen display. It runs webOS and can of course display things like the weather, recipes, and more. But LG's new screen has an even better feature: Knock on the screen twice and it instantly becomes transparent to show you what's in the fridge behind the door without having to open it.
Samsung Notebook 9 Pen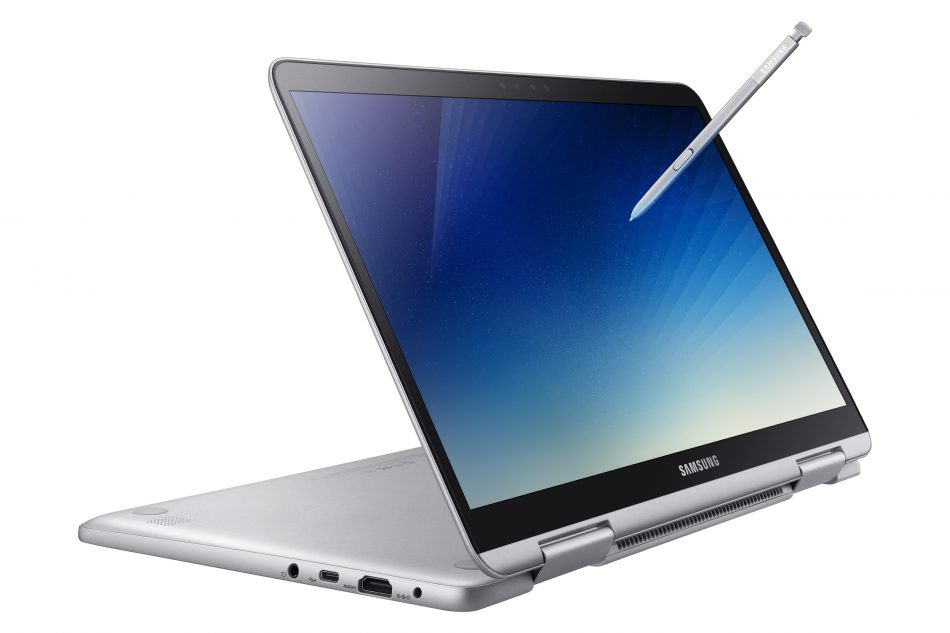 Laptops are a dime a dozen at CES, but there was nothing else quite like the new Samsung Notebook 9 Pen. The housing on this sleek notebook computer is made out of a new material that Samsung calls Metal 12, which is a magnesium alloy that's designed to be "incredibly light, yet unbelievably strong." The laptop itself is essentially a mix between a Samsung convertible laptop and a Galaxy note device. It offers specs that include an 8th-generation Intel Core i7 chipset with 16GB of DDR4 RAM and a 512GB SSD, along with all the stylus features that make Galaxy Note devices great.
Nvidia Drive Xavier
Autonomous cars represent some of the most exciting technology on the horizon in the coming years, and Nvidia just announced the brain that will help make this future a reality. It's a new system-on-a-chip solution called Nvidia Drive Xavier, and it's the most complex chipset ever created. Each Xavier chip has more than 9 billion transistors, and it's designed to bring a wide range of AI features to autonomous vehicles. Samples will begin shipping to Nvidia's automotive partners beginning sometime this quarter.
MirraViz UltraBright MultiView Screen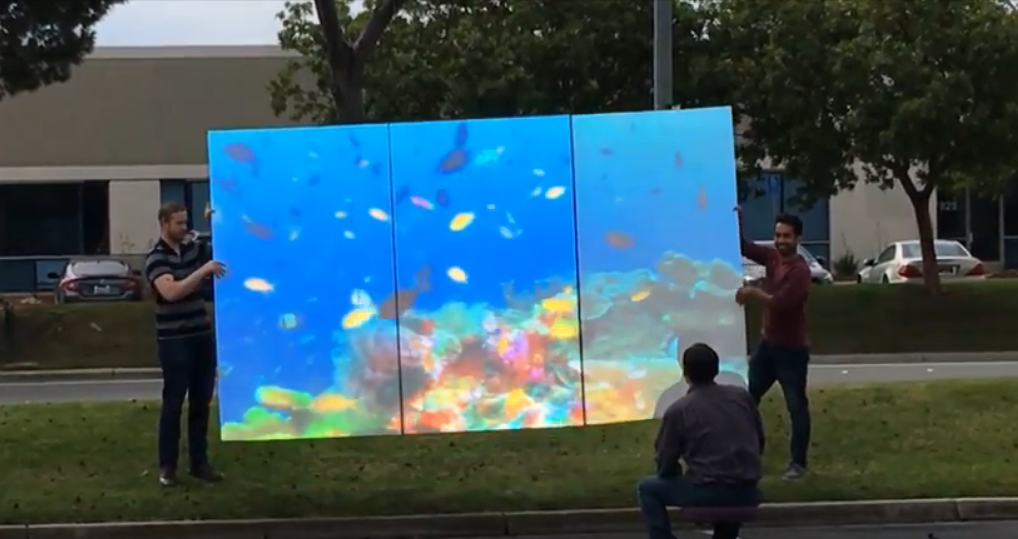 California-based startup MirraViz isn't a household name at this point, but the new UltraBright MultiView Screen could help change that. This revolutionary projector screen allows users to aim two different projectors at the same surface, producing two completely different images. The special display design bounces each projected image back in the same direction from which it came, allowing two people in two different positions to see different images on the same screen. It's also incredibly bright, as you can see in this video:
The UltraBright MultiView Screen is available right now beginning at $499.99.
Anyware Smart Adaptor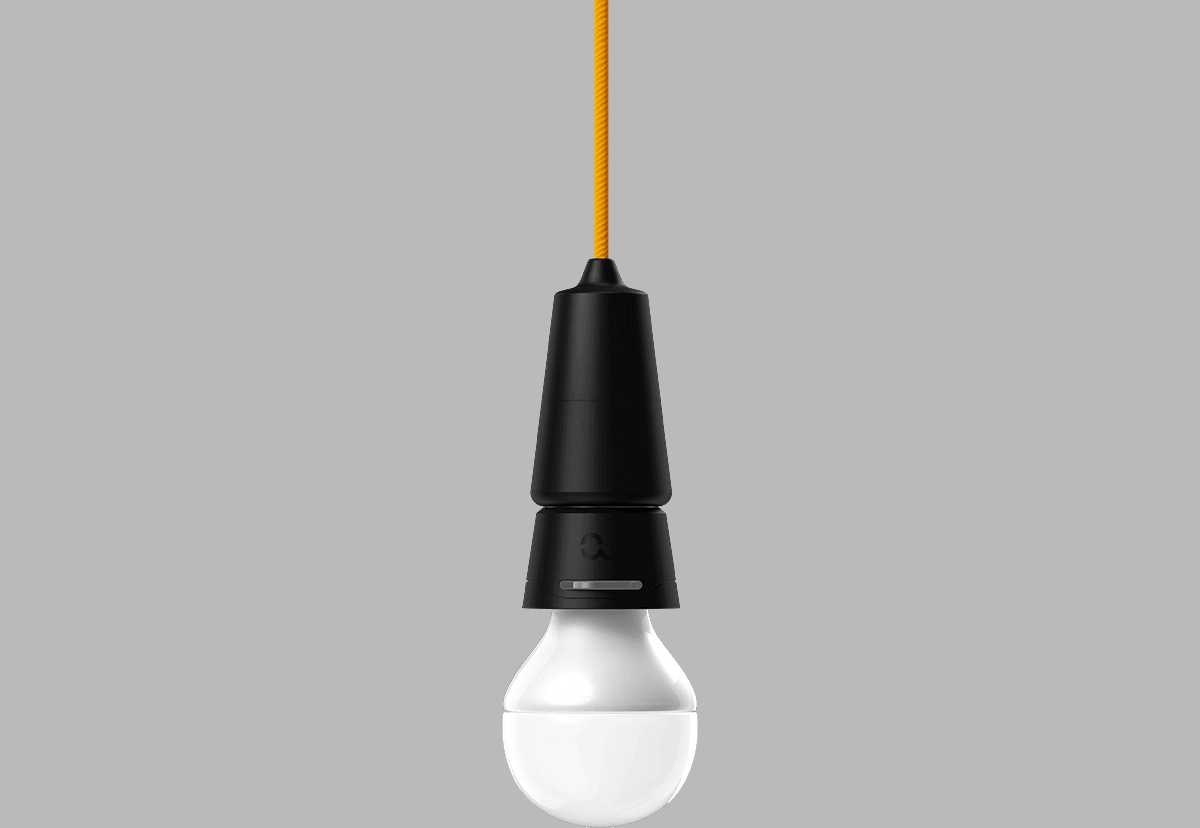 The Anyware Smart Adaptor is one of several all-in-one smart home solutions shown off at CES 2018, but it's the only one with a brilliant compact design. In fact, you won't even know it's there.
Seen in the image above in between the light bulb and the socket, the Anyware Smart Adaptor packs in a wide range of functions including lighting and dimming control, motion detection, temperature monitoring, humidity monitoring, and more. The Smart Adaptor also has integrated energy monitor features, and it can automatically switch off lights when you leave.
Anyware's Smart Adaptor is already available now for $75.
Matrix PowerWatch X
Sometimes you come across a product with a feature that's so awesome, you have to wonder why it's not found everywhere. Such is the case with the PowerWatch X by Matrix. This sleek and stylish smartwatch works with the iPhone or with Android phones, and it supports step tracking as well as notification alerts so you never miss a thing. It also offers sturdy construction with a reinforced bezel, a silicon strap, and water-resistance up to 200 meters. But the coolest thing about that watch is something you can't see in the PowerWatch X's sleek design: It never needs to be plugged in to be charged, and it never needs a new battery.
The Matrix PowerWatch X timepiece is powered by body heat the wearer produces naturally, so it's constantly being recharged as you wear it each day. It only costs $279, and it's available for purchase right now on the Matrix website.