The first iteration of the Apple Vision Pro isn't even out yet, but a patent shows how it could improve the usage of this headset for those that need prescription lenses.
Currently, Apple announced it will partner with Zeiss to offer special prescription lenses to use the device. Since the headset is firmly attached to your head, Apple says you can't use it with glasses. So if you don't have contact lenses, you'll need to make a prescription lens with Zeiss that will be attached to the Vision Pro.
That said, a patent shows that Apple plans to use liquid lens tech instead of glass (via AppleInsider). The Electronic Devices with Liquid Lenses patent application describes how this could work with future headsets.
"A head-mounted device may have lenses. (…) The lenses may be tunable liquid lenses. Each lens may have a lens chamber. The lens chamber of the lens may have rigid and/or flexible walls that form optical lens surfaces. Actuators and/or pump and reservoir system may deform the lens surfaces in response to control signals from a control circuit to tune the lens."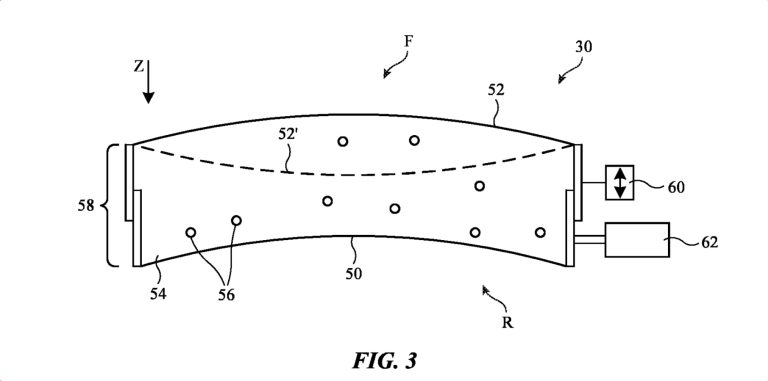 The benefit of a liquid lens instead of a glass lens is that it can rapidly change focus, so users won't need to make a proper prescription, as liquid lenses autofocus in just a few milliseconds. In addition to liquid lenses, this Apple patent shows that the company could use Vision Pro cameras inside the product and the LiDAR scanner to help.
"Information on the locations of the user's eyes may be gathered using, for example, cameras. The locations of eye boxes can then be adjusted accordingly."
While it's unclear how long it could take Apple to implement such change, it's interesting that the company wants to improve how people needing prescription lenses can enjoy the product – especially since the company has high hopes about this spatial computer technology.
BGR will keep reporting on the latest rumors and patents regarding Apple products in the future.