For Apple fans, the wait for yesterday's big press conference seemed like it was going to last an eternity. Details surrounding Apple's next-generation iPhone XS, iPhone XS Max, and iPhone XR began leaking more than a year ago when the world's top Apple insider revealed that Apple had three new iPhone models planned for 2018. The flow of leaks has been constant all year long, painting a clearer picture with each passing day. Then, just one week before Apple's big event, nearly all the remaining details leak when Apple accidentally posted iPhone XS and Apple Watch Series 4 marketing materials on its website.
We definitely knew almost everything there was to know about Apple's next-generation iPhones and Watch models before Apple executives even took the stage on Wednesday. That said, they still had a few tricks up their sleeves to surprise us with. In this post, we'll recap the only eight big surprises from Apple's press conference.
Prices
We had a good idea that this year's new iPhone models were going to be expensive, but holy moly we had no idea just how expensive they were going to be. In fact, rumors suggested that the new iPhone XS would start at $899 this year instead of $999. Sadly, that's not the case at all. It's funny, though: last year Wall Street analysts flipped out when Apple announced the iPhone X starting at $999. This year, Apple's top-end iPhone is even more expensive than a MacBook and Wall Street is loving it.
Here's how pricing breaks down for the iPhone XS and iPhone XS Max:
iPhone XS
64GB: $999
256GB: $1,149
512GB: $1,399
iPhone XS Max
64GB: $1,099
256GB: $1,249
512GB: $1,449
That's right, boys and girls, Apple is about to start selling an iPhone that costs more than $1,500 after taxes. What a time to be alive.
Where the iPhone XR is concerned, things are even worse. Rumors suggested the XR would be a lower-cost alternative to the iPhone XS and XS Max, with the iPhone XR likely to start at around $650. Unfortunately, that's not the case at all. It's cheaper than Apple's other new iPhones, but not by much.
iPhone XR
64GB: $749
128GB: $799
256GB: $899
iPhone XR release date
There were a few rumors here and there that said Apple might have to delay the release date for the iPhone XR due to manufacturing difficulties, but most people didn't pay them any mind. According to those rumors, Apple's partners were having problems with light leakage around the outside of the phone's LCD display, and they needed more time to iron out the wrinkles. Whether that's the case or Apple just wants to make sure that as many early adopters as possible go for the more expensive iPhone XS or iPhone XS Max, it turns out that the iPhone XR won't be released until next month. Pre-orders open on October 18th with a release to follow on October 26th.
No AirPower
Remember that really cool wireless charging mat that Apple unveiled more than a year ago? Well reports suggested that Apple would finally announce release information during yesterday's event. Instead, Apple removed any and all mention of the AirPower from its website. No one really knows what's going on, but if you really want a wireless triple charger you can already get one on Amazon.
Faster Face ID
This is one of those rare instances when the world's top Apple insider, TF International Securities analyst Ming-Chi Kuo, was wrong. Stop the presses!
Kuo reported many months ago that Face ID wouldn't undergo any changes on this year's new iPhones. That… isn't the case at all. Instead, Apple upgraded both the hardware and the software that handles Face ID. Improvements to the TrueDepth camera system and to the A12 Bionic SoC will apparently give Face ID a big speed boost, and tweaks on the software side will help things even further.
New cameras
Apple improves the cameras on its iPhones every year so we expected some type of improvements, but we had no idea what they would be. Apple ended up announcing what may end up being the most impressive smartphone camera system in the world when the iPhone XS and iPhone XS MaX are released next week.
The new camera still has two 12-megapixel sensors, one with a wide-angle lens and the other with a telephoto lens. All of the components in the camera system have been upgraded though, and the sensor is now twice as fast.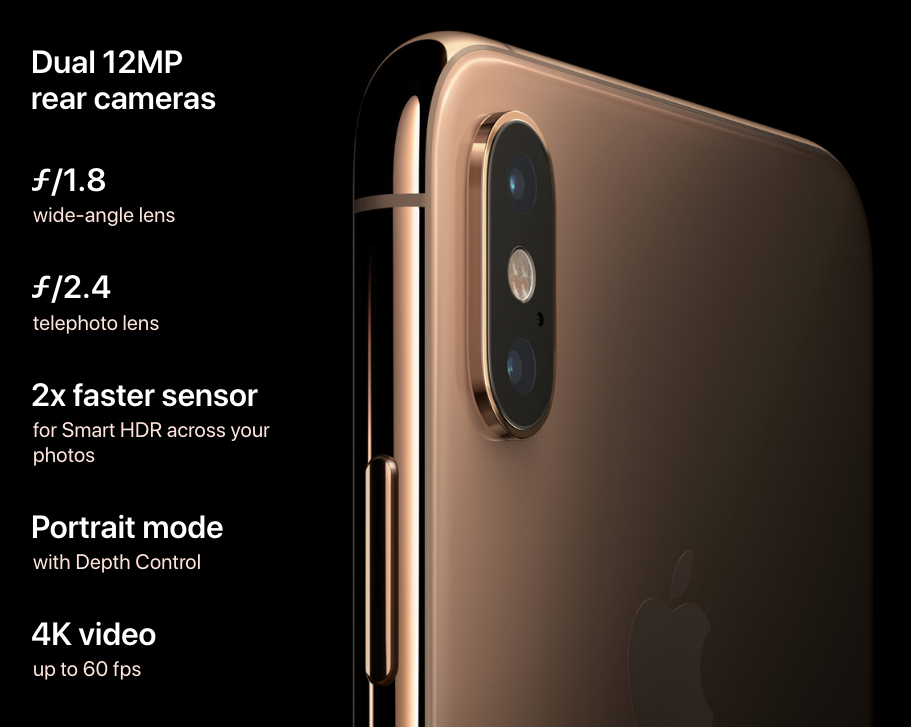 In addition to hardware changes in the camera itself and software enhancements like Smart HDR, the new A12 Bionic chipset has an upgraded image signal processor (ISP) that further improves photo processing speeds and image quality.
Depth effect
There's plenty to look forward to with Apple's upcoming new iPhone XS and iPhone XS Max camera, but one feature in particular came as a surprise. It wasn't just a surprise because it hadn't been revealed in rumors, but also because it's something no other camera in the world can do. On Apple's new iPhones, you can actually adjust the depth of field in a Portrait Mode photograph after you've taken the picture! Even more impressive is the fact that the iPhone XR has this feature as well, despite the fact that it only has a single-lens rear camera. It's likely not quite as impressive as it is on the iPhone XS and XS Max, but it's still another industry first.
A12 Bionic
We obviously knew that Apple would reveal its next-generation processor alongside its new iPhones. We also knew the iPhone XS and iPhone XS Max would be the first smartphones in the world to ship with 7-nanometer chipsets. What we didn't know, however, is just how massive an upgrade the A12 Bionic would be.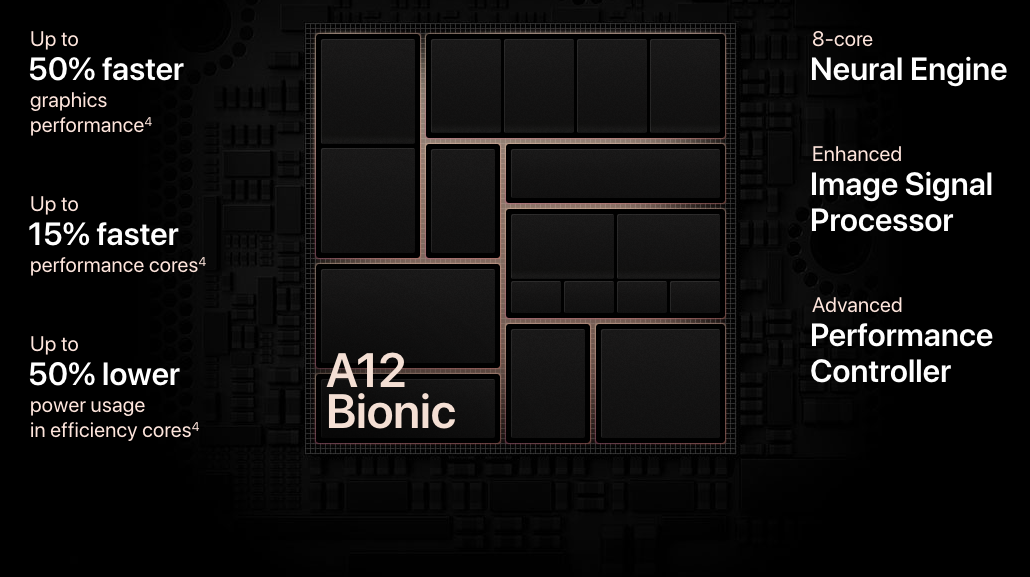 This industry-first 7nm SoC has a 6-core CPU with two high-performance cores and four high-efficiency cores. The cores can run independently or all the same time, depending on the tasks at hand. The A12 also has a new 4-core GPU that is 50% faster than the A11's GPU, and there's an upgraded 8-core neural engine and a brand new image signal processor (ISP) as well. Apple says the A12 Bionic can process 5 trillion operations per second, which compares to 600 billion in the A11.
A12 Bionic in the iPhone XR
Last but certainly not least, the fact that the iPhone XR is also powered by the A12 Bionic SoC came as a big surprise. Rumors positioned the iPhone XR as an upper mid-range phone that would feature more modest specs and pricing that started in the $600 range. The phone's specs are a bit less impressive than the iPhone XS and iPhone XS Max, but just barely. In fact, the iPhone XR will end up being more powerful than most flagship Android phones over the year to come.
Since rumors positioned the iPhone XR as a sort of iPhone SE upgrade, many people assumed that it would be powered by last year's A11 Bionic chipset so that Apple could keep costs down. That's not the case though, and the iPhone XR gets the same impressive A12 Bionic SoC as the iPhone XS and iPhone XS Max.