There's a lot of hype around ChatGPT, even months after launch. As OpenAI works to improve the system, it will continue to get smarter. Right now, though, you can use third-party plugins to take what ChatGPT already does and make it better. In fact, you can use several ChatGPT productivity plugins to increase your productivity and make using ChatGPT a little bit easier.
Of course, ChatGPT and its plugins aren't magical, and you'll really only get back when you put in. With plugins, too, there can be some unexpected results, and of course, you should always check the responses that you get against real-world information, as AI can still provide bad information at times. Keeping that in mind, here are three productivity plugins for ChatGPT that can simplify your life.
You can also use ChatGPT to become a more productive cook, especially if you want to eat healthier.
Prompt Perfect
The Prompt Perfect / Perfect Chirp plugin might seem a bit silly, but it's actually very handy, especially if you're using ChatGPT for a lot of your day-to-day questions. This plugin essentially allows you to input your prompt and then have ChatGPT spit out a better, more detailed prompt that is designed to get the most from the AI language model.
To use it you'll need to preface your prompts with "perfect" and then let it spit out a better prompt that can hopefully capture what you're looking for in a much better way. It isn't perfect, despite its name, but it can also help create better prompts for Midjourney and even Dall-e.
Wolfram
If you use ChatGPT for a lot of coding or mathematics, then Wolfram is a must-have ChatGPT productivity plugin. This plugin essentially takes the effectiveness of ChatGPT when it comes to mathematics and increases it dramatically. If you've seen the viral tweets about people using ChatGPT to calculate a weight loss regimen and want to do the same yourself, this is the plugin you need.
This plugin essentially lets you ask more detailed questions about mathematics, astronomy, geography, and more, and provides more detailed answers that can even incorporate real-time data.
Bing Search
One of the best ways to take advantage of ChatGPT 4 is to use Bing's search function, which now includes AI support. However, if you want to bring it all together into one place, you can install the Bing Search plugin to your ChatGPT app, allowing you to search for real information right inside of the ChatGPT window.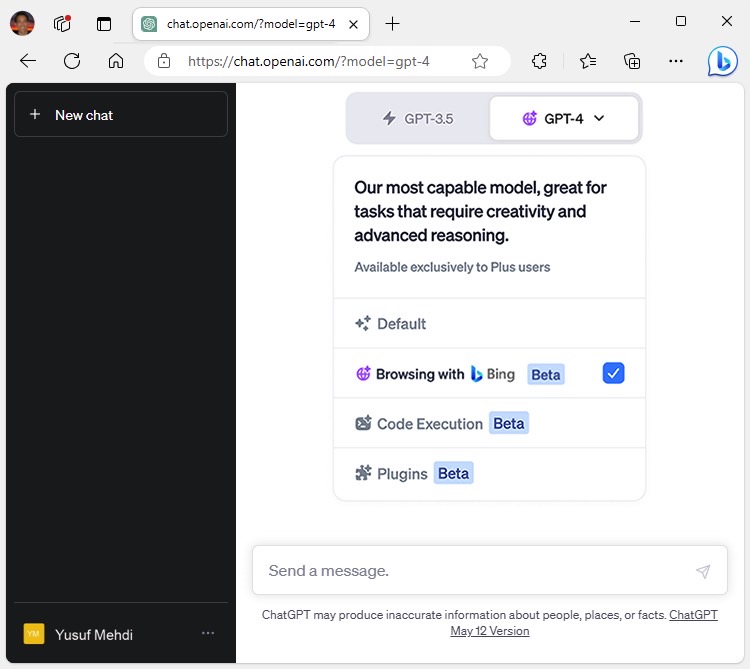 This is one of the handier ChatGPT productivity plugins, as it can really expand what's available to you directly within ChatGPT, which can be great for people who use the language model a lot during their day-to-day work.
Why only three?
While there are several different plugins out there, we've focused on three because that's the total you can have active in ChatGPT at one given time. By honing in on three of the best plugins in those particular areas – in this case, productivity – you can make a difference in how you work and use ChatGPT without changing between plugins constantly.
Of course, as I noted above, ChatGPT plugins do come with some risks. Not only can they return incorrect responses – a problem that has plagued ChatGPT and other AI for ages – but they can also do unexpected things depending on how you use them. You should always ensure you're only installing a trusted ChatGPT plugin before using it.