yeedi cube Robot Vacuum & Mop
The yeedi cube is an all-in-one robot vacuum and mop combo with powerful suction, self-emptying, self-washing mop pads, and more.
Pros
Cheaper than rival self-washing models
Excellent design
Powerful suction with auto-boost
Long battery life
Base station has a small footprint compared to other models with auto-wash
Cons
Pet hair can get tangled at times
Obstacle avoidance needs a little refinement
This is a sponsored article and all content and opinions expressed within are of the author.
yeedi has grown to become one of the most noteworthy brands in the robot vacuum market, and there are so many good reasons for that. It all boils down to the fact that the company makes high-quality robots that cost less than the competition. And the best example of that is the company's latest new release, the yeedi cube.
The new yeedi cube is so much more than just a robot vacuum and mop combo. It offers several of the latest innovations in the robot vacuum market, including powerful suction and self-washing mop pads. But the killer feature here is that it makes self-emptying and self-washing accessible to a whole new group of shoppers. That's because at just $699.99, the yeedi cube costs so much less than most other models with similar premium features.
I have spent the past few weeks testing the yeedi cube, and I'm going to tell you all about this fantastic robot vacuum and mop in this review.
What makes the yeedi cube special?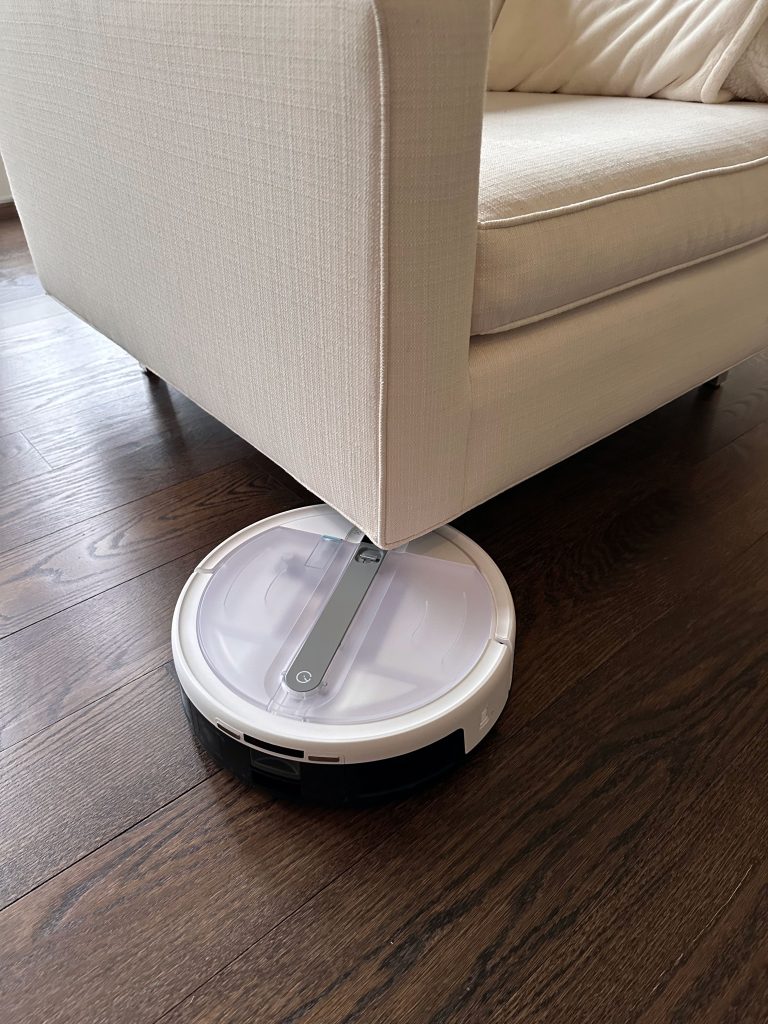 Robot vacuums were groundbreaking when they first emerged, but a lot has changed since the early days. The bottom line is that unless you're on a very strict budget, most people these days want more than just a plain old robot vacuum. Technology has come so far in the past few years, and shoppers expect a lot from their robot vacuums. Sucking up dust and light dirt often isn't enough.
First and foremost, people want a robot vacuum that is powerful. What good is a robot vacuum if you still have to walk around with a manual vacuum to finish the job?
People also want a model that has mopping built-in. That goes without saying. Vacuum-only models are okay for a finished basement or a carpeted bedroom. But when you're cleaning a mix of hard floors and rugs, you need a model that can mop up messes in addition to vacuuming.
Next, people often opt for robot vacuums that come with an auto-empty base station. That way, you don't have to worry about emptying the tiny dust bin every single time your robot vacuum runs. It's so much more convenient to have a robot vacuum that automatically empties into a larger bag inside the base station. That way, you only have to worry about changing out the bag every couple of months.
And finally, if you're shopping for a premium robot vacuum and mop, you definitely want one with a self-washing system to clean the mop pads. The last thing you want is a robot that drags dirty mop pads all over your floors. But cleaning them manually is a pain in the butt.
That's what makes the yeedi cube so special. It doesn't just check one or two of those boxes, it checks every single one of them. And yet, despite all of the great features that are packed into the yeedi cube, it costs so much less than other models that offer comparable features.
Also of note, I'm a huge fan of the design of the yeedi cube.
The base station is much more compact than many other models I've tested with self-washing mop pads. That means it takes up less space, and I was able to tuck mine away behind the side of a couch so visitors won't even know it's in the room.
Plus, the robot itself is very sleek looking, with a high-tech design that I'm a big fan of. And I absolutely love the built-in retractable handle on the top of the robot. It's so easy to carry the yeedi cube from one floor of your house to another. That might not seem like a big deal, but anyone who has lugged around a robot vacuum before will definitely appreciate it.
Setup is a breeze
Believe it or not, concerns over complicated setup processes are among the top reasons why some people are hesitant to buy smart home devices. Technophiles might take it for granted, but the thought of a complex configuration can be seriously daunting even to average consumers, let alone people who have limited experience with gadgets like robot vacuums.
Thankfully, I have excellent news for anyone considering the yeedi cube: It's wonderfully easy to set it up and get started.
As you can see in the video above, setting up the yeedi cube is so simple. You start by assembling the base station as shown, and then you set up the robot vacuum and mop itself. Once you've done that, simply let it fully charge, install the app, and then it's ready to go.
Of course, some people need a bit more hand-holding, and there's nothing wrong with that. The yeedi cube comes with a printed quick-start guide that is very easy to follow. The accompanying yeedi app for iPhone or Android also makes it easy to get started once your robot is fully charged. You'll use the app to set your cleaning schedules, adjust settings, and fine-tune your experience to suit your needs.
On first set up, you are easily guided through the yeedi app, starting the first clean and mapping, and it was all a dream, just like Word Up magazine.
yeedi cube performance
Now, it's time to get to the good stuff.
As an expert reviewer, I have tested dozens of different robot vacuum and mop models over the past few years alone. I have tested more than 100 different models in my career. With that in mind, you can trust that I know exactly what to look for when testing and reviewing a new robot vacuum and mop.
The good news is that the yeedi cube excels in nearly every single one of the major areas I examine when reviewing a robot vacuum and mop combo.
First and foremost, this is a great model for advanced users and novices alike. If you're new to robot vacuums in general, you can truly "set it and forget it" with the yeedi cube. Just configure it in the app, set a schedule, and you're done. All you'll need to do is empty the dirty water from the base station when it's done mopping, and refill the tank on the robot with clean water for the next job. Then, about once every two months, you'll need to swap out the dirt and dust collection bag in the base station with a new one.
As for performance, the yeedi cube is among the best new models I've tested this year.
yeedi's new cube robot features a very strong motor with maximum suction that's rated at 4,300Pa. Of course, the battery wouldn't last very long if it ran at full strength the whole time it vacuumed. That's why there's a smart auto-boost feature that automatically increases the suction on carpets and rugs.
The dual edge brushes and roller do an excellent job of picking up messes. I tested this model with various types of messes, and it handled them all very well. Examples include outside dirt, dust, small beads, dry oats, and pet hair.
One of the only shortcomings I found was with long dog hair. The roller on every robot vacuum eventually gets tangled with long pet hair. But in my testing, I found that this model got tangled a bit quicker than some other robot vacuums I've used. This is a common issue with robot vacuums that have bristles on their rollers, like the yeedi cube.
It's also worth noting that the yeedi cube also didn't have the best obstacle avoidance performance among models I've tested this year, but it's definitely only something I'm being nit-picky with and it is better than most entry-level and mid-range robot vacuums.
Mopping is another area where the yeedi cube does a fantastic job. This model features sonic mopping with an impressive 2,500 vibrations per minute. I tested it with spilled juice, mud, and other messes, and it cleaned them all up quickly and easily. I was really impressed with how well the yeedi cube mops.
I also love the auto-lift feature that raises the mopping pad when the robot reaches carpets and rugs. This way, you don't have to worry about it dragging the wet mop pad across your rugs. Again, this worked exactly as advertised in my testing.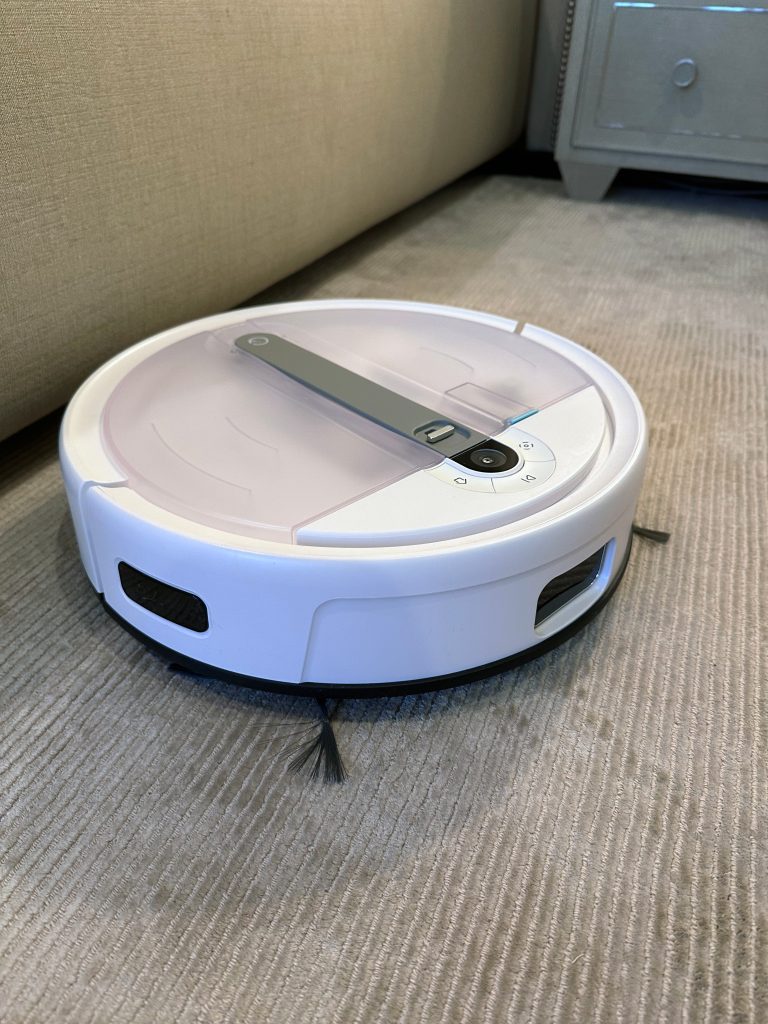 Of note, yeedi says the cube has a battery that lasts for up to 150 minutes of cleaning. I can confirm that it was able to clean each floor of my house without needing to return to the dock to recharge.
The real fun starts when the yeedi cube is finished vacuuming and mopping. That's when it returns to the base station and performs a few key actions.
yeedi's cube has an auto-empty feature that sucks out all of the dirt and dust into a special bag inside the base station. That bag holds up to 60 days' worth of debris, so you only have to swap it out with a new one six times each year.
Additionally, the robot has a self-washing feature that activates once it's docked in the base station. It scrubs the mopping pad and uses force to squeeze out as much remaining moisture as it can. Then, it has a special dryer that blows 104-degree hot air through the mopping pad to dry it. This way, you don't have to ever worry about odors or mold.
Should you buy the yeedi cube?
I am so impressed with the design and performance of the yeedi cube. I would absolutely recommend it to anyone looking for a great all-in-one robot vacuum and mop.
Powerful suction and dual edge brushes help ensure that the yeedi cube cleans dirt and dust on the first pass. Auto-boost also plays a big role in ensuring that tricky pet hair is pulled off of carpets and rugs, though it is more prone to tangling than some other models.
When it comes to mopping, the yeedi cube is fantastic. Large, absorbent mop pads that vibrate 2,500 times per minute to clean your hard floors and leave them shining. But you don't have to worry about rugs because the robot will automatically lift its mop when it reaches them.
Then there's my favorite part, which is the base station. Dirt and dust are emptied automatically, the mop pad washes itself, and the robot is recharged so it's ready to go for the next job.
With a retail price of $699.99, the yeedi cube is much less expensive than comparable models. Units with auto-empty and auto-wash features typically cost well over $1,000. With that in mind, you can clearly see that this robot vacuum and mop combo offers tremendous bang for your buck.
I highly recommend the yeedi cube.