The Sonos Era 300 sets the stage for a new age of immersive-sounding speakers for the home, boasting a slick design and a series of high-tech features.
Pros
Sleek design
Excellent audio
Immersive sound
High-tech features
Sonos is back. The company was once the only real option for premium wireless home audio, but over the past few years, the competition has heated up a little. With new options from first parties, like Apple's HomePod, along with an absent Google Assistant, 2023 Sonos has an uphill battle ahead of it in a way that 2015 Sonos never did.
But that pressure is perhaps what has led to this new generation of speakers. Gone is the Sonos One, in favor of a new Sonos Era 100. But alongside that speaker is an entirely new, perhaps more interesting offering, too. The Sonos Era 300 is built from the ground up and is designed to usher in an era (yes) of wireless spatial audio for the home.
And you know what? It succeeds.
Sonos Era 300 design
Perhaps the most obvious difference between this speaker and previous-generation Sonos speakers is the fact that the Sonos Era 300 offers a radically different design. That's to be expected — the speaker is designed to support Dolby Atmos, which involves having to bounce audio off the walls and ceiling, and as a result, the Sonos Play:5 form factor wouldn't quite work.
The design, at first glance, is a little quirky compared to speakers that you might already have in your home, but you'll quickly get used to it. And, it certainly helps that in classic Sonos fashion, the speaker is built with premium materials, and in the matte white or black finish that we've come to expect from the company.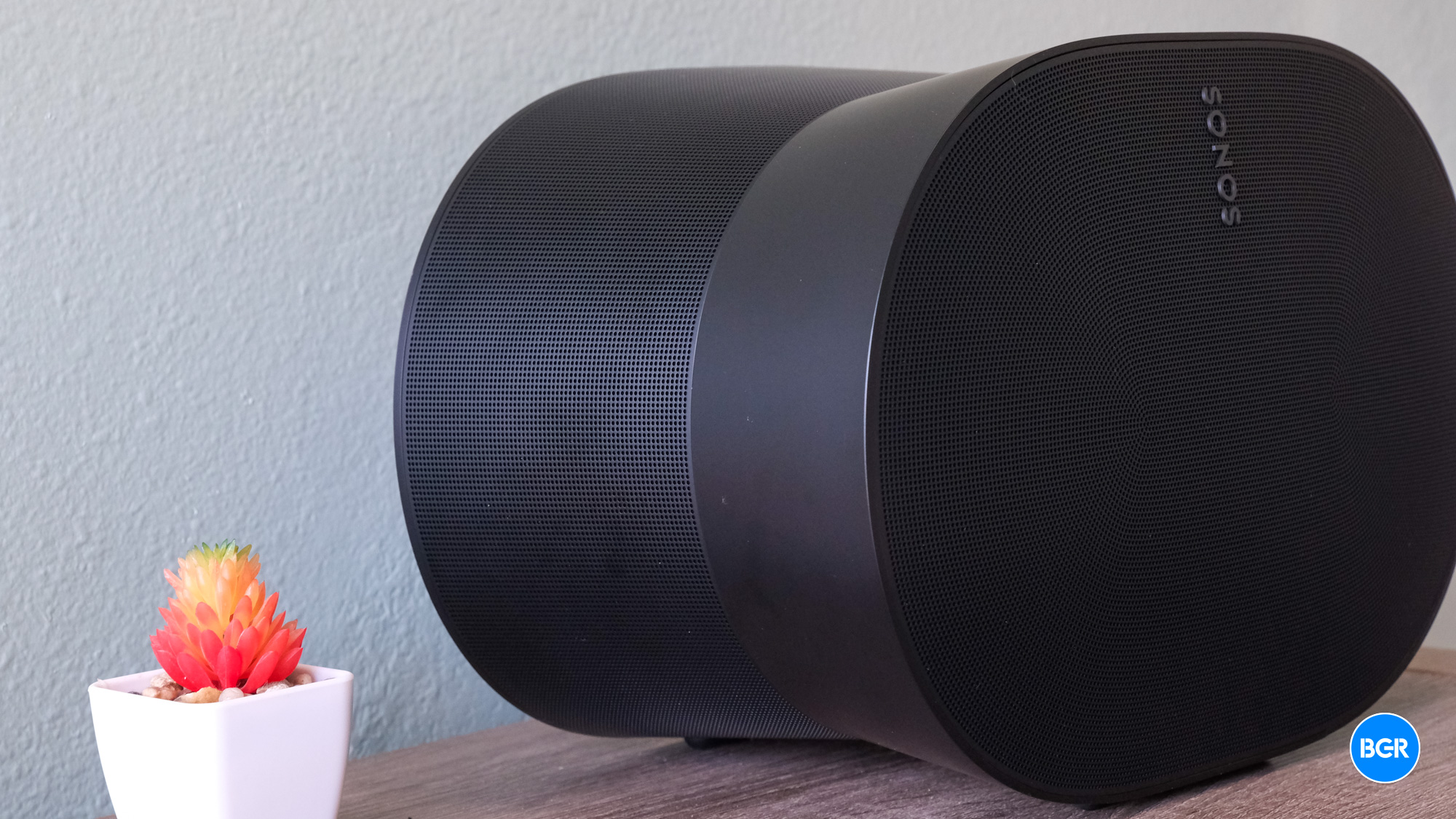 The Sonos Era 300 is built to deliver exceptional audio performance wrapped in a stylish package. Measuring 6.30 x 10.24 x 7.28 inches, the speaker boasts a sleek design that easily complements various interior design schemes. The front of the speaker features a speaker grille with the Sonos logo, and it should look right at home in any environment.
Functionality is well thought-out in the Sonos Era 300, as it offers user-friendly controls for managing playback. The top of the speaker houses an indent that allows you to slide your finger to control volume – a genuinely intuitive touch that sets this speaker apart from others on the market. That's alongside the other controls, including those for playback and voice assistance.
The back of the speaker offers more controls and inputs, including a microphone mute switch and a USB-C port. The USB-C port does serve allows users to connect a line in or an ethernet port with the help of an adapter. On the back, there's also a Bluetooth button.
Generally speaking, I love the overall look and feel of the Sonos Era 300. It fits very well with the rest of Sonos' speaker lineup and continues to deliver the premium build quality that we've come to expect from the company.
Sonos Era 300 features
The Sonos Era 300 offers several features that make it a versatile speaker. For starters, as you would expect, the speaker supports AirPlay 2, which greatly benefits users who are already invested in Apple's ecosystem. With AirPlay 2 compatibility, users can easily stream audio from their iPhones, iPads, or Macs to the speaker, as well as control the playback and volume directly from their devices.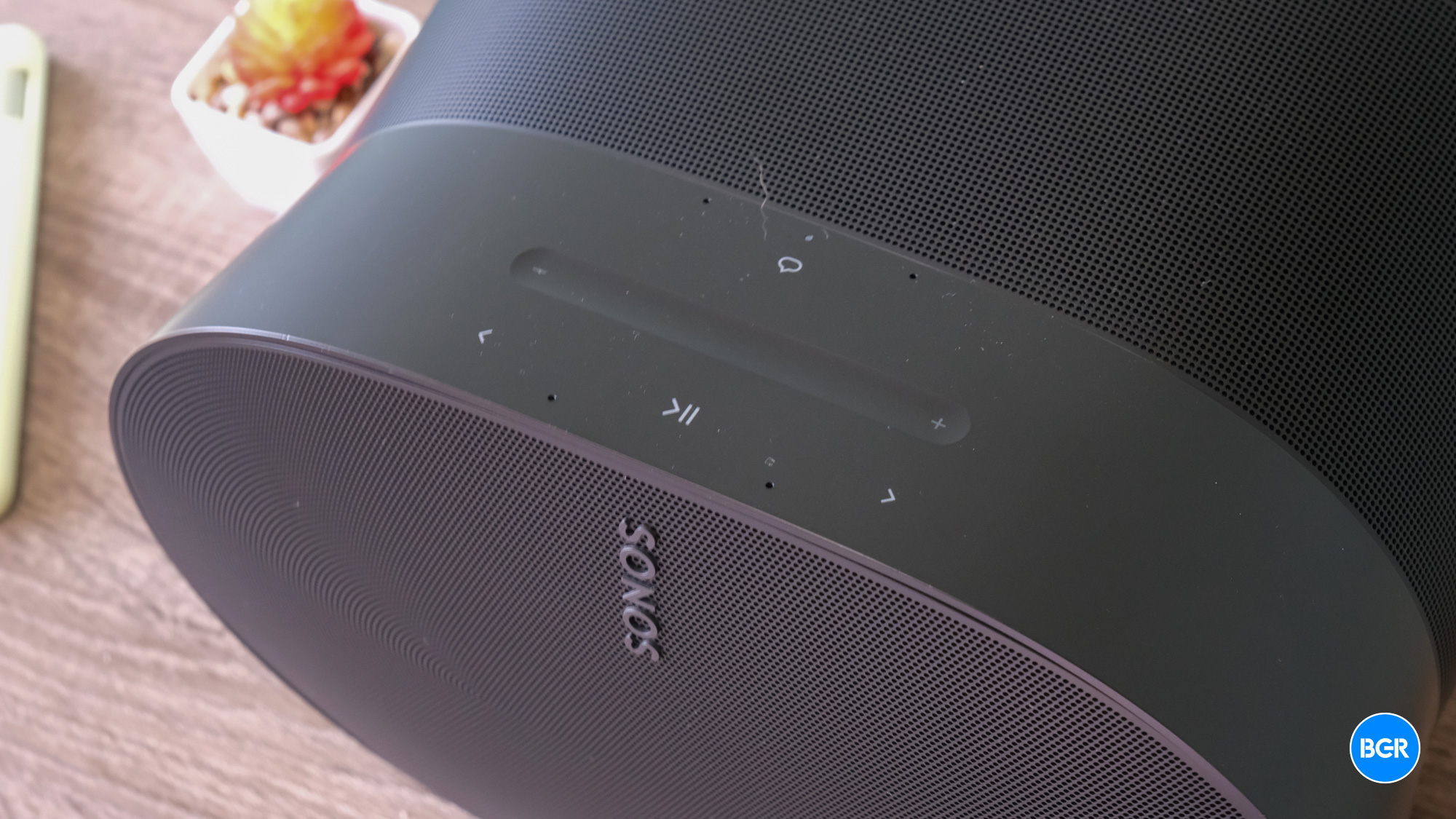 Another expected but welcome feature is compatibility with Alexa. With Alexa built-in, users can to control their music and access various smart home functions using voice commands. But there is a feature missing here — Google Assistant. Unlike previous Sonos speakers that offered compatibility with both Amazon Alexa and Google Assistant, the Era 300 falls short by excluding support for Google's voice assistant. This limitation might disappoint users who prefer Google Assistant or have already integrated it into their smart home ecosystem.
On a more positive note, the Sonos Era 300 now includes Bluetooth connectivity, a feature that was previously missing from Sonos' non-portable speakers. This addition significantly broadens the speaker's compatibility with various devices and allows users to stream audio wirelessly from their smartphones, tablets, or laptops, plus it makes it much easier for guests to use the speaker.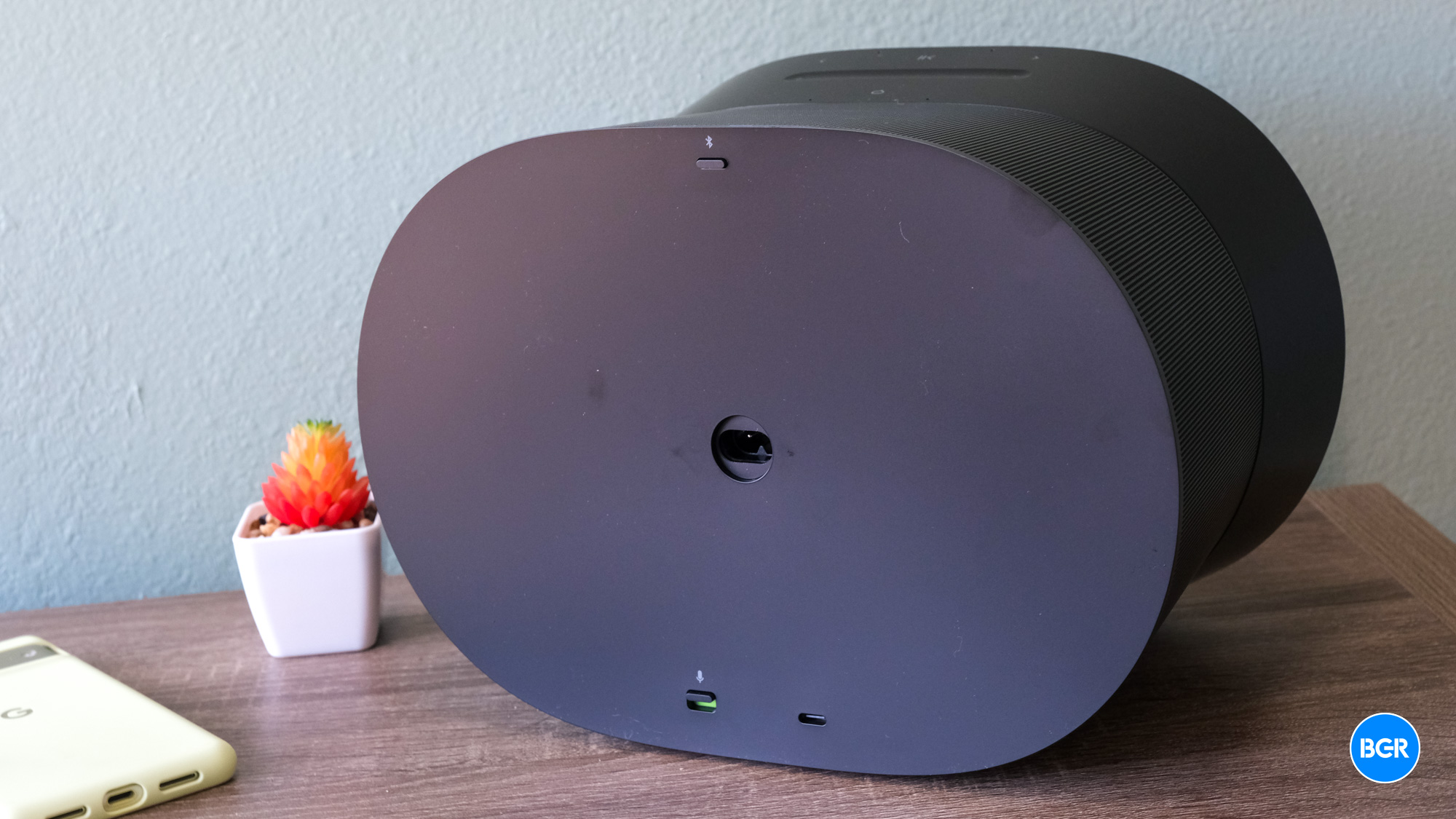 It's also worth mentioning the versatile USB-C port on the back again. With that port you could, for example, use the speaker with a vinyl player, or simply listen over a wired connection from your phone.
Sonos Era 300 app
As expected, the Sonos Era 300 works through the Sonos app, and the experience of using the app is the same as with other speaker models. This consistency is actually a positive aspect, as the app continues to be well-designed and user-friendly. However, in my experience, I don't necessarily find myself using it all that much.
From within the app, users can add and manage their various Sonos speakers with ease. Setting them up is incredibly straightforward. Typically, when you plug in a speaker, the app will automatically detect it and prompt you to initiate the setup process. This only takes a minute or two, during which you can choose the location of your speaker within your home. Additionally, you'll have the option to fine-tune the speaker using Trueplay, provided your phone supports the technology.
Once your speaker is set up, you can play music through linked services, configure compatible voice assistants, and more. However, in my case, I primarily used the app for the initial setup process, then shifted to AirPlay for playing and managing audio through Apple Music or other apps.
Overall, the Sonos Era 300 maintains the same user experience as its predecessors through the Sonos app, making it simple for users to integrate the speaker into their existing setup. While the app's functionality may not be required for day-to-day use, it's certainly helpful during the initial setup and occasional adjustments, ensuring a smooth listening experience for all users.
Sonos Era 300 sound
The Sonos Era 300 speaker is a fantastic addition to any audiophile's collection, delivering top-notch audio quality that is sure to impress even the most discerning listeners. This speaker strikes the perfect balance between power and clarity, ensuring that your music, movies, and podcasts sound better than ever before. One of the standout features of the Sonos Era 300 is its support for Dolby Atmos, which provides an incredibly immersive listening experience that accurately reproduces the intended spatial positioning of sound.
The deep, rich bass produced by the Sonos Era 300 is truly exceptional. This speaker's low-end frequencies are powerful without being overwhelming or muddy, perfectly reproducing the rumble and punch of bass-heavy tracks.
Listeners can also expect an impressive level of detail in the mid-range frequencies as well, with clear and distinct vocals that never get lost in the mix. The treble range is equally impressive, offering crisp and bright highs that add to the overall richness of the sound. The highs are particularly impressive here, making for an exciting and clear audio quality overall.
The Sonos Era 300's ability to fill a room with top-quality sound is truly astounding. Its loudness capabilities are more than sufficient for most home listening environments and can easily handle parties or gatherings with ease. The speaker's soundstage is wide and immersive, creating a listening experience that feels true to life.
Of course, perhaps one of the most interesting things about the speaker is its support for spatial audio formats like Dolby Atmos. Using it is pretty remarkable. I'm the first to be skeptical about listening to music in Dolby Atmos, and this speaker didn't change my mind — music that is originally mixed in stereo doesn't sound better when remixed in Dolby Atmos or another spatial audio format. But content that was originally designed to be mixed in Atmos sounds excellent here. It certainly confused my cat, who clearly thought there were sounds coming from different directions in the room, and more importantly it tricked my ears too.
Soon, I'll be getting a second Era 300 to test using the speakers in a home theater setup, and I'll update my review once I have thoughts on that.
Conclusions
The Sonos Era 300 is the next step for Sonos speakers. Sonos has faced serious increasing competition from the likes of Google, Apple, and Amazon, and in some ways, it'll never be able to face that competition due to locked up first-party features that simply aren't accessible to it.
But where it can compete, it does with ease. In my Sonos Era 100 review, I noted that it's the best-sounding speaker in its price range. That's true of the Era 300, too. Not only does it sound incredible, but it adds modern features like support for Dolby Atmos — making for more immersive audio now, and setting the speakers up for a future of object-based audio.
The competition
Sonos is kind of in a league of its own here. The Era 300 isn't cheap — but if you're looking for a great-sounding speaker that adds modern features like Dolby Atmos support, then the Sonos Era 300 is the way to go.
Should I buy the Sonos Era 300?
Yes. It's an excellent speaker overall.