Sony thinks their Google TV-enabled Internet TV product is the future of home television. We covered the announcement and played with the product a little bit at the press event, but there isn't anything like getting up close and personal with something in your own environment. Your TV, your sofa, your own install and set up. Read on for our thoughts on Sony's Internet TV Blu-ray player, and whether or not we think the future is here!
Set Up
Once we furiously ripped open the packaging that Sony lovingly messengered over to our apartment, we got to work. The Blu-ray player came with a power brick, power cord, remote, AA batteries, HDMI cable (looks to be 3 ft), and dual IR blaster cable. The way the video chain should work is, you're effectively putting the Internet TV in the middle. That way, it can take the incoming video, do its dirty work and overlay menus, applications and more on top of the video content. So, video out of the DVR or cable box into the Internet TV, and then simply out of the Internet TV into the TV directly, or into your receiver if you have one.
Once that is done, you'll most likely want to hook up the IR blaster so that the Internet TV remote will be able to control your DVR / cable box in addition to the Internet TV itself. If you're in the advanced segment of the population and would like to make use of a custom remote set up (Crestron, Control4, Philips Pronto), it looks like it's going to be a pretty challenging task for the time being.
After physically plugging in the unit, you're ready for the software side of things.
During the set up, we were asked to define the size of our TV by pushing a black overlay to the edges of the screen. We were then asked to identify our cable provider, verify channel lineups, verify the IR blaster commands were working properly, and configure our Internet connection (we chose Wi-Fi). After we went through that process, our unit alerted us to a software update that would take around 10-15 minutes to download and install. Being the adventurous bunch we are, we decided to go ahead. After the software update was downloaded and installed, our unit rebooted. Unfortunately, our setup settings — that we had just went through which took around 10 minutes — were not saved. Kind of a bummer, and not exactly the best first impression. It's also not the end of the world, though.
Usage
There are a couple main buttons to help you navigate Google TV. You have the home button, back button, and a 5-way directional pad. This is grossly, grossly oversimplifying the included Sony remote, but we'll get into that a little bit later. After pressing the home button, you're presented a cleanly-organized home menu. You have main categories on the left like Bookmarks, Applications, Most Visited, Queue, and more. After highlighting one of those, you are presented with either a thumbnail or a list view of the contents on the right.
But, you don't have to visit the home menu much to be honest. This is Google we're talking about… just search! Hitting the dedicated search button on the keyboard brings up a familiar search box. Just type whatever you're looking for, local to the device or not, and you'll get back search results almost instantly. Populated search results include upcoming TV programs matching the entered text, local items like apps, search results from YouTube and of course Google search. This lets you bounce around pretty quickly and it works very, very well.
In addition to the search bar, there is a window icon to the right. This holds all the open windows (pages, apps, whatever) and you can flip through all of them pretty effortlessly. Yes, this is a form of multitasking. What's very cool is that you're able to stream a song from your favorite station on Pandora while checking out a recipe on Foodnetwork.com while watching TV in Dual view mode (think Picture-in-picture for you oldies). It's definitely intense, but it's definitely up our alley.
Something that's very frustrating about this first generation product though, is that unless you're a DISH TV subscriber, Google TV doesn't integrate fully with your DVR. For instance, we have a Verizon FIOS DVR, and Google TV can't communicate with the box besides sending simple IR commands. This means that when we search for something in Google TV and find the program listing (which very slyly displays the upcoming time and date) we can't set it to record. We have to manually set that up on the DVR. No season guides, no recording of current or future programs — nada. It's a very half baked approach and makes the two different video devices feel very separate in this regard.
Browser
The browser is good enough to justify being here, but in all honesty, it's just not fast enough to be useful for us. That's not to say family or friends of ours wouldn't enjoy using it, but it definitely lacks the polish and speed that we were hoping to see. Scrolling is choppy instead of being fluid, as it should be. And then, Hulu is blocked. Online content from ABC, NBC, as well as CBS is blocked as well. Scrolling the on-screen cursor below the cut off the display should scroll the page down with it in our opinion, but you have to use the physical down key to "scroll" (more like push pages around), and like we said, it's not fluid. There's no kinetic scrolling , and again, it's just usable enough at this point to make it worth using. We're not sure if it's a hardware or software issue (we'd guess a bit of both, though hardware would make more sense).
Remote
The remote is oddly usable, but also annoying and complicated. There are 102 buttons on this thing and half of them don't even need to be there. Seriously, it's uber-confusing to use at first, and even once you get used to it, you still aren't friends with the remote. Sony said they took inspiration from the Dual Shock PS3 controller, and while it shows, the simple fact is that the Dual Shock controller is infinitely more comfortable to hold and use.
The optical joystick on the right of the remote performs decently, though it's not as sensitive or as quick as we'd like. It always feels like the system is processing the mouse's movements and then catching up. It doesn't feel slow per se — it just doesn't feel very natural, quick, or what we'd expect in a 2010 device. Once you configure the keyboard settings, things get a little better though. But, what's a little confusing is adjusting the keyboard settings adjusts the entire button settings for the remote, not just the keyboard or letters. For instance, key repeat delay and repeat rate. Normally things for just a keyboard right? Not in this case. After playing with some settings we found the directional arrows completely flipping out on us when we were controlling the program guide on FIOS. Paging through channels was erratic, and worse, would duplicate or even triplicate our commands. We dialed back the repeat rate and upped the delay a bit and things were fixed, but it's just something you shouldn't necessarily have to muck with or worry about.
There are even two triggers on the right and left of the remote to be used by your index fingers. Zoom and scroll. You hold them down while scrolling with the optical joystick and they perform the intended functions.
Some of the Blu-ray buttons on here really could have been sub-buttons to clean up the clutter, and the remote is really intimidating for people just wanting to lay back and watch some World Series while browsing http://www.mlbtraderumors.com.
All in all, if you have an Android handset, using the upcoming remote app will probably turn out to be a much more enjoyable and relaxing experience.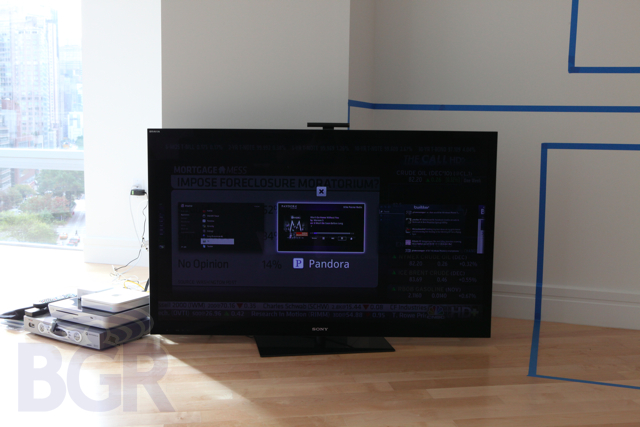 Conclusion
It's hard to justify a $399 TV enhancement device in almost any scenario. Unfortunately, while most of the time we loved using Google TV on Sony's Internet TV Blu-ray player, we can't at this point think of much of a reason you'd want this. Again, it's definitely cool and it definitely does help transform the TV viewing experience, but we'd be much more open to a Sony Internet TV with built-in Google TV. That's a no-brainer and a separate device is pretty hard to swallow. Making matters worse, we already had a 3D Sony Blu-ray player and it is kind of disappointing that this box doesn't play back 3D Blu-ray films. There is no way to justify having two Blu-ray players in the same room, and it's a choice we had hoped we wouldn't have to make. (Spoiler: we decided on the Internet TV Blu-ray player)
Our new Sony TV has most of what Google TV offers minus a browser. It has Netflix built in, Hulu Plus, Internet widgets like Twitter, stocks, news, and Wi-Fi out of the box. Most new TVs have a lot of this functionality already, and a separate item at $399 isn't that appealing. Would we prefer the Google TV experience to what Sony offers natively? Absolutely. And that's a very, very good thing.
Another thing Google TV has against it is the target market for the product. For instance, we're sitting here watching our TV with Google TV while typing this review on our MacBook Air with our iPhone 4 sitting next to us on the left, our BlackBerry 9700 to our right and our Motorola DROID X in our laptop bag. Are we the norm in this case? We'd like to think so, but sadly no. However, we do think many, many people will either have a laptop, smartphone, or iPad-like device with them all, most, or some of the time while watching TV. It's these usage scenarios that complicate the usefulness of Google's initiative in our mind. It's great that there is a browser on my TV, but it's kind of slow to scroll, a little slow to load, and well, I'm still not sure why we need it.
Once Google TV matures (typical Google, right), we have no doubt that this will be a major step forward for the Television industry and consumers. It will be second nature to have a browser everywhere you turn and the cost will be absorbed by the TV you purchase since it will be built in. You will get access to the entire world, all your information at your fingertips without lifting your lazy butt off of the sofa — and we think that's magical.
Click on over to our Sony Internet TV Blu-ray player gallery!