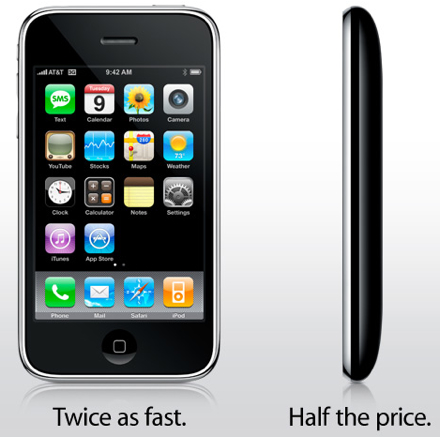 There's been a ton of confusion over the handset pricing on Apple's iPhone 3G on AT&T. Stevie announced they'd go for $199 and $299 for the 8GB and 16GB models, but obviously that's a subsidized price. We just got a hold of the final pricing for the iPhone 3G, and we even have a no-contract price for you! Boy, you're not going to be happy, though. Here's the breakdown:
iPhone 3G will be available for $199 for the 8GB model and $299 for the 16GB model. These prices require two-year contracts and are available to the following customers:
iPhone customers who purchased before July 11
Customers activating a new line with AT&T
Current AT&T customers who are eligible, at the time of purchase, for an upgrade discount
Existing AT&T customers who are not currently eligible for an upgrade discount can purchase iPhone 3G for $399 for the 8GB model or $499 for the 16GB model. Both options require a new two-year service agreement.
Here's the interesting part… " In the future, AT&T will offer a no-contract-required option for $599 (8GB) or $699 (16GB)."
Looks like after the initial launch period, you will indeed be able to mosey on in and pay for an iPhone without dealing with a wireless contract at the time of purchase. Let the unlocking games begin!