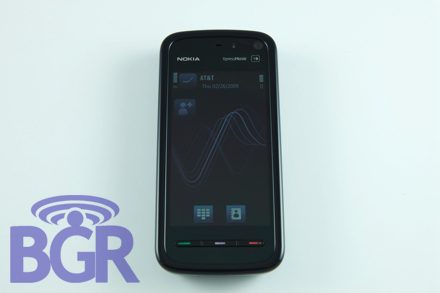 Remember that whole Nokia flagship POS issue? Well, it looks like they've finally cleared that up. Ever since around 7PM ET they started selling the Nokia 5800 NAM edition handsets. What, you didn't expect us to bum rush the store and purchase one already? We've taken some pictures of the phone for you, and here's some quick impressions on what we think of it:
UPDATE: Added a short video after the break!
When you first pick up the NokYA, you'll immediately notice that it's light as hell. You might even have to check to make sure the battery is in — yeah, that light. Once you turn it on and get it to use it, however, the handset feels perfectly balanced. Many of you are wondering about the resistive touch screen (those of you who haven't played with the Euro variant, we suppose), and to cut this short, it's pretty bad. You don't get a lot of feedback from the screen yet light touches are not accepted. That puts you in an awkward position — do soft, or too firm? We're not sure, but you might want to call up SelectComfort about that, Nokia.
As far as S60 Fifth Edition goes, it's cool. The larger UI elements make navigating pretty simple, and look, at the end of the day this is your tried and true Nokia handset. Great phone, great camera, music, web, texts and email. There's no really scrolling or flicking through things, and that makes navigating really difficult in the limited time we've used it so far. We're just not sure people will lining up to snatch one up with all the other options out there. Full review coming soon, but hey, the party is in the gallery, not here!
P.S. The battery used in here is 1320mAh, not 1500mAh as incorrectly reported elsewhere before — sorry!
Click on over to our Nokia 5800 XpressMusic unboxing gallery!